When I heard that Ray Manzarek had died, I immediately grabbed my iPod and clicked on The Doors' "Riders on the Storm." I listened as the sound of rain transformed into Manzarek's cascading keyboards, evoking the sound of rain more powerfully than the sound of rain itself. Newly mesmerized, I found myself wanting to learn all that I could about the man behind the hypnotic keyboards. Mostly, the obituaries and tributes told me what I already knew, and most of that concerned The Doors, which Manzarek co-founded with Jim Morrison. Then, as if by divine intervention, my friend, William Tyler Smith called, asking for my help in writing a tribute for a friend of his who had just passed.
Turns out... his friend was Ray Manzarek.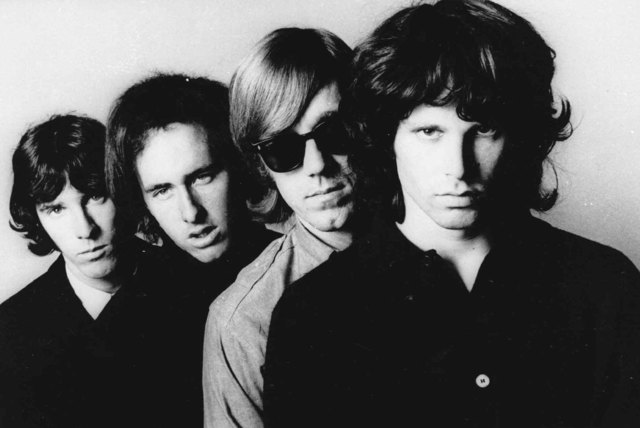 Ray was also his mentor and collaborator. Their collaborations include the critically acclaimed The Third Mind (a documentary about Ray's work with Beat poet, Michael McClure) and an upcoming documentary about Ray's work with the Grammy-award-winning slide guitarist, Roy Rogers, which documentary was in progress when Ray died and is now nearing completion.
Billy -- as Ray called him -- wished for a tribute less focused on Ray's time with The Doors (a significant albeit brief moment) and more focused on Ray as the multidisciplinary artist who before The Doors had been recognized by Newsweek as one of UCLA Film School's most promising graduates - along with his classmate, Francis Ford Coppola. The Doors were able to happen, in part, because Ray had an uncanny talent for recognizing artists with whom he shared vision, and because of Ray's enthusiasm for collaboration and for continually following a path of artistic, personal and spiritual exploration. After Jim Morrison died or "died," depending on your point of view, Ray never veered from that path.
It was a path that included forays into novel-writing (The Poet in Exile) and feature-film direction (Love Her Madly) and was often marked by many crossroads where Ray's passions for music-making and film-making intersected. It was at one such crossroads that Ray invited Billy into his universe.
The year was 1994, and Ray was an alumni juror for UCLA's Spotlight Awards. Like Ray 30 years earlier, Billy was now a graduate student at the Film School. After a screening of Billy's 24-minute short, New York. Interior-Night (a psychoanalytical allegory on disconnection in interpersonal relationships), Ray began asking how he could get in touch with Billy.
A week later, Billy came home to a message on his answering machine. "William Tyler Smith?" a familiar, mellow voice inquired, "Willie T. Smith? Billy T. Smith? B. Tyler Smith? WT Smith? BT Smith? This is Ray Manzarek." The famed keyboardist then left his number on Billy's machine.
When Billy called back, Ray praised Billy's "visual poetry" and told Billy about the work he had been doing with the poet, Michael McClure. An original Beat, McClure had met Ray through Jim Morrison. Now Ray was collaborating with McClure as he had with Jim -- setting poetry to music. Ray invited Billy to his home to see some performance footage.
Ray answered the door shirtless -- not because he was a rock star, but because he was relaxing by the pool with his wife, Dorothy and adult son Pablo. Indeed, nothing about Ray said "rock star". As the two men chatted easily, Billy began recognizing a kindred spirit.
Turns out, Ray felt the same. There was something about Billy's vibe, and something Ray saw in Billy's work -- despite having seen only 24 minutes of it. Soon Ray was asking Billy to make a documentary of the McClure-Manzarek collaboration -- despite that the work he had seen of Billy's was solely in the fictional narrative genre. But Ray didn't just possess an uncanny ability to recognize artists with whom he shared a vision, he possessed an understanding that artistic vision knows no genre. Trained as a classical pianist in blues-infused
Chicago, Ray was inspired by Bach (compare this to "Light My Fire") and Bizet (compare this to "The End"), as much as by Bill Evans, Muddy Waters and Howlin' Wolf.

That documentary became The Third Mind, which premiered to critical acclaim at the 1996 Venice International Film Festival and at the Los Angeles County Museum of Art. It's also been shown on the Sundance Channel. The title reflects Ray's passion for both Beat culture (William S. Burroughs coined the phrase to describe the fruits of collaboration) and film-making (the work of D.W. Griffith and Sergei Eisenstein reflect ideas consistent with a "third mind"). Narrated by Peter Coyote, the film sheds light on the "third mind" that arose from the McClure-Manzarek collaboration, utilizing concert footage and interviews -- including insights from other Beats such as Lawrence Ferlinghetti and Allen Ginsberg (who referred to the McClure-Manzarek collaboration as "a ripening of good Karma").

Billy directed and acted as cinematographer. As executive producer, Ray accorded Billy significant creative latitude, despite that Billy was an unknown, fresh out of film school. What mattered to Ray was Billy's artistic vision. Ray's approach proved nurturing, as did his enthusiasm for keeping the Beats alive. Ray encouraged Billy to delve into the Beats, as an investment not only in The Third Mind but in future projects. It was also an investment in their friendship, as the Beat style (which did not trash the status quo, but rather questioned it as a choice) was a window into Ray's approach to living his life. Ray embraced the counterculture but did not summarily reject the mainstream. In fact, he chose marriage and fatherhood at a time when such choices seemed "quaint". At the same time, he didn't judge others for making different choices. Having studied the Bhagavad Gita, Ray saw "God in everyone" -- even in the Tea Party, despite his self-identifying as a "flaming liberal".

The friendship deepened over the years, as did their working relationship. Ray composed the title music for Billy's 2006 feature film, Kiss Me Again, featuring Fred Armisen, Darrell Hammond, Jeremy London and Elisa Donovan. Ray provided insight and advice on Billy's 2008 documentary, Imagine a School...Summerhill, which included appearances by Coyote, Orson Bean, Rebecca DeMornay and Jake Weber. Billy created the moody-desert-highway cover art for Ray's 2011 album with Roy Rogers: Translucent Blues, which album was the touchstone for the documentary film on which Billy and Ray were collaborating at the time of Ray's death.

This time, the documentary was Billy's idea.

Ray and Roy had already released an album of instrumental ballads. Now they were planning their next collaboration: mining lyrics from poets (including McClure, Jim Carroll and Warren Zevon, among others), setting them to rock-infused blues and alternating on lead vocals. The album was released to favorable reviews in 2011 and led to their third album, Twisted Tales, released shortly after Ray's death.

The Ray-Roy film introduces Ray and Roy as individuals, then delves into their collaborative process as they turn poetry into lyrics and lyrics into songs. Like The Third Mind, the Ray-Roy film includes performance footage and interviews, but even more than The Third Mind, it contains deeply personal moments. Whether a reflection of the intervening 20-year friendship between filmmaker and subject or of Billy's growth as a filmmaker under Ray's tutelage, it is a gift to be able to listen to Ray riffing on the similarities between composting and composing the blues while chopping and tossing the contents of his compost bin around like a salad.

After filming wrapped, Ray told Billy that he had an appointment to see his doctor -- "He's going to tell me whether I'm going to live or die," Ray confided, hinting at what he may have already known. That was March. Soon after, Ray gave Billy his blessing to go forth and finish the film -- by now it was no longer surprising that Ray would "let go and let art". Less than two months later, Ray was gone.

I'm not authorized to say more about the upcoming Ray-Roy film except that from what I've seen, it promises to be a fascinating and joyful ride. Will it be tinged with sadness over Ray's passing? It's hard to say because I can't help but feel that Ray is not truly gone. Now, before you dismiss me as just another fake-celebrity-death-conspiracy theorist, please let me explain:

Ray Manzarek collaborated with countless talented artists -- not just Beats and blues artists either. Ray produced the first four albums of punk rock band, X. He performed with Skrillex, Iggy Pop, Echo and the Bunnymen, Weird Al Yankovich and Philip Glass, among others. Many collaborators remained lifelong friends and colleagues - including the surviving Doors, Robbie Krieger and John Densmore (notwithstanding an interval of legal wrangling with Densmore). Most attended the celebration of Ray's life on June 9 at the Napa Opera House, which celebration may well have been Ray's most fruitful collaboration of all. And it was one that had taken him his entire lifetime to assemble. I have little doubt that through the confluence of creative minds brought together by Ray's passing, the seeds for new collaborations were sown. And those collaborations will give rise to further collaborations still, into an ever-expanding multiplicity of "third minds".

The music may be over. But I don't think anyone's about to turn out the light.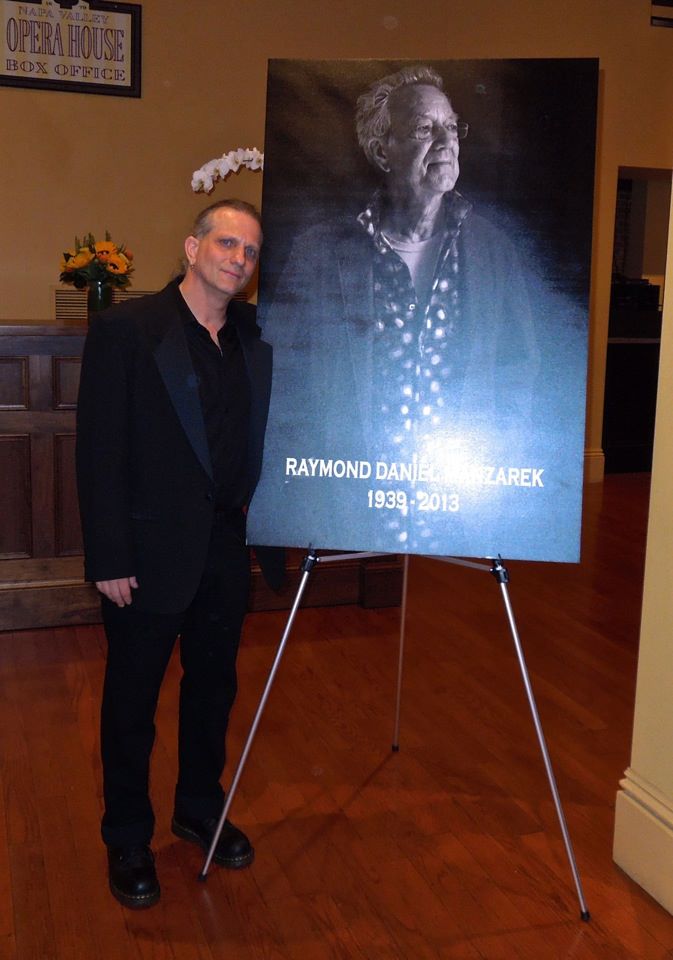 Photo of William Tyler Smith at the Napa Opera House standing next to a photo of Ray Manzarek taken by Jo Lopez in San Francisco, (c) Jo Lopez 2012. Lopez's photo was used at the Napa tribute with Lopez's permission and is being used here with his permission as well. Lopez has acted as tour manager for Robbie Krieger and Ray Manzarek since 2003.
Lauren Cahn hopes that this will serve as the tribute that William Tyler Smith wanted for Ray Manzarek.