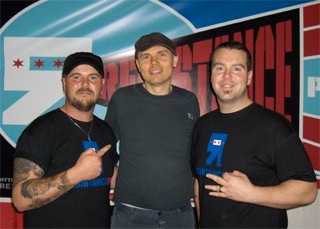 Gabe Baron, Billy Corgan and Jacques Baron. Photo courtesy of Cathy Pusateri
Billy Corgan and brothers Gabe and Jacques Baron are set to celebrate their wrestling company Resistance Pro's one-year anniversary, and the Smashing Pumpkins front man and co-promoters are celebrating large -- by bringing in World Wrestling Federation legend Jake "The Snake" Roberts -- who will be making a special guest appearance at tonight's (Friday, Nov. 30) "Sad Wings of Destiny" event at Teamster Auditorium.
The main event for tonight's "Sad Wings of Destiny" (a title shared with a Judas Priest album) will also mark the crowning of the first-ever Resistance Pro tag-team champions and, along with famed Jake "The Snake" Roberts, special guests Amazing Kong (formerly WWE's Kharma) and Sho Funaki will be in the house to celebrate Resistance Pro's first birthday.
"I am extremely proud to celebrate our one-year anniversary," Billy Corgan says. "I would like to thank our fans here, and abroad, for supporting Resistance Pro. The Baron brothers and I are dedicated to give wrestling fans a great product."
There was talk over the summer that a Reality TV show was soon-to-be in the making based on Corgan's experiences behind-the-scenes with Resistance Pro and what it's been like day-to-day running a wrestling organization. It looks that's still very much a possibility. "Our No. 1 priority is to get a national TV show, whether it's the reality show we have in the works or a weekly wrestling show," Corgan says.
Those who purchase reserved seating (first three rows) are invited to a free meet and greet with the wrestlers before the show.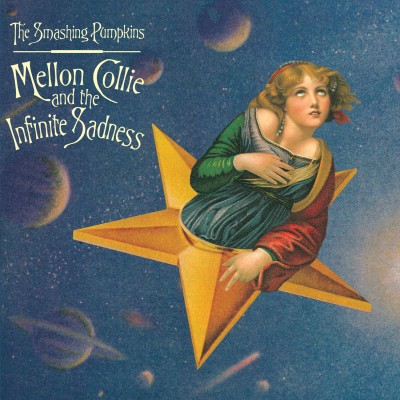 In other Corgan news, the Smashing Pumpkins will reissue a fully remastered special edition of 1995's Mellon Collie and the Infinite Sadness, that, to date, has sold 10 million discs. The reissue, set to be released on Dec. 4, just in time for the holidays, will make a Pumpkin's fan head spin (in a good way) and will be available on 4xLP vinyl, 2xCD, digitally, or, as a deluxe 5xCD+DVD box set, that includes a whopping 64-bonus tracks of previously unreleased material or alternate versions of Mellon Collie-era songs. The accompanying DVD features a live show filmed in 1996 at the Brixton Academy, London, and bonus performances taken from the German music television show "Rockpalast" during the same year. Get this: The package comes housed in a 12x12 lift-top box with magnetic closure, reimagined cover art and velvet-lined disc holder and also includes two books containing personal notes, lyrics and new collage artwork, plus a Decoupage kit for creating your own scenes from the Mellon Collie universe. Corgan curated the bonus content and special features straight from Pumpkins archives.
Also, the Smashing Pumpkins have rescheduled some of their East Coast tour dates due to tragic effects and aftermath of Hurricane Sandy. The Smashing Pumpkins are resuming the tour on Dec. 1 in Portland, ME, followed by a makeup concert in Camden, NJ, on Dec. 8 and a show in Fairfax, VA, on Dec. 9. The Pumpkins will wrap the year with a Dec. 10 concert in Brooklyn, NY, that had originally been scheduled for Halloween.