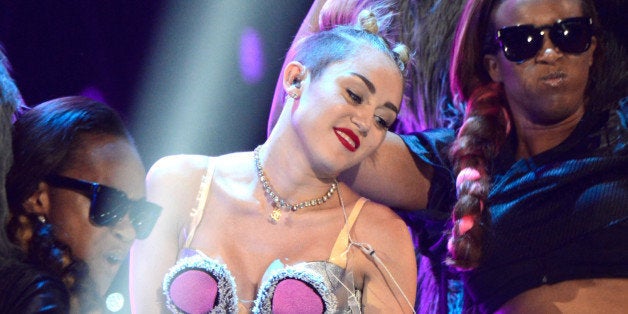 Following the the mess of teddy bears, latex, and cultural appropriation that was the VMAs, Miley Cyrus has reportedly been rejected from covering the December issue of Vogue. According to the Daily Mail, Anna Wintour had been ready to champion [Miley] as "a new fashion icon," but the editor changed her mind as a direct result of all the twerking. Yet losing a Vogue cover indicates a larger punishment than simply being denied "fashion icon" status, and it extends beyond being denied the privilege of being featured in a well-respected publication. It connotes a level of shame in proportion to the magazine's influence -- there has been and always will be a definitive cultural significance to being "on brand" for Vogue.
Fox News responded to the news of Miley's allegedly cancelled cover by asking whether she is the "most embarrassing star," a question which shows how shamelessly out of touch the media outlet is. But more importantly, the question reflects the discomfort Miley caused by defying unspoken standards forbidding women to express their sexuality. Beyond popular opinions and the sea of think pieces which flooded the internet in the 48 hours post-VMAs, Vogue's reported decision to reject Miley places a distinct mark on her social record, further underlining overt sexuality as the leading cause of her decline from pop star to cautionary tale.
Consider Wintour's interactions with Kim Kardashian over the past few years. Dating leather-skirt-wearer fashion icon Kanye West cast Kim's own style interests into the spotlight. The reality star was rumored to have been banned from the 2011 Met Gala and found herself famously cropped out of the Best Dressed slideshow for the 2012 event, despite having been considered for a Vogue cover right before the event. Sexuality is part of Kim Kardashian's brand -- though a more demure, controlled version of it, post-sex tape -- and that distinctly conflicts with the Vogue standard with which Miley, too, has apparently clashed.
While Kim Kardashian is arguably less than well-suited for high fashion, Miley Cyrus actually has a stake in the style world. The pop star demonstrates interest in the industry and has worn some highly-praised high fashion ensembles. Whatever your thoughts on Miley's VMA performance, all the twerking didn't change the fact that she loves and wears plenty of respected designers. Rather, bluntly speaking, Anna Wintour likely chose not to "champion Miley as a fashion icon" because of something that has absolutely nothing to do with fashion.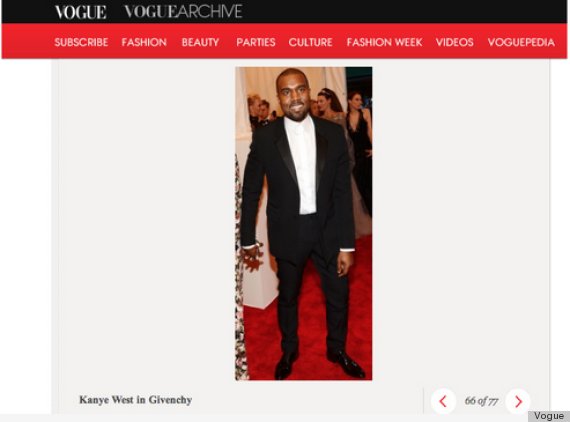 The idea that Miley would be brought on to the front page to harken her ascension to style icon status presumes that such a status is automatically associated with all those women who cover Vogue. In truth, the days of celebrities dressing themselves are long gone, and the ubiquitousness of the personal stylist means that very few celebs might be considered "style icons" on their own merit, though they are rarely poorly dressed. This includes Vogue cover stars.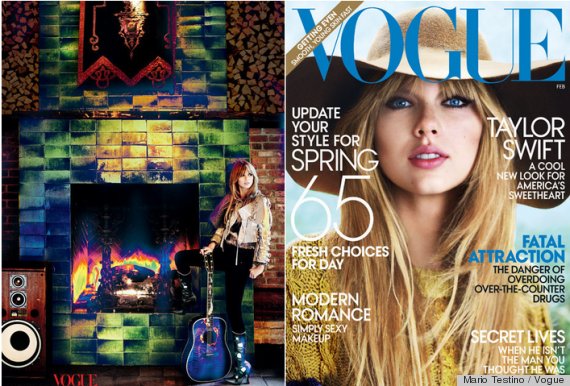 Consider Taylor Swift, Adele and Jennifer Lawrence. All three Vogue cover girls are talented women who are culturally important in their own right, yet none could be accurately identified as a "fashion icon." Sure, "icon" is protean term -- but if we're being strict, there might not be any "fashion icons" on the cover of Vogue unless Wintour chose to put the designers themselves on the magazine covers.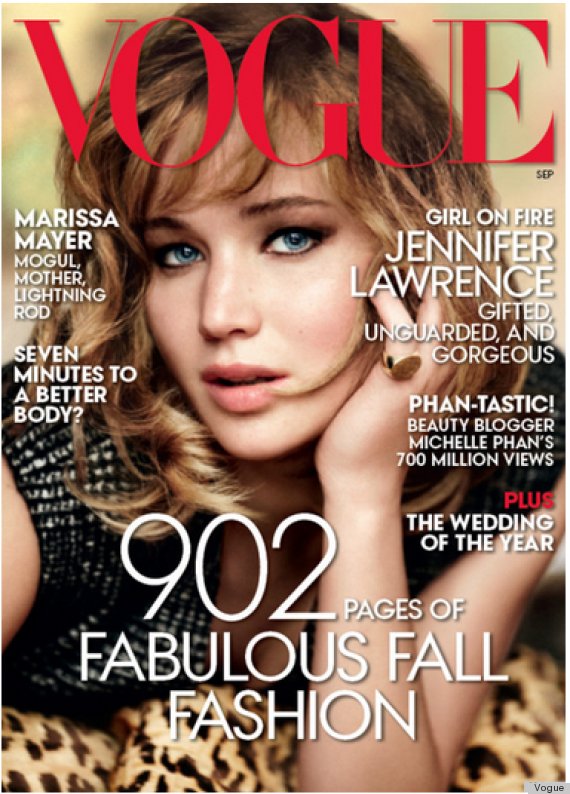 With her game-changing decision to feature celebrities on covers when she began her Vogue tenure, Anna Wintour co-opted a portion of pop culture, which gave Vogue's editorial judgement a major stake in celebrities' public perception. Placing a woman on the cover of Vogue (or disinviting her from covering the magazine) means something about her place in society... which, often, might boil down to the all too simple "classy" or "trashy" binary that tends to define women's sexuality.
The media plays an automatic role in the perception of public figures, especially in the case of celebrities, with whom we rarely come into unmitigated contact. Yet that influence is most often dispersed across multiple outlets and emerges based on an amalgamation of all the media coverage combined. The power that Vogue has amassed through the years allows one editor's decision to cast major shame on a young woman as a direct result of her expression of sexuality. In rejecting Miley from her cover, Anna Wintour is ultimately attempting to regulate the "Bangerz" singer's ability to express herself.
If we accept the synonymity of the Vogue brand and female cultural acceptance, the question is whether the weight of Wintour's decision says more about Vogue... or more about us.
We need to be mindful of the factors that influence our social milieu and the aspects of media presentation that often unwittingly shape our ideas about pop culture figures. The outstanding effect of Vogue (as both a fashion magazine and metonym for one editor's judgement calls) contributes to the overarching nexus of public opinion. Whether or not you think Miley should cover the December issue of Vogue, it is important to be cognizant of the factors that influence ideation, and to remember that inevitably, Wintour is coming.