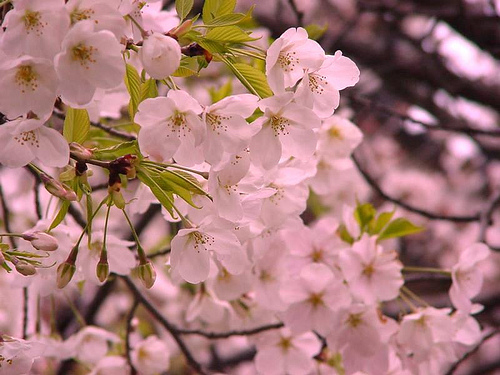 Since the spring of 1912, people have stopped in Washington D.C. to smell the cherry blossoms. Last year, over one million tourists came to the nation's capital to enjoy the gift from the Japanese government 97 seasons after the first trees were planted in West Potomac Park. At a time when climate bills are struggling instead of flourishing on the Hill, why not explore the National Cherry Blossom Festival (March 27- April 11) in an environmentally conscious way? (Especially when this town is making it so easy to lighten the carbon footprint.)
This past week, the Washington Post reported that its hometown city has plans to create even more bike lanes in the District (on top of the new 40 miles of paths), conjuring up visions of an urban utopia where the center of Pennsylvania Ave. is reserved only for cyclists and the President's inauguration. Metrobuses are running on clean-burning natural gas, and the list of U.S. firsts is an impressive one: Washington D.C. has the first LEED-certified ballpark, the first certified organic restaurant, and is the first city to implement a fully automatic bike-sharing program.
As Earth Day's 40th anniversary approaches, the National Blossom Festival has picked a good moment to supplant a pretty cause with a truly ecological one. From adrenaline-pumping activities to sustainable eats, here is a posy of green ways to celebrate the annual spring event.
1. Ditch the car. Take the bus.
In 2010, road trips are out and reducing carbon emissions is in. According to the iPhone CO2 Tracker application, if you drive approximately 200 miles from NYC to D.C. in a medium-sized automobile, you will use 61 kg of CO2. Taking the bus uses 16 kg of CO2. And in an era when intercity express bus companies like Megabus and BoltBus are offering Wi-fi, sizeable leather seats, movies, and $1 tickets, one could add stress-free to the pro-green travel argument.
2. Opt for sweet (sustainable) dreams.
Three of the 59 hotels offering cherry blossom packages have luxurious accommodations and eco initiatives. The Mandarin Oriental is a secluded Tidal Basin-perched getaway within the city, and provides a spa, indoor lap pool, outdoor garden, waterfront views of the blossoms, a green rooftop, recycling program, and triple-paned windows. The Cherry Blossoms Bloom package includes a buffet breakfast for four at the Sou'Wester restaurant and cherry nibbles starting at $374 per night from March 26 through April 18.

At the Fairmont Hotel, located in the West End near Georgetown, the $259 cherry blossom package available March 19 through April 30 includes complimentary overnight parking (not that you'll need it) and a box of capital and cherry blossom-themed note cards. This hospitality brand is known for taking environmental action, and the D.C. property is no exception: the Fairmont hosts a community Earth Day clean-up with a neighborhood school and recently buzzed up 105,000 Italian Honey Bees to its roof to enrich the hotel culinary programs and interior garden.

Inside the Willard Intercontinental just a block from the White House, you'd think the National Cherry Blossom Festival is a holy holiday. Expect live cherry blossom décor, cherry drinks and custard tarts, children's cherry teatime, a Koto player, and historic renderings of the first Japanese delegation to America. The Very Cherry Willard package starts at $359 for two, and includes a Japanese gift and breakfast. The deal is available from March 26 through April 11.
3. Bike the blossoms.
For the entire 16-day festival, Bike and Roll is offering blossom bike routes for guests to see the full floral monty. Choose to ride ($32 per adult and $22 per child) the two-hour tour either during the week at 3:00 p.m. or on the weekend at 9:30 a.m., 12:00 p.m., and 3:00 p.m.

4. A green appetite.
It's refreshing to know what restaurants are really feeding you, isn't it? While over 70 eateries are serving up "Cherry Picks" on their menus--plates inspired by cherries and blossoms--only two of them are actually eco-friendly. New to Pennsylvania Ave., Founding Farmers is a Green Certified Restaurant and turns out classic American dishes while emphasizing seasonal, farm-to-table cuisine. For the festival, Founding Farmers has created items like a Sour Blossom Mousse cocktail ($13) and chocolate-cherry French toast ($10). In the Penn Quarter, the Poste Brasserie has a delightful organic garden setting that's perfect for a spring feast. Order the "Arborists Delight" cocktail with cherry preserves, rum, and sparkling wine ($11), and try the Pineland Farm's Steak Tartare with house-made brioche.
5. In the greenlight.
Think Philippe Cousteau not Robert DeNiro. At the 18th annual Environmental Film Festival in Washington D.C. from March 16 to March 28, each of the 155 sustainably-produced films is as powerful and enlightening as the next. The majority of the flicks are offering free admission across the 56 venues: Charles Darwin and The Tree of Life is being screened at the National Museum of Natural History; Taking Root: The Vision of Wangari Maathai is going to shed light on the Green Belt Movement of Kenya at the National Museum of African Art; and Division Street will explore what lies way off the beaten path in the lower 48 states when it is shown at the National Academy of Sciences.
6. Drink Greenly.
At the end of the day, Earth Day is about celebrating the planet, so it's only fitting that people join together to toast to her good health. The Earth Day Network's first "Green Hour" launches tomorrow at The Vrandenburg Café in The Phillips Collection Museum, where organic food and drinks will continue to be offered next Thursday, March 25 as well April 8, 15, and 22, from 5:00 p.m. to 8:00 p.m. $1 will be donated to Earth Day Network for every libation purchased.

For more information on National Cherry Blossom Festival activities and special packages visit washington.org.