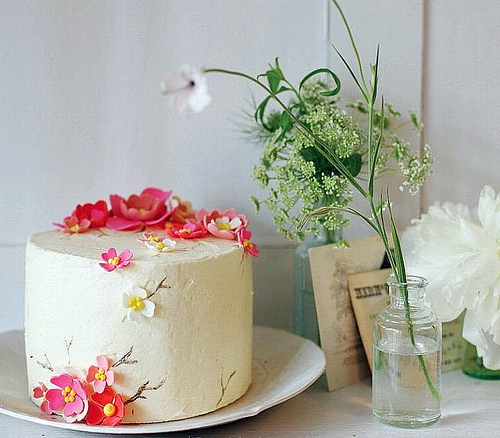 This day is supposed to be the most beautiful day of your life. It also happens to be one of the most egregiously un-green traditions we have. I didn't even realize this--and I run a green travel website--until my boyfriend proposed to me in the middle of a rain forest five months ago and I began planning my wedding. Now that I am a bride-to-be, I figured I'd share some easy things we can do for the good of the planet (and our wallets) in anticipation of the big day.
According to a 2009 Real Weddings survey by TheKnot.com and WeddingChannel.com, 11% of couples choose to incorporate eco items--up only 1% from 2008. This statistic could use a boost. "You don't have to call it a green wedding, it's just being smart," said Anja Winikka, editor of TheKnot.com. "I do see that the eco chatter is more significant in 2010. Brides are opting for potted centerpieces and picking the caterers who recycle over those who don't. Just make sure you know that what you're buying is being used in the most efficient way."
Here are seven easy ideas for how to green your wedding:
1. Get Married in the Green Lane
You may already be planning to do something supremely eco without even knowing it. Pick a location that is near a train, bus, or ferry station to eliminate the need for guests to drive. Another option is to hold both your ceremony and reception in the same venue to minimize taking the car from one site to the next. If it's affordable, charter a bus to bring all the attendees to one hotel you've selected for overnight accommodations. (This way, you may also be able to negotiate a better group rate.)

2. Livin' La Vida Local
Start thinking of Mother Earth as your Matron of Honor. "To achieve an eco-friendly wedding, incorporate natural resources and materials, such as fallen trees, into table centerpieces," writes Charleston-based Tara Guérard in her newest Weddings book. The revered owner of Soirée by Tara Guérard offers simple, smart ways (like borrowing sand and shells from the beach) you can throw an eco-chic fête.
Work with a caterer who shares your conservationist sensibility by composting, recycling, and most importantly, providing a menu that locally-sources everything, from the basil leaves to the fish; a responsible menu will sprinkle around the word "farm" which your guests will recognize--and later appreciate when they taste each fresh plate. (You might even want to enlighten your caterer about a new online fish market, i love blue sea, that sells sustainable sushi-quality fresh seafood from anywhere in the U.S.)
The florals are some of the most visually stimulating points of the event, so don't be concerned that you'll have to skimp on the arrangements in order to be "green." Following an easy philosophy, the 100-mile diet, source flowers and plants within a close proximity to your destination to help minimize transport emissions. Reuse whatever vases your planner or designer may already have in-house, or get creative with mason jars, coke bottles, teapots, or even wine glasses--check out thenest.com's trash to treasure board.
3. Say Yes to the (Green) Dress
If you are the type of person who is always game to try something different, consider selecting a dress that has either been worn once before or has been made with eco-friendly fabrics--like a silky material with steamed milk fibers--ideally not flown in from China. Check out the Green Gown or eco couture collections by Adele Wechsler for beautiful, socially conscious designs.

4. Save the Date and the Paper
One day, virtual weddings will be all the rage. Until then, we can save a great deal of paper and CO2 emissions by providing the save the dates, announcements, maps and directions through a personalized wedding website or . . . an email. Consult pingg.com for free online services, shutterfly.com for setting up your own website, and stylemepretty.com for artistic and earthy ideas. If you have Photoshop-savvy or web developer friends, ask them for some guidance in getting started. When it comes time to send out formal invites through the mail, tap an invitation designer who will use tree-free or 100% cotton paper made from reclaimed fibers and vegetable or soy based inks.
5. Satisfy a (Sustainable) Sweet Tooth
Do not associate vegan and organic with crunchy or cardboard. Better to keep the following keywords in mind when searching for a pastry chef or bakery: fair trade, certified organic, locally sourced, in-season ingredients. If a cake maker says, "Sure, we can make it green, just requires a little food dye" that's your cue to exit. Truly talented eco cake makers, like Sarah Magid, Build a Green Bakery, and Baby Cakes NYC, will show you how inspiring, delicious, and guilt-free the "green" desserts can be.
6. Do the Planet a (Wedding) Favor
"We do give our clients a lot of options, be it plantable favors or recyclable décor," said Jennifer Crone of Private Receptions. "But people don't care. They think it's cute to have 1,000 plastic water bottles with their names on it." Forget the plastic bottles, they are not memorable or cute. At least consider choosing a water bottle with a longer lifespan, like the aluminum Sigg bottles ($1 per purchased item is also donated to the Sierra Club). If the $17 and up price is out of your wedding favor budget, impart guests with an Oboe bag, ecosystem journal, tree in a box--be it a Giant Sequoia or a Ponderosa Pine--or even something more personal like home-made caramelized nuts, which one newlywed Nikita Reese did. When you're on the tree in a box website, calculate how many trees you'll need to plant to offset the hundreds of thousands of pounds (or ten round trips from England to Thailand) of CO2 your wedding will emit.
7. And Vice Versa--Ask for a "Green" Gift
Don't be reluctant to move away from the traditional Target or Crate & Barrel wedding registries by asking your guests for something slightly offbeat, like carbon offsets (for just $30, you can retire five tons of CO2 or the equivalent of one year's worth of gasoline) a donation to the World Wildlife Fund, or an eco-friendly espresso maker. Even if your guest list includes global warming skeptics, this is what the couple wants so this is what the privileged guests should get.
More Useful Green Wedding Resources
National Green Pages
Portovert
Organic Bouquet
Local Harvest
Dream Green Weddings
Recycled Bride
Eco Wedding
Earth Friendly Weddings
Wedding Gown Specialists
Are you planning or did you have a green wedding? Leave your tips in the comments section below.
Photo: Noah Sheldon; Sarah Magid's Cookbook, Organic and Chic (William Morrow 2009)