It was 63 degrees this past Sunday in NYC. Some people thought picnic in the park, and others, what a lovely side effect of global warming. Climate change almost canceled Thanksgiving and with news out yesterday that greenhouse gases hit record levels in the world's atmosphere, it is a good time to reevaluate new ways we (the people, not the powers that be) can curb our carbon emissions.
I'm anal about recycling, long showers, wasted energy, yadda yadda, but green travel is my jam, both personally and professionally. The bike is my main mode of transportation and I run a travel blog that encourages New Yorkers -- and now Californians! -- to get out of town without a car.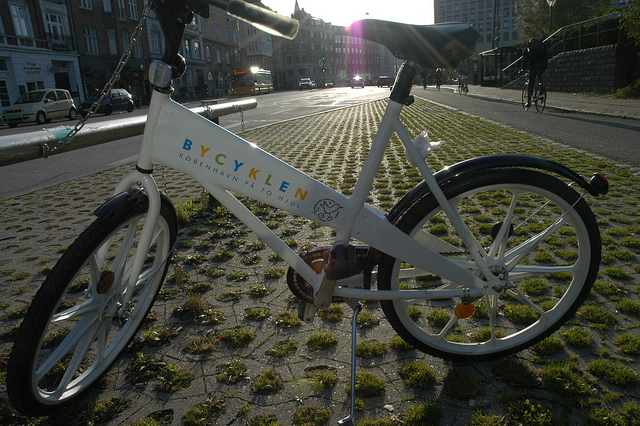 On a recent trip to Copenhagen, set to become the world's first carbon-neutral capital, I discovered the Danes' secret to happiness.
A little over a month ago, curious to see what a truly eco-conscious, bike-crazed culture looked like, I bought a ticket and $13 worth of carbon offsets and flew to Copenhagen. I ate smørrebrød, drank Carlsberg, and interviewed government officials and strangers who performed random acts of kindness; one waitress at a bakery offered me her weekly allotted free cupcake; another person launched into a two-wheeled chase to let me know my once pocketed map had become road kill. For four days, I cycled alongside jocund Danes during rush hour, en route to meetings and dinner dates, and by trip's end it became clear that moving through life on a bike made these people feel free, fit and naturally high. Endorphins ward off stress and mundane errands were more fun to carry out. Could it be just a coincidence that the happiest people on the planet also have the number one bike culture?
And for those who will get temperatures in the 60s again this weekend, consider burning off the Thanksgiving calories with a bike ride.
Read my Things to Do in Copenhagen article to learn about local hot spots, exploring the town by bike, and how the city is working to reach its ambitious green goal.