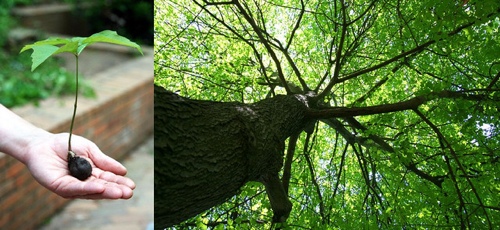 While the GOP (Gas Our Planet) leaders continue to prance proudly about the hill and lock horns over the top energy committee positions, we GOP (Green Our Planet) bloggers shudder to think how climate bills are sure to suffer even more now. Despite the scary reality that our newly-elected officials are bucking the existence of global warming, we civilians have the power to counter climate change by recycling, turning off lonely lights, shortening our showers, unplugging appliances, taking public transportation, and softening our carbon footprint when we travel.
On your next adventure abroad or across the country, why not consider a getaway that gives back to the environment? From a lodge in Africa to a castle in Ireland, these 10 eco-conscious hotels will make it easy and fun for you to help the earth by planting trees (with or without you) when you book a room or green package--or simply order a green martini.
Tree-toid: Did you know that just one tree can soak up as much as 48 pounds of carbon dioxide in a year and produce enough oxygen to sustain two human beings for life?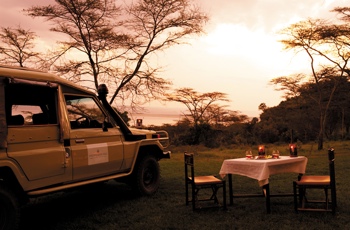 1. Sarova Hotels | Kenya | sarovahotels.com
Tree Time: Comprised of eight hotel properties throughout Kenya and East Africa, Sarova has a sweeping ecological policy, wherein all guests are encouraged to plant an Acacia or Commiphora tree in the Taita Wildlife Sanctuary during their visit. At Sarova Lion Hill, overlooking Lake Nakuru National Park and flocks of flamingos and the endangered white rhinos, the lodge will present you with a certificate of appreciation for helping preserve their local ecosystem.
Holiday Package Rates: During shoulder season, Nov 1-Dec 22nd, rooms start at 8,999 Kenyan shillings/$112.


2. Ballynahinch Castle Hotel | Ireland | ballynahinch-castle.com

Tree Time: Surrounded by woodlands, gardens and lakes in Connemara in the western portion of County Galway, Ireland, this 17th century castle is operated by people who challenge Salmon Farming industries, participate in climate change studies, and achieve a carbon neutral hot water and heating supply to the hotel (through Solar panels and wood pellet boilers). Guests are invited to participate in tree planting around the estate, and can dedicate the tree to the memory of a loved one or to celebrate a birth. Guests will receive a certificate with records about the species and location of the tree.

Regular Rates: A classic double bed room with mountain and river views starts at €140 per night.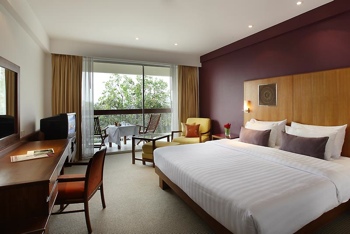 3. Amari Hotels | Thailand | amari.com

Tree Time: When you stay at an Amari Hotel, be it in downtown Bangkok or Patong Beach in Phuket, if you are visiting for a special occasion or over a public holiday, the property invites you to plant trees in the local area. Across all Amari destinations in Thailand, environmental responsibility is a top priority as evident from initiatives like a staff trained for energy awareness, low-flow showerheads, the use of Compact Fluorescent Light Bulbs, green cleaning products, and hotel-organized community meetings to educate residents about being eco-conscious.
Rates: At the Amari Don Muang Bangkok, a superior room booked on a Friday in March starts at 1,450 Thai Baht/$49 per night. Amari Coral Beach packages during winter, Nov 1-Dec 20, start at 7,5000 Thai Baht/$254 for three nights in a superior room, including dinner vouchers, spa discounts, and roundtrip airport transportation.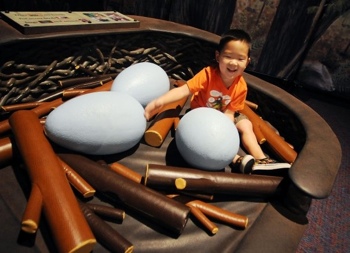 4. Doubletree Hotels | doubletree.com
Tree Time: Just because it has the word in its name, doesn't make it a shoe-in for this list. However, the hotel chain's Teaching Kids to CARE program has developed an Exploring Trees Inside and Out exhibit for children to learn about the importance of environmental stewardship. The 2,500-square-foot-roving museum, which encourages visitors to take a newfound fascination with trees through a series of sensation stations, is making its final stop after a three-year tour at the Peggy Notebaert Nature Museum at Lincoln Park in Chicago, where it will remain through January 30, 2011.
Rates: For those looking for a ski getaway this winter, check out the Doubletree Hotel Burlington, where nightly rates begin at $141, including roundtrip transportation to and from the airport. For a full list of green certified Doubletree hotels throughout the U.S., visit doubletree.com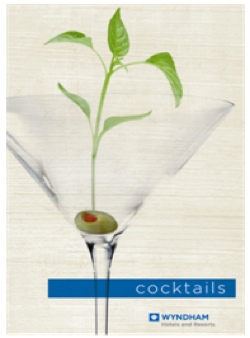 5. Wyndham Hotels | wyndham.com
Tree Time: Cocktails never tasted so good. Wyndham Hotels and Resorts recently created an unusual option for guests called "Ecology Mixology--Have a Drink, Plant a Tree" that exists to support sustainable establishments in addition to the planet. Whenever a guest orders a TRU Blue Signature Organic cocktail--a mélange of vodka, organic orange liqueur, fresh lemon juice and naturally blue-tinted simple syrup--GreenBar Collective will plant a tree in a Central America rain forest. In addition to helping guests drink responsibly, Wyndham properties outfit their staff with uniforms made from recycled plastic beverage bottles, use CFL's, low flow water practices, and provide "eco tips" for travelers to take home with them.
Rates: You don't have to spend a night to enjoy this tree-martini. For a full list of locations around the world, visit wyndham.com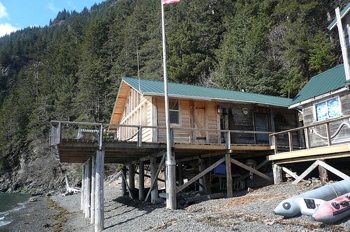 6. Sadie Cove Wilderness Lodge | Alaska | sadiecove.com
Tree Time: This entirely sustainable lodge in Kachemak Bay State Park is only accessible by sea or air and is an idyllic introduction to Alaska's wildlife. The hotel comes with plenty of rustic charm and all the bare essentials, plus a television, Internet access, fire pit, sauna and bath house, but the real draw is the beautiful setting. After eating freshly caught Alaskan salmon prepared by the lodge's resident chef, take out a sea kayak or sit on the deck and enjoy the dramatic vista of the Sadie fjord, mountain goats, eagles, otters, and whales, knowing that just by staying here a tree has been planted in your name.
All-inclusive Winter Rates: $550 per person per night.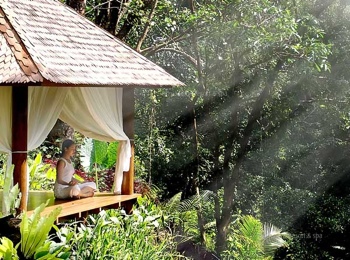 7. Maya Ubud Resort & Spa | Bali | mayaubud.com

Tree Time: All you see are trees at this hilltop resort, perched above two river valleys in Bali. Within walking distance of the town of Ubud, the Maya hotel offers a romantic interlude package that includes three nights accommodations, private airport transfer, breakfast, lunch, daily afternoon tea with Balinese sweets, spa treatments, an al fresco candle-lit dinner, free shuttle service, yoga, pilates, nature walks, and naturally, a tree planting activity in the resort's riverside garden.
Romantic Interlude Package Rates: A superior room ranges from $1,262 to $1,562 for a deluxe pool villa/per three nights.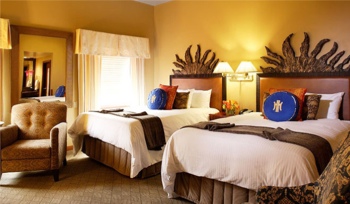 8. Heathman Hotel | Portland | portland.heathmanhotel.com

Tree Time: It's no surprise that the city consistently dubbed the greenest town in the United States has a hotel with a plant-a-tree initiative. In addition to trying to "change the world one tree, one action at a time" through the Friends of Trees organization, the Heathman Hotel ensures that 30% of all electricity used by guests and staff comes from carbon neutral wind energy. The "Go Green" package includes overnight deluxe accommodations for two, continental breakfast, organic Van Duzer wine, and complimentary parking for those with hybrid vehicles. If you're more interested in a hands-on conservational experience, the hotel has several volunteer vacation packages as well that start at $100.
Go Green Package Rates: Deluxe Queen room starts at $219 per night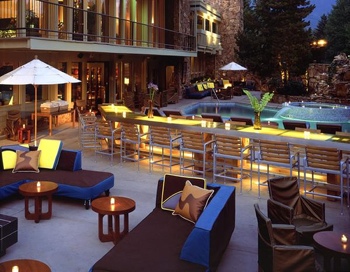 9. Sky Hotel | Aspen | theskyhotel.com
Tree Time: Situated in downtown Aspen, this pet-friendly Kimpton Hotel's Green Sky package includes deluxe accommodations, cocktails, a planted tree, and a 5% donation taken out of your room rate that will go towards the Aspen Valley Land Trust to protect and maintain the Roaring Fork Valley.

Eco Rates: Valid in the warmer months, Sun-Thurs, until November 24, prices start at $148 per night. Book online or call 800.882.2582 and mention code PGRN.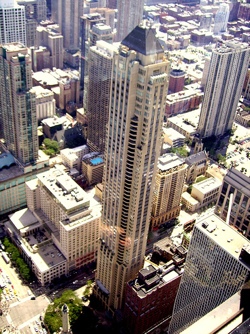 10. Park Hyatt | Chicago | parkchicago.hyatt.com

Tree Time: While there is no demonstrative evidence of the initiative on the hotel website, the Park Hyatt does indeed have a Tree Planting Program, where guests are presented with a personalized certificate recognizing that a donation has been made in their names to the Targeted Tree Planting Program of the City of Chicago, which plants trees in public parks, schools, neighborhoods and historic boulevards. The hotel also offers guests complimentary Trek Hybrid bikes (along with a lock, helmet, lights, travel bag, map, water) and Hybrid valet parking during their stay.
Rates: The awaken package starts at $325 during winter and includes a king room with park views, breakfast at Nomi Restaurant, and a late Checkout at 1pm.
If none of these hotels do it for you, you could always vacation in a tree.
Lauren Matison is a green travel expert and co-founder of offManhattan.com, an eco-conscious travel site that writes about car-free getaways from NYC.

Tree photo by Amelia