Standing up in solidarity with the oppressed and exiled members of the "bravest theatre in the world" (Time Out London, Belarus Free Theatre [BFT]), US theatre companies nationwide are putting on free staged readings of the BFT's acclaimed play Being Harold Pinter.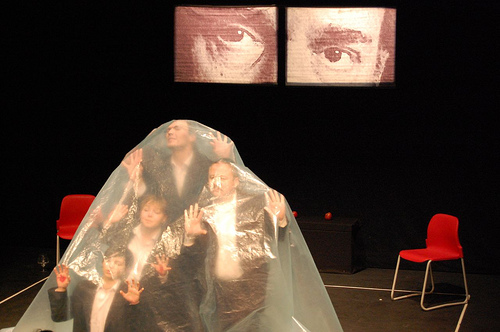 Belarus Free Theatre in 2008
This grassroots landslide of events was prompted by the spotlight shown on BFT's founding members who were jailed and denied the right to perform after protesting Belarus's president in December 2010. There was doubt that BFT would make their scheduled New York City performance dates at The Public's Under The Radar Festival. After smuggling themselves across the border all four members arrived safely in New York and performed their "urgently political" work to great reviews.
"Tracing the relationship between power and violence in the works of Pinter, who died in 2008, this production out of Eastern Europe is both dismaying and extraordinarily heartening." - Ben Brantly, NYTimes, Jan 6th 2011
The readings are loosely coordinated by the Facebook group Being Belarus Free Theater Project and Send For The Warden. Organizers are urging patrons to sign the online petition.
"We hope it helps increase awareness of the situation in Belarus and pressure for change," said Charles Campbell of Free Belarus Project.
David Sizasa, Programming Director of ZSpace in San Francisco who's event will occur Feb 8th said, "presenting Being Harold Pinter offers a unique opportunity for our community of artists and audience to engage with a critical moment where theater is an active agent for social change. Acting in solidarity with Free Theater of Belarus, we join with other artists around the world to raise awareness and garner support for freedom of expression and freedom from persecution for all people worldwide."
"The whole evening made me proud to be a human being," said Mead Hunter who helped organize the Portland event helmed by Tracy Cameron Francis.
Upcoming readings of Being Harold Pinter:
January 17 - Baltimore, MD - Single Carrot Theatre
January 17, 7:30pm - Theater J in Washington, DC To reserve FREE tickets, email FreeBelarusDCtix@gmail.com.
January 21, 8:00pm - Irving Community Theatre, Irving TX - stage.directions.blog@gmail.com for reservations or more information.
January 27, 7 pm- Madison, WI - UT Hemsley Theatre -
January 31st. 7:30pm - Pittsburgh, PA Bricolage Theater
Tuesday, Feb 8th, 7pm - San Francisco, CA - ZSpace FREE
Readings have taken place at Portland Center Stage in Portland, OR; The Rudyard Kipling in Louisville, KY; Skewed Visions Studio in Minneapolis, MN; Nautilus Music-Theater in Minneapolis/St Paul, MN.