What is drama?
I spent two years and several thousand dollars in grad school (and NYC housing) adjusting the answer to that question. I came to something like: Drama (and comedy) is active risk and choice, people doing things of consequence to an end, character in vigorous crisis questing for balance.
But what honed my personal definition is this: the epic converging on the every day. That's what great theater exposes -- the simple secrets and routine dreams shocked by change, the small beauties and furies of normalcy caught in the extraordinary, the stupid motives and surprising humanity of us all, our biggest ideas in our smallest stations and likewise.
Epic x Every Day = Drama.
Great theater asks the most "normal" of us: what would you do in crisis?
(As a result, plays that leave me untouched are the ones too sugary, too small, or too trivial to bother asking myself that key question.)
We see this Every Day Epic, well, every day. "History making" moments outpouring from news outlets constantly -- Prop 8, soldiers dying, abuses, injustices, cutting edge science, outbreaks of violence or viruses, incredible achievement (today is the 90th anniversary of the 19th amendment) or shocking loss. But the reason why these newsworthy moments are moments (and not drama) is because of how little we usually know and see of the every day elements of these people's lives. The quiet thoughts, the daily cares, the contrast of menial and grand. What separates news from drama is precisely and experientially personal.
Like last year's grand, terrifying, beautiful, and Pulitzer Winning Ruined by Lynn Nottage, about the intimacy and loyalty of a band of women in war-torn Congo, which offers us an every day that is shredded with gunfire, sexual violence, and greed. The epic horror of war saturates women just trying to stay alive, to do business, to care for each other. It is in the personal and often funny details of her characters and their triumphs over every day horror that made me understand and love them. It is not my every day, but it could be. That's some mighty humanity on display. If it's playing near you, go see it.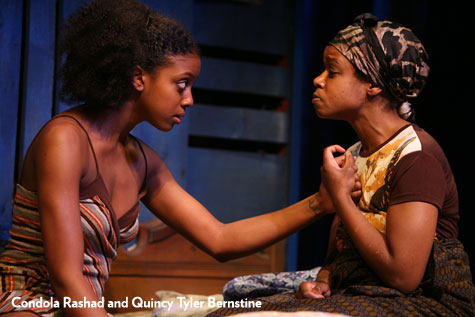 Photo by Joan Marcus
In complimentary contrast, Athol Fugard's Coming Home at Berkeley Rep last season put the global threat of AIDS in the small shack and humble hands of a young mother, her brilliant son, and her quirky suitor. Theirs is a "small" life, but one that expands the intimacy of this real and world-wide ravishment.
Ruined finds the every day in the epic; Coming Home finds the epic in the every day. "Based on a true story" plays like Tony-Winning Red (about artist Mark Rothko) do this too -- by presenting the every day genius and crisis of storied figures. For every theatrical dose of the larger-than-life, we need regular life and vice versa.
Every day elements help us connect to the big ideas to our regular lives, and big themes help us see the grandness and diversity of the human experience.
Some plays create this balance with theatricality (adding grandiosity with poetry, magical realism, surprising structure or design), some plays find their epic in historical context, and some plays reveal their mass in a single moment of great humanity. And some plays just hand ourselves back to ourselves. But I don't need those plays like I need the heartbreaking (and heart-building) stuff. Whether tragedy or satire, new plays or classics, give me big ideas, big drama, big wit, big perspective. This world is too fickle and too busy for anything else.
In a world where shocking corruption, violence, and injustice meet stunning generosity, future-making discovery, and a rebellious hope we need a theater that gives us new ideas, not just a good time (and yes it can be one and the same). The experience of fresh understanding lasts longer than a laugh (and yes it can be one and the same). Great theater can wrap us in the wild wonder of the now -- a world where epic and every day are constant and often times shockingly identical.