This year's most coveted ticket at Cannes Film Festival has been a golden one. AmfAR's 20th Cinema Against AIDS Gala took place on May 23rd, 2013 and for the first time ever LoveGold was a sponsor. The result was absolutely beautiful. A glittering guest-­list donning the most magnificent jewels, and an entire event engaged to the theme of the evening: Gold.
The event's main spectacle included "The Ultimate Gold Collection Fashion Show," which was curated by Carine Roitfeld. Roitfled's iconic style and finesse can be traced back to her days at Vogue where she was editor-at-large. Playing a key role in the event she also had decided to dedicate this show to Elizabeth Taylor, who she say's "approached charity with the glamour of fashion and Hollywood, which helped inspire hope, passion, and the dream of a better life."
As a viewer, "The Ultimate Gold Fashion" was outstanding. With a model roll call including Karolina Kurkova, Irina Shayk, and Alessandra Ambrosio the entire production gave The Victoria's Secret Fashion Show a run for its money -- literally -- raising over $25 million for AmFAR's lifesaving AIDS research programs.
Here is a taste of what was seen on the runway last night:
Rosie Huntingon Whiteley
Photo Credit: Getty Images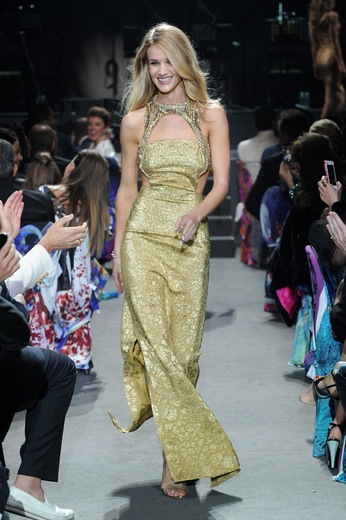 Gold gown by Alexander McQueen
Alessandra Ambrosio
Photo Credit: Getty Images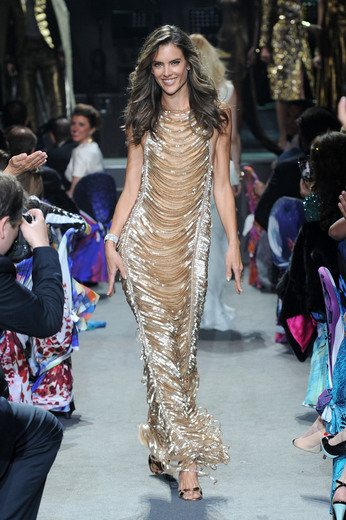 These beautiful gold cuffs were created by H.Stern and worn at the event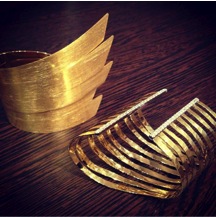 To view more check out the live stream replay at http://www.lovegold.com/cannes2013
This post was brought to you in collaboration with LoveGold & ByGoldGirl