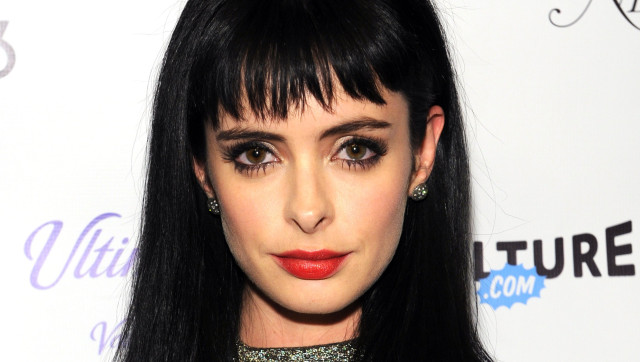 I'm pretty low-maintenance when it comes to hair care. That's why cutting bangs was a pretty big commitment for me. As a longtime air-dryer, I'd need to adjust to devoting at least five minutes to styling. Talk about a lifestyle change.
After the cut, I realized that my hair grows fast, and bangs require frequent upkeep. But who could I enlist to keep it up? I would never cut my own hair. I can hardly paint my own nails.
Around the time my hair skimmed my eyes, a solution took shape. I accompanied an image-conscious male friend to his bi-weekly haircut before heading out somewhere on a Friday night. Turns out he frequents a pretty cool salon, filled with perfectly pomaded young gentlemen in horn-rimmed spectacles.
The salon offered complimentary adult beverages, which I sampled as I waited. I should note that the rockabilly look is not for me, but by the time my friend was ready to leave, I'd had enough PBR to ask the receptionist how much they'd charge me for a bang trim. When she told me it was five dollars, I had her schedule me in for the following week.
I can justify spending five dollars on my bangs every six weeks. And they did a great job, so my friend and I fell into a pattern of scheduling our trims together. My bangs were even, and I was happy.
Until the last time. Last time, my friend didn't give me enough notice, and I had to call the salon two hours before we planned to show up. I was told I could be squeezed in by a new stylist.
I certainly did not recognize her. While all two female employees at the salon rock Amy Winehouse-esque pin-up looks, this girl was wearing a droopy knit beanie. If hair is your profession, why cover it up? What did Droopy have to hide? If her ends were any indication, a lot. Her over-bleached blonde hair had the texture of straw, and was dip-dyed neon, like the at-home version of Peter Som's spring 2013 beauty.
I have learned to ask my bang trimmers to cut them just at my eyebrows. "Seventies bangs," as the salon's owner once described them to my friend. These are in opposition to the salon's preferred close-cropped, dramatic Bettie Page bangs, like the ones on the receptionist's forehead.
If mine are "fringe," Droopy gave me bristles. Short, separated, and clumpy. Adding insult to injury, Droopy flat-ironed 'em, robbing me of any of the body my hair still held.
I think Droopy could see my disappointment through the mirror, or she noticed that a strand in the middle was about a half-inch shorter than the rest. She picked up her scissors again. "It's fine," I said, and stood quickly before she'd chop off any more of my precious hair.
Dejected and dissatisfied, I returned to the reception area, where my friend sat with his beer, waiting. The receptionist did that thing salon counter girls are so skilled at, when they mouth communication to the stylist across the room, incorporating head nods and hand gestures. "HOW MUCH?" Bettie's mouth formed a slow, exaggerated o-shape. To my surprise, the stylist held up two hands -- seven fingers.
"So it's seven dollars," Bettie turned to me and smiled.
"No, it's not," I insisted. "I've been coming here for months and I've always paid five. I've just never had her before." I jerked my pointer finger back in Droopy's direction, and her eyebrows arched in concern below her beanie.
"That's what I thought," the receptionist said. She was on my side. Below her breath: "It's fine, just pay five."
As I counted out exact change, Droopy returned to reception. Bettie began to scrawl something quickly on the back of a business card.
"This is that band I was telling you about," her eyes widened, and she briskly handed over the business card.
"I think you must be confusing me with someone else," I said slowly. I hardly had time to make small-talk while I was strapped into that torture chair. "We didn't--"
"Just go with it," Bettie said forcefully, extending her hand.
"Um, okay," I gathered my coat and her card, and headed for the door.
Bettie Page followed me to the door. "These are the people you should ask for instead." Written on the card: "eileen or will."
"Got it," I winked, and Bettie headed back to her perch at the counter. She turned to chat with the oblivious new stylist.
So my friend and I headed out into our Friday night, lighter from the hair lost, and wiser from the recommendations gained. My bangs grew back to a relatively normal length within a week and a half -- but that shorter snip in the middle of my forehead is still catching up.
Short bang hairstyles can be tricky, and these 22 celebrities prove it:
PHOTO GALLERY
Awkward Short Bangs (PHOTOS)
Want more HuffPost Style beauty content? Check us out on Twitter, Facebook, Tumblr, Pinterest and Instagram at @HuffPostBeauty. (For everything else check out our main HuffPost Style Twitter, Tumblr, Pinterest and Instagram @HuffPostStyle.)