5. Social Media Networks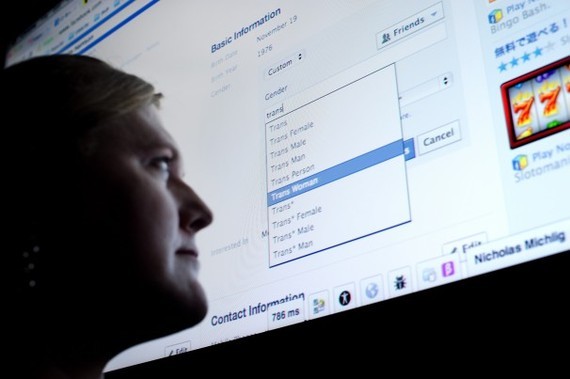 In today's world, social media networks have become places where people can customize and cultivate their true identity on their own terms, which is particularly beneficial if their surrounding environment does not accommodate them. Such is the case with Facebook, as well as other places like Twitter, Tumblr, and Instagram. Social media have turned the Internet into a social hub, housing a conglomerate of different gender identities and spaces that perhaps do not have a place to exist in the external world.
4. Entertainment
Laverne Cox of Orange Is the New Black has unquestionably set the bar for transgender characters within today's hit TV series as a reoccurring character with her own life story (rather than a redundant sob story). Orange Is the New Black is paving the way for new TV series to do the same, and ABC Family's The Fosters has taken up the challenge. Furthermore, TV personalities such as Piers Morgan and Katie Couric are doing more TV segments on transgender issues, thus increasing trans visibility within pop culture (despite the ignorance that these segments may entail). And let's not forget Jared Leto in Dallas Buyers Club, Hilary Swank in Boys Don't Cry, Felicity Huffman in Transamerica, Daniela Sea on The L Word, and even Chloë Sevigny's androgynous character in If These Walls Could Talk 2.
3. Sports
After the recent Winter Olympics, we are still faced with the reality that not one openly transgender athlete has ever competed in the Olympics. Needless to say, athletics might be one of the harshest arenas for transgender people to break into. However, this hasn't stopped transgender athletes from competing at high levels. Today transgender athletes are taking center stage not just with their athletic prowess but with their bravery and their fierce determination to set the sporting world right. Such athletes include MMA fighter Fallon Fox, former NCAA college basketball player Kye Allums (the first openly transgender NCAA college basketball player), current NCAA college basketball player Gabrielle Ludwig, and Crossfit competitor Chloie Jonnson (who is fighting Crossfit's decision to bar her from competing as a woman). Transgender athletes are not only competing within their sport but competing for a space for all transgender athletes within the sporting world.
2. Fashion
The fashion industry has never been wary of pushing boundaries, including the boundaries of gender. Gender nonconformity is not only becoming commonplace in the fashion world but is now becoming the epicenter of high fashion and innovation. From Barney's New York's spring 2014 campaign featuring only transgender models to the rise and visibility of androgynous and transgender models to the growing demand for clothing lines such as The Handsome Butch and Saint Harridan, fashion is where gender has no bounds.
1. Homelessness
Although progress is occurring, homelessness continues to have a disproportionate presence of transgender individuals (compared with the general population). The percentage of homeless people who are transgender and/or non-binary is so staggering that many would agree that it is at epidemic proportions. However, with the continued visibility of transgender individuals within pop culture, and with the growing number of spaces and opportunities provided within our society, we can decrease this percentage for the better.