Montreal -- a city of culture, great food, abundant in music festivals, great shopping and just oozes class. Montreal has a joie de vivre attitude. They live to eat, drink and play. Creativity is part of the culture -- there's a festival, concert or party throughout the year and those beautiful French accents are bountiful.
Only a 1.5 hour flight from NYC, this is a must-visit city for anyone who loves a city with a rich history, music, food, fashion and fun... Does this sound like you? Read on! Here are our tips on the "best-of" in the charming city of Montreal.
1. Where to Stay?
-Fairmont Elizabeth, Downtown
Famous for the John Lennon and Yoko Ono stay in 1969 on the 17th floor, this hotel lives up to its reputation of being the best in the city. I loved the service at this hotel -- it was impeccable! Located on the 18th "gold floor", we had a separate area for breakfast, afternoon teas and after dinner snacks and drinks. The views of the city from this floor are incredible and it's in walking distance to the shopping streets, and the old port, which is so convenient.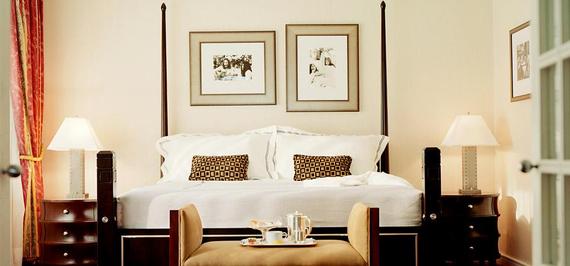 Photo credit: Fairmont Elizabeth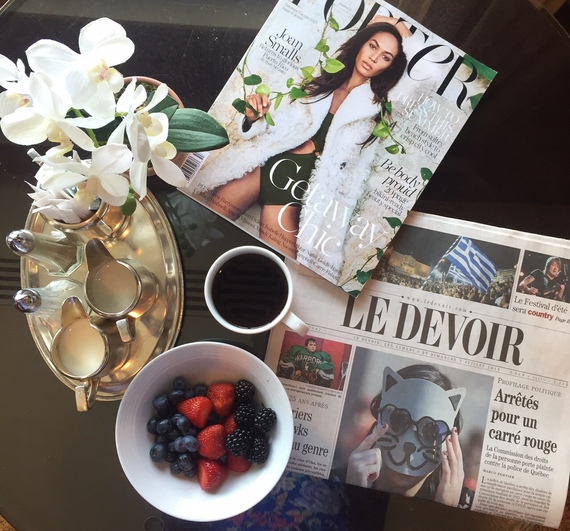 The best way to start the day!
2. Where to Eat?
- Comptoir Vegetarien, Old Port
I'm not usually one for vegetarian -- it just doesn't sound appealing, but this is different. The food is so good and tasty; you will thank me for introducing you to this one. Located at the back of a homewares/interior design store, this cafe is super cute and has great treats, salads and smoothies -- everything that will make your taste-buds as happy as your body will feel. Oh, and the interiors are fabulous too.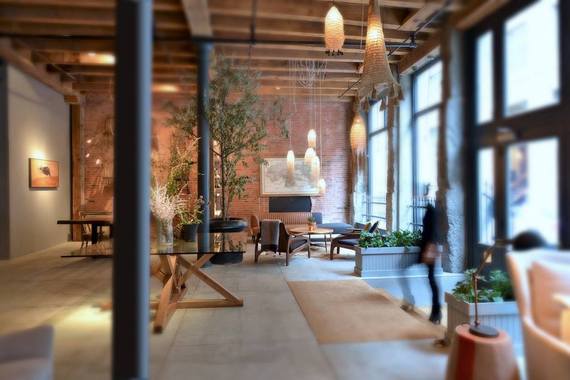 photo credit: Comptoir Vegetarien
- Manitoba
Hidden in a cool side street in a non-touristy area, put this uber cool restaurant on your list. "We wanted to share in the simplicity of eating well, drinking well and having a good laugh together", says Manitoba owner. We agree.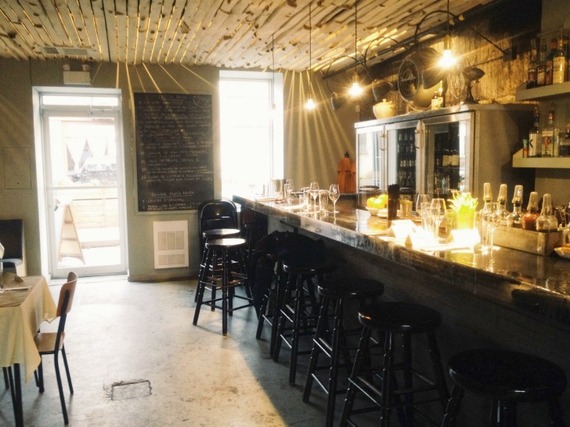 Photo credit: Manitoba
-Pastaga
A neighborhood favorite -- off the tourist map, this is a great find. It's all about simple food tasting amazing, great wine; simple, warm interiors and delicious sharing plates with good friends. A cool feature about this restaurant is you get to watch the chef's hard at work, creating their dishes in a glass-walled kitchen. There's even a group table in the kitchen itself for events -- how fun! Make sure you try the grilled octopus with squid ink and saffron cake; and chopped liver with onion mousse toasted bagel and pickled onions. Taste sensation!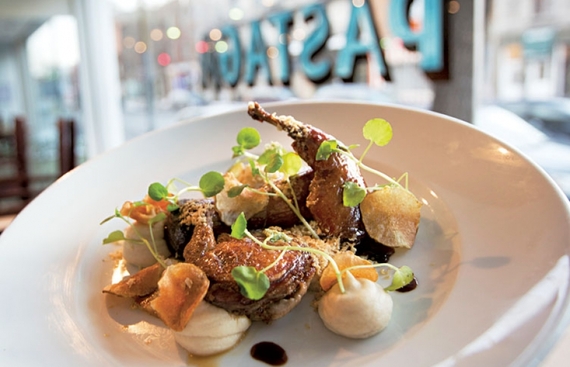 -Cafe Parvis
This is one of my favorite lunch spots. It may have something to do with the adorably cute bartender, or perhaps the rustic-European-vibe interiors... Cafe Parvis has to be on your to-do list. Make sure you try a drink at the bar, something refreshing with mint is their specialty; the egg pizza and the tomato salad -which is not so much of a salad, rather a huge delicious tomato dressed up and insatiable (you absolutely have to order this!)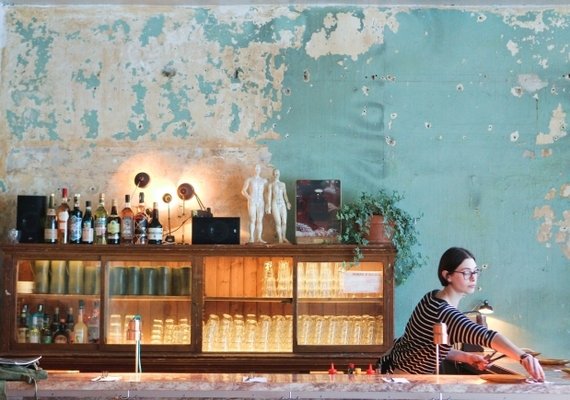 Photo credit: montrealgazette.com
-Chez L'Epicier Restaurant
This is where you go when you really want to treat yourself and the people you're traveling with. Feeling indulgent? Request the tasting menu from renowned chef Laurent Godbout. The service is impeccable. Make sure you request oysters to start which are garnished with delicious, in season, edible flowers; and try the pistachio and dark chocolate macaroons for dessert - you won't have any regrets!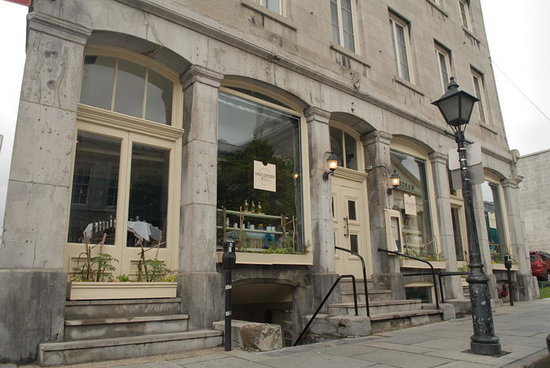 3. Where to Shop?
We can't visit a city without giving you the best of the best in shopping destinations, so here is the narrowed down list, make sure you hit these ones!
- SSense, Uber-chic, Old Port glamour brands such as Comme des Garcons
- Cahier d'Exercices, Located in the Old port area, this stunning ultra mod store stocks high-end luxe brands -- Celine, Rick Owens and Chloe to name a few. The interiors says it all -- black, sharp lighting, spacious and ultra modern, it's a clear reflection of what you can expect on the racks. If you come here during sale time expect to get a bargain!
- Annex Vintage, fantastic collection of vintage denim and hipster-cool one-off finds.
- The Want Apothecary: This is a goody -- filled with brands such as; Acne, Nudie Jeans, and Maison Kitsuné.
4. Where to Play?
- Piknic Électronik
Each Sunday in summer they have the most awesome outdoor festival known as Piknic Électronik. Remove all your preconceived ideas of what this event is like and go if you love being surrounded by nature, with a view of the water, listening to great music, eating amazing food and having fun with friends, or making new ones!
Piknic Électronik is a 5-minute ride from downtown Montreal, located at the Parc Jean-Drapeau, a perfect escape from the city in the summer. You can get there by ferry or metro.
The weekly event is based around music but here is so much more - it's a complete social experience. It's so fun and popular, that it's spread around the world to Paris, Cannes, Barcelona and Melbourne, just to name a few.
This is one festival where you can be young, young at heart, a family or just come solo -- and have a blast. Do something different next time you're in Montreal -- channel your inner music spirit, and surprise yourself at just how much fun you can have!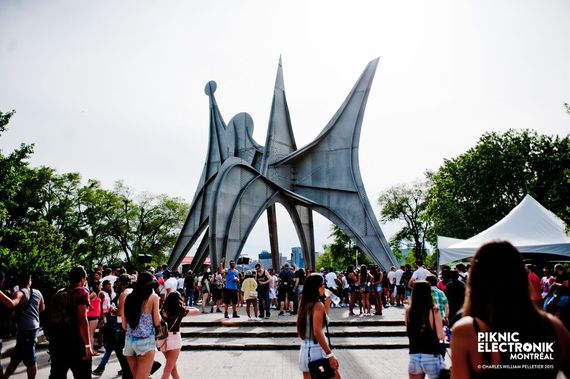 Photo credit: Piknic Électronik

- V&A Gallery; Horst Exhibition
This is a must on your to-do list for any fashion, photography and art lover. The first major retrospective of the works of Horst, a legendary photographer, who worked mainly in Paris and New York, his photographs appeared in countless Vogue magazines.
Horst was besties with Chanel, Lanvin, Hollywood celebrities and artists such as Salvador Dali and made sure he documented this. Without a doubt, this is the most glamorous exhibition you will see this year.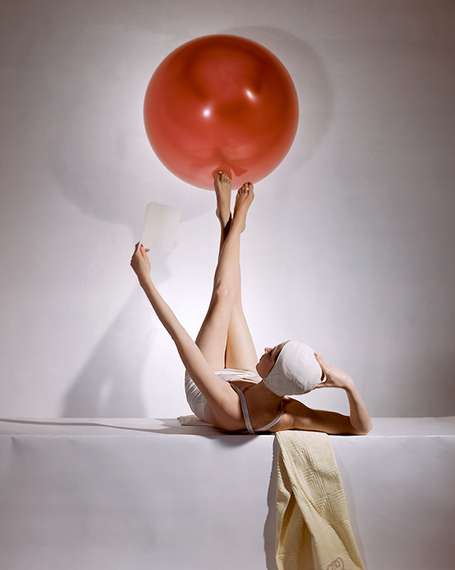 Photo credit: V&A
- Yoga Studios:
Feeling energetic or want a stretch after the plane ride? Try these great studios:
2. Enso Yoga
3. Luna Yoga

- Spa!
Of course we spent hours researching the best Spas in the city -- it's a tough job, but someone's got to do it. Here are our faves;
1. Bota Bota: A spa on a boat, moored in the Old Port, with four stories of spa pleasure. They also have a chic bistro and aesthetic services if anyone needs an express mani pedi!"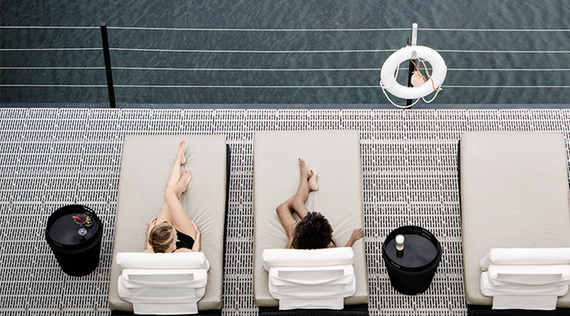 Photo credit: Bota Bota
2. Scandinave Spa, Vieux-Montréal: Offers an intensely relaxing atmosphere, great for the circulation -- hot/cold spaces, baths and amazing smoothies.
3. AmeriSpa -- Hôtel Le Crystal: Great spot for a mani-pedi, massage services and their hot tub overlooks the city.

- Food Tour
Spade & Palacio Tours
This is the only way to do a food tour -- with someone who knows and loves food. Start with the fresh food markets, stroll through the secret side streets and end up at some awesome local cafes. With Danny, your food tour guide, you'll have a blast!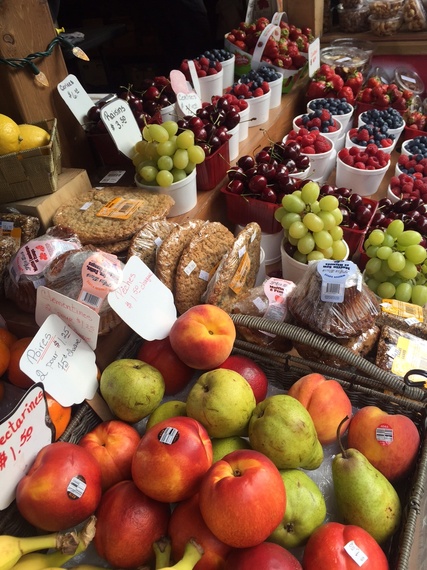 Colors of Montreal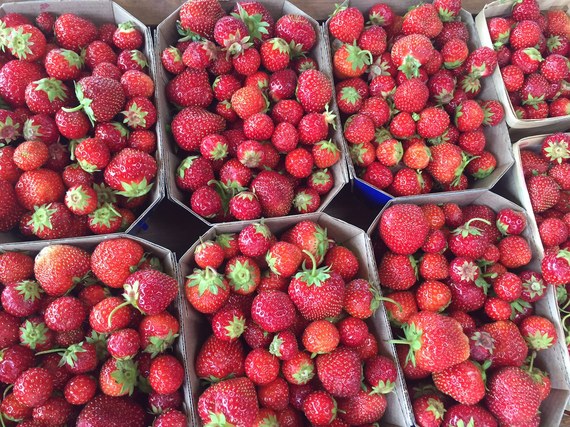 Tastes as good as it looks
- Jazz Festival;
Last but certainly not least, make sure you check out the Jazz Festival , which is an incredible free outdoor event including multiple stages with different types of bands, singers and musicians. Performances start during the day and go on late into the night -- it's such a great experience for any traveller or music lover.
One place that you must check out is the Metropolis Venue -- this is a cool performance space and you will be sure to see incredible performances by some awesome artists such as Joss Stone!

There you have it... Montreal's "best-of" in a nutshell! Jouir!
For more great travel advice check out princesswithabackpack.com