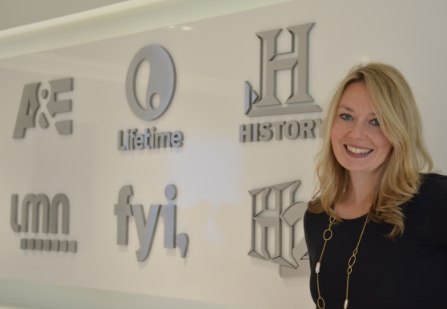 Danielle Carrig is Senior Vice President, Publicity and Public Affairs for Lifetime, a division of A+E Networks, the Premier female-focused entertainment destination dedicated to offering the highest quality original programming covering scripted and nonfiction series and movies.
Prior to Joining Lifetime, Carrig was Executive Director of Step Up Women's Network, a National non-profit membership organization based in Los Angeles. There she directed the organization's national objectives of raising awareness and strengthening resources for women's health initiatives, educational programming for underserved girls and women's professional development while managing the organizations three offices in Chicago, Los Angeles and New York.
What inspires you?
I'm inspired by people who buck convention and decidedly maneuver outside of the status quo. A very dear friend of mine is undergoing a life transition. Smack in the middle of her working years, she decided to pursue a new career path and become a yoga instructor. She wasn't searching for it or disillusioned with what she was doing previously. She simply went after something that felt good. Boy is that hard to do - to commit to something because it's the right thing for you. When do we ever put ourselves first? I'm inspired by people who are so steadfast in their beliefs, pursuits and passions that all the superficial things society tells us we "should" be seeking do not play a part in their life equation.
Who has had the most impact in your life?
When I moved to Los Angeles after college, I had nothing other than a newly leased apartment that I couldn't afford and a few hundred bucks in my bank account. I had never held a "professional" job and I had never really known anyone with one either, outside of school and university. The woman who first hired me had a profoundly significant impact on me, mostly because her example set a tone for my future. Observing her navigate the workplace with such a strong moral compass, I learned very early the importance of presence and what it means to be a strong executive with integrity and values. She believed in me more than I believed in myself and, now, looking back, the vision she laid out for me has a direct correlation to where I am today. Most importantly, she continues to teach me the most valuable lesson, which is to enjoy life. Work is not an end in itself, but a means to finding fulfillment, and I learned this from watching her grab every opportunity and dedicate just as much time and energy toward her personal life as her professional life.
What is the hardest lesson you've had to learn?
When it comes to work, a project or product is only as good as the combined energy and excitement of the people involved in creating it. For a long time, my focus was primarily on the bottom line and all the numbers that I needed to get there. I was less concerned with getting everyone on the same bus to get to the same location together. As I've grown in my career I've learned that working toward shared goals is often the most important element to long-term success.
To read the rest of the TuesdayNights interview with Danielle Carrig visit Get Inspired.