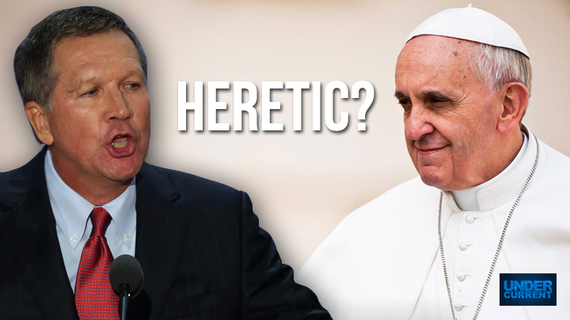 Ohio Governor, presidential aspirant, and Roman Catholic John Kasich took a swipe at the pope last Friday at a conference hosted by the Faith and Freedom Coalition.
Asked if he agreed with Pope Francis that climate change is a moral issue requiring action, Kasich told me that he agreed that protecting the environment is good. However, he disagreed with the pope's economic conclusions, characterizing them as anti-free-enterprise. But the pope's remarks in his climate change encyclical, Laudato Si, weren't so much anti-free-enterprise as they were anti-consumerism and anti-profiteering.
It appears that Kasich interpreted the encyclical as pantheistic, because he made a strange implication:
I read a great book on St. Francis Assisi, who the pope kind of models himself after. The environment was given to us by the Lord, and it needs to be taken care of, and it shouldn't be worshiped; that's called pantheism.
Who is worshiping the environment here? Pope Francis? Is Kasich implying that the pope is a pagan, a heretic?
Countering the pope's economic conclusions, the governor defended free enterprise as a solution for global poverty, perhaps suggesting that he worships the markets instead. Kasich did profess a desire to develop renewable energy, but that belies the fact that last year, he signed H.B. 310 into law, becoming the first governor to freeze his state's renewable-energy standards. Many in Ohio believe the freeze will lead to a full repeal.
According to Mark Shanahan, an energy-policy adviser to Ohio's previous governor, Ted Strickland, "On renewable energy, Kasich has good rhetoric, but his actions have seriously damaged renewable energy in Ohio."
Gov. Kasich followed up on the renewables freeze by signing legislation that dealt a crippling blow to wind farms. Because it was a budget bill, the governor had the power to line-item veto the wind-farm provision, but he chose not to use it. If Kasich supports developing renewables, he has a funny way of showing it.
When I asked him what legislative action he would take with regard to climate change, Kasich said, "Let's not get carried away."
"Kasich saying he's for renewable energy is like Kasich saying he's for the letter Z," said State Rep. Kent Smith (D-OH 8). "He's OK if it exists; he just doesn't want it used that much."
Watch the exchange with Kasich in the video below, and subscribe to The Undercurrent on YouTube for more independent, on-the-ground reporting.