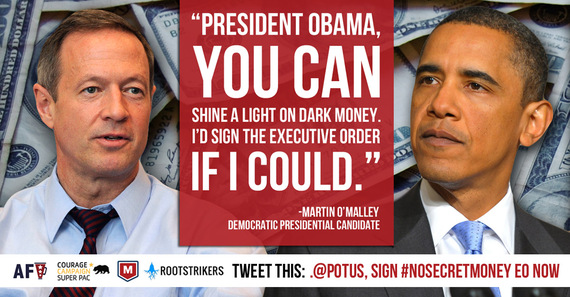 Six years ago, the Citizens United Supreme Court decision unleashed a flood of secret special interest money into our political system. Congressional gridlock is preventing campaign finance reform, but President Obama can take executive action to address this problem now -- he can sign an executive order that would require federal contractors to disclose their political spending.
Of course much more needs to be done, this won't solve all our campaign finance problems, but this action is both achievable and significant. And it will help to make the 2016 race much more transparent. That's why American Family Voices, Courage Campaign SuperPAC, MayDay PAC, and Rootstrikers are asking presidential candidates to put the pressure on President Obama to act without delay. Former Governor Martin O'Malley is the first candidate to do so, in our new video launched today, and we encourage all of the other candidates who care about the corrosive influence of money in politics to follow suit.
Said MayDayPAC Executive Director Cyrus Patten, "With a simple signature, the president could make good on a promise he made years ago to fight the influence of money in our political system. Quite honestly, I'm shocked he hasn't taken this simple step already."
The Obama administration is required to publicly respond to a "We the People" petition demanding executive action against secret money in politics -- including issuing the disclosure executive order.
The petition is housed at PresidentObamasLegacy.org and was organized by Rootstrikers in partnership with American Family Voices, Courage Campaign, Mayday.Us, and a total of 19 organizations. Due to its integration with the White House's 'We the People' platform, the petition's 116,000 signatures within 30 days exceeded the 100,000 needed to trigger a public response by the White House, which is due by early February.
Eddie Kurtz of Courage Campaign SuperPAC , "Given all that President Obama has said about the corrosive effect of big money in politics, this executive order should be a no brainer. The clock is ticking."
Disclosure: I am the executive director of American Family Voices, and a fierce advocate of campaign finance reform.