What became the 8th Zagreb International Chamber Music Festival this past October 11-16 was started in August 2006 violinist Susanna Yoko Henkel who had just moved to Croatia's capital from Munich with husband Dalio Despot, a jazz musician and sound engineer, was looking for an excuse to make music with friends.
The next thing Henkel and Despot knew they were methodically checking out possible venues when unexpectedly they found one so good they thought they were dreaming. Suddenly Zagreb had a new international chamber music festival on its hands.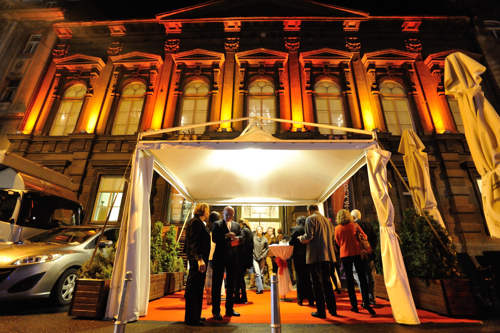 Entrance to the Academy of Music on Festival night. Photo by Vedran Metelko, copyright ZAGREB KOM
The hall, a splendid space built in 1875 with flexible seating of 400-500 with high celings and plenty of baffles, was in the University of Zagreb's famed Academy of Music, and used basically for student recitals. In the early part of the 20th century, however, the hall's wonderful acoustics had lured young hotshots like Casals, Heifetz and Rubinstein to perform for Zagreb's knowledgable, enthusiastic audiences.
The sound is rich but naturally so, which means once the musicians can create and project the range and variety of colors, speed and dynamics they want with relatively little effort, and devote more time to collaboration, chemistry, and even, depending on rehearsal time, to matters of interpretation.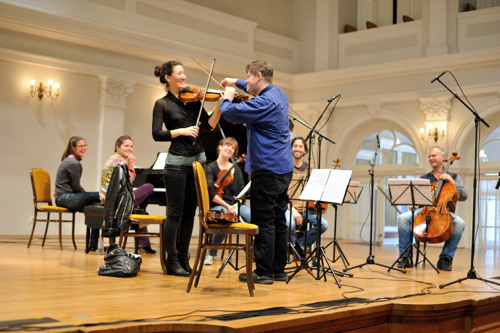 Rehearsing in Zagreb. Photo by Vedran Metelko, copyright ZAGREB KOM
As on the five days before, this happened brilliantly on the 6th and final day of the Festival, a concert of Slavic music played by final configurations of the Festival's starry cast.
The evening began when flutist Gili Schwarzman and pianist Lauma Skride laid down a foundation for the music to come by playing Prokofiev's Flute Sonata Op. 94 so gorgeously even a violinist would have had to applaud. The music that followed were moments to treasure.
After violist Guy Ben-Ziony played Stravinsky's sad cubist Elegy, former Berlin Philharmonic concertmaster Guy Braunstein, Ben-Ziony, cellist Anastasia Kobekina and Skride played a small piece by Dora Pejacevic and then Shostakovich's first Piano Trio, Op. 8.
It was nice to hear the first Shostakovich Piano Trio for a change, especially when played so full of charismatic personality and astounding virtuosity; the music is in a style perhaps more starkly modernist than the one Shostakovich eventually settled into, but it already has his characteristically spiky, folk music attitudes playing a critical role in the proceedings.
After intermission, the uniquely elegant Henkel played Szymanowski's Myths with Skride then led Braunstein, violist Julia Deyneka and Kobekina in the final work of the concert and the Festival, Shostakovich's Eighth String Quartet.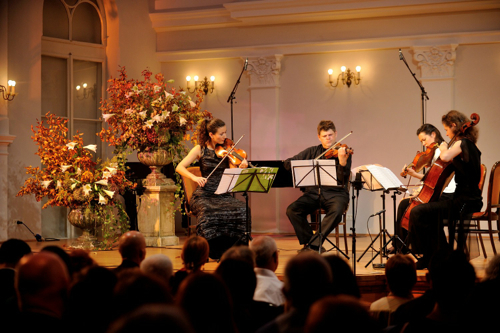 Susanna Yoko Henkel, Guy Braunstein, Guy Ben-Ziony and Anastasia Kobekina playing Shostakovich. Photo by Vedran Metelko, copyright ZAGREB KOM
While paying honest tribute to Shostakovich the master quartet builder in the form of the music's total structural integrity, each of the four players, with their own very different backgrounds, also responded personally to the horrors and losses of war on which the composer drew when writing the score. The result was more a genuine transactional experience than a pre-packaged interpretation. The barely audible final resolution left many in the hall with tears in their eyes, including the Academy's star percussionist in the row behind me.
The evening's most touching moment came with the sad, lonely beauty of Pejacevic's Impromptu for piano quartet Op. 9. A daughter of the Croatian nobility, Pejacevic wrote a Symphony that was premiered in Dresden in 1920; she died three years later in childbirth. It was a reminder of the city's musical treasures, and of the fragile futures even such wondrous festivals as the 8th Zagreb International Chamber Music Festival must survive.
The day before at 11 am in the morning, a children's concert took place. The innocent victims, neatly-dressed troops, most from 6 to 10, were ushered like ducklings into the hall by teachers, moms and Festival staff many of whom were not so many years older.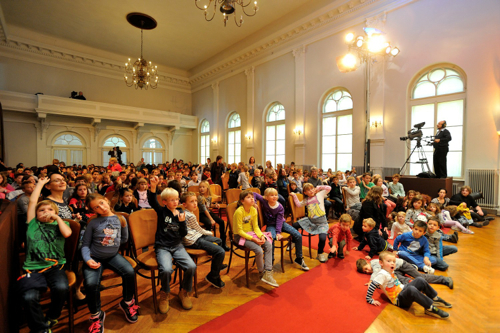 Kids in the house. Photo by Vedran Metelko, copyright ZAGREB KOM
Hosted by Maja Sever, a popular Zagreb news presenter who connected to her young audience with a warmth that overcame her script's light concerns with educating, the program featured Mozart, Schumann and Alain Ridout's 10 minute tour de force based on the story of a gentle fighting bull for solo violin and narrator, Ferdinand.
All the kids had a great time, especially the one who shouted out gleefully, "It's boring!" when Sever turned to the kids at one point and asked for questions. It was an eight-year old boy with a shock of blond hair, jumping up and down in his seat.
"That's what I like about classical music, too!" Sever responded compassionately, first with a mock frown then with a smile. After the rounds of squealing and laughter in the audience died down, the embarrassed looks on the faces of the teachers and parents, and the grins on the faces of the musicians on stage showed how they felt. This incident later became a topic of discussion among the musicians who were conscious that the Festival was turning into more than just a gig, but a special shared experience for them, some of whom were parents themselves with young children in tow.
The fact that the children were along spoke to Zagreb's profoundly human qualities. It is an international city of great metropolitan sights and pleasures, it is gatekeeper to cultures beyond imagination, seemingly everyone speaks English, and it is set in a land of great beauty, close to Vienna, Venice, Dubrovnik and Budapest.
At a deeper level, Zagreb is also a place for musicians and their children to feel comfortable, to feel safe too, and the genius of the Eighth Zagreb International Chamber Music Festival itself, which was reflected in the quality of the music that was made, was that the concerns of the musicians and their families, and of all families, always took first place.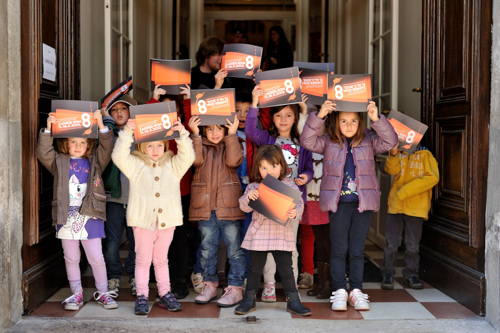 Kids know! Photo by Vedran Metelko, copyright ZAGREB KOM