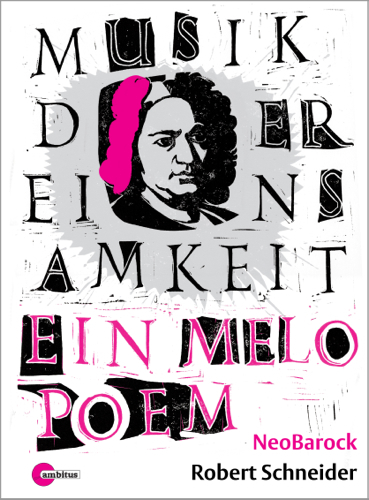 "What do you want to prove with your Canons? The fact that there is no gravity?"
- Johann Christoph Altnikol to his father-in-law, Johann Sebastian Bach
As I wrote a few years ago, "if you've had it with serious Bach, Handel and Mozart, then Cologne-based NeoBarock is a good way to go.
I was referring to the invigorating nature of the freelance ensemble's provocatively-themed recordings, and to their performances at historic sites across Germany, Holland and Belgium, ranging from Monteverdi to Bach and Handel to Kirnberger and Mozart, and beyond to Beethoven's trivial yet revealing early Piano Quartets.
NeoBarock's provocative new enterprise, Musik der Einsamkeit: Ein Melopoem, is an impressively auteur-ish, post modern film noir excursion into the lonely mysteries of Bach's unfinished last iconic work, The Art of Fugue.
The musical performances are stylistically brilliant, dynamic, passionate and on the cutting edge of where Bach in the 21st century is heading. The sense of timelessness is compounded by NeoBarock's superb mix of new and old instruments including strings by Leopold Widhalm, Nürnberg 1769, and Roger G. Hargrave, Meyenburg 1998, and a brand-new harpsichord (after the great French builders Blanchet) by the renowned Bruce Kennedy direct from his workshop in Tuscany.
NeoBarock's performance art apparatus is integral to the purpose of the concept. It was conceived and developed with Austrian writer Robert Schneider whose 1995 novel Brother of Sleep had already raised questions of genius and identity. In the novel's case, the questions were of Schubertian grandeur and tragedy about the life of a forgotten 19th century genius. In Musik der Einsamkeit, the intent is less overtly melodramatic and more reverential, due in part to Schneider's use of the "Melopoem" a conceit in which strands of texts and music assume an expressive equilibrium without reaching complete fusion.
Reading his own prose and poetry in grey tones which contrast sharply with the brilliant musical performances, Schneider reflects on life and Bach in a contemplative scheme from which a fictional Bach is summoned, "born from the desire of a journey of the dreaming ego." It might be all too pretentious if not for the presence in Schneiders dialogue of Bach's earthbound son-in-law Johann Christoph Altnikol.
The beautifully designed, limited edition package contains two CDs, Schneider's German texts, introductory texts in German and English, and color photos.The experience is raised to a higher degree if you first watch a 2-minute trailer on YouTube.
Or you can just wait and see NeoBarock and Schneider play out the events live on August 16 at the hilltop Castle overlooking the 600-year old university town of Marburg.