The 2014 Piano Edition of the Montreal International Musical Competition, which kicked off on Monday with 16 hopeful young quarter-finalists, was preceded on May 20 by the inaugural Richard Lupien Improvisation Prize. Intended to promote classical piano improvisation, a once traditional discipline now taught at only a few major music schools and conservatories, the Lupien Prize is claimed to be the first among the 115 competitions in the World Federation of International Music Competitions to offer such an award.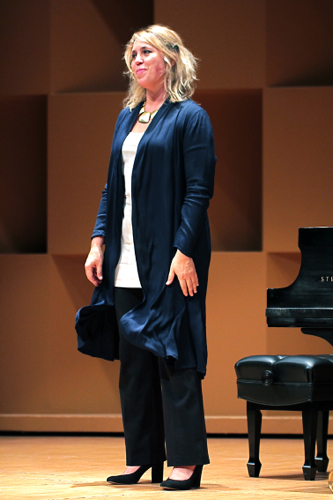 Gabriela Montero on stage in Montreal. Photo: Jacques Robert
The public face of the Improvisation Prize was the Venezuelan-American pianist Gabriela Montero. Since winning the Cincinnati World Piano Competition at the age of 12, Montero has captured hearts and critics for the magic of both her formal performances and her improvisations. Her two CDs for EMI, mixing improvisations with music ranging from Bach "and beyond" to Chopin, Liszt and Rachmaninoff, were global hits. Considering that Montero lived in Montreal 1998-2001 she was a natural.
I spoke to Montero the morning after the three-member jury on which she served awarded the $5,000 First Prize to Ukrainian Serhiy Salov and she played a special "Fall in Love with Gabriela Montero" concert before flying home to Los Angeles where she lives with her husband and two daughters.
The six contestants were given 25 minutes in which to meet four challenges: Three variations on the opening bars of Schubert's Trout Quintet; the theme from Schindler's List in the style of Bach, Chopin and an amalgam of Prokofiev and Shostakovich; a popular Canadian piece as it might have been composed by Michel Legrand (famous for Umbrellas of Cherbourg); and a spontaneous storytelling exercise.
When I asked what Montero was listening for, she explained it was "to hear imagination, how the six contestants related to metaphor." Of Salov, who ten years earlier had won First Prize in the first piano edition of the Montreal Piano Competition, she said simply, "He was the most natural."
For her own concert, which lasted 90 minutes without a break, Montero took 10 musical themes and narratives from the audience. While many of the suggestions called out to her were conventional choices like the "Ode to Joy" from Beethoven's Ninth Symphony and the theme from Star Wars, her favorite was story about a clown who falls in love with a star. "My playing had a darkness to it, responding to the pressure clowns feel to smile and laugh under even the most difficult circumstances."
The next step for Montero, for whom improvising has become a career-boosting calling card, is composing which, she said, "is always in my head, 24/7. It lets you know how powerful music can be in conveying messages, even political ones. It's what I was meant to do." Her new piano concerto, called Latin Concerto, is scheduled to premiere in Leipzig with the North German Radio Symphony Orchestra conducted by Kristjan Järvi.
Unlike many other pianists, Montero believes that competitions build both musical and personal character. "If you want to test yourself, it can be a very quick growth spurt." She experienced an epiphany in 1995 during the International Chopin Competition in Warsaw where she took the bronze medal. "I had seen a few of of my fellow contestants crumble and found myself wandering through the streets of Warsaw humming Brahms' Second Symphony; somehow, when I sat down to play, I felt a warmth that I had not felt before."
Because of her family, Montero now limits her 10 annual tours to a maximum of three weeks each. This year that will include a recital at the legendary Vienna Konzerthaus on June 10, Rachmaninoff's Second Piano Concerto with the Boston Symphony at Tanglewood on July 27 (it will be her Boston Symphony debut--her first scheduled appearance was canceled because of 9/11), and an evening of improvisation at the fabled Leipzig Gewandhaus on September 21. On September 12 she will play Gershwin's Rhapsody in Blue with the Houston Symphony and its new music director Andrés Orozco-Estrada at the city's Miller Outdoor Theatre, and Grieg's Piano Concerto with the New West Symphony conducted by Marcelo Lehninger on October 17-19 (in Oxnard, Thousand Oaks and Santa Monica),.
Montero has also been busy in the recording studio for a new CD called Triptych, self-produced in Abbey Road and including Rachmaninoff's Second Piano Concerto, her own 15-minute ExPatria dealing with "the dysfunction, pain and violence in Venezuela," both with the "fabulous" Youth Orchestra of the Americas conducted by Carlos Miguel Prieto, and of course a set of her trademark improvisations.
In February, she appealed to conductor and fellow Venezuelan Gustavo Dudamel, with whom she once performed the complete cycle of five Beethoven piano concertos, to speak out against the murderous violence in the streets of their homeland, but now the emotion has subsided and life goes on, although she may not be engaged anytime soon by Dudamel's Los Angeles Philharmonic Orchestra.
If you weren't able to make it to Montreal for the Improvisation competition and Montero's performance, you can catch it on medici.tv on demand for three months.