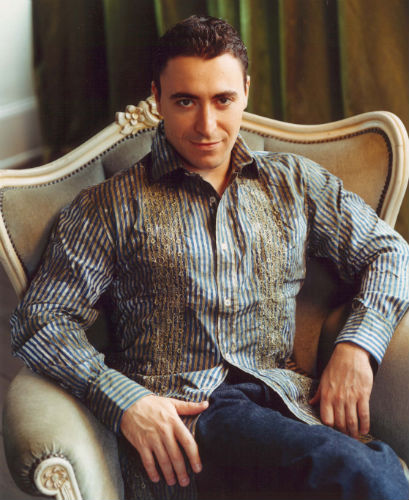 Maxim Vengerov. Photo credit: Sheila Rock
At the stroke of midnight on Saturday, the six survivors in the 2013 edition of the Montreal International Musical Competition, this year devoted to the violin, were announced from the stage of Bourgie Concert Hall at the Montreal Fine Arts Museum. What had begun on May 7 with 24 competitors from 14 countries was now heading into the finals Tuesday and Wednesday nights at the spectacular new Maison symphonique de Montréal. In a major challenge and opportunity bearing inevitable comparison to athletic playoffs, each finalist will play either the Brahms or Tchaikovsky concertos with the Montreal Symphony conducted by the great Russian virtuoso Maxim Vengerov, whose own career was accelerated by winning international competitions from the time he was ten.
Because of the emphasis on technique, classical music competitions will always be controversial events; as Debussy famously said, "Competitions are for horses."
At their best, however, as Vengerov told me in an interview, "competitions are a celebration of music, of the instrument and of the players," where the competitive spirit, especially at the highest levels, burns incandescently bright. Vengerov recalled admiringly how one of his heroes, David Oistrakh, after taking second prize in the 1935 Wieniawski Competition (Ginette Neveu took first, Henri Temianka took third), was determined to take a major international first prize and did so three years later at the first ever Queen Elisabeth Competition in Brussels (then named after the great Belgian virtuoso, Eugene Ysaye).
During the grueling semi finals last Friday and Saturday, each of the six eventual finalists was given 45 minutes to dazzle and persuade the eight judges, headed by Andre Bourbeau who helped found the Competition in 2002. Each of the six presented their distinct musical profile and personality in performances of memorable intensity, technique and style.
South Korea's Ji Young Lim began with Beethoven's early Sonata Op. 12 no. 3 in a performance of unusual elegance and grace, then finished with a richly dense account of Wieniawski's Faust Fantasy. Taiwan's Chi Li gave a sublimely etched reading of Prokofiev's First Sonata Op. 80 and brought the house down with his blistering playing of Antonio Bazzini's iconic La Ronde des lutins. Belgium's Marc Bouchkov took on Brahms's Third Sonata Op. 108 with a command and eloquence which held the audience riveted from the first note to the last, and ended with a superhuman performance of Heinrich Wilhelm Ernst's nearly unplayable, definitely insane variations on "The Last Rose of Summer" from Friedrich von Flotow's once popular opera Martha.
For his semi final performance, China's Zeyu Victor Li played with rare grace and mercurial poise Prokofiev's Second Sonata Op. 94a (originally for flute but later transcribed for the violin by the composer--with the help of Oistrakh!), then set the audience ablaze with Paganiniana by Nathan Milstein, a mind-bending riff on Paganini's famous 24th Caprice--the one used by Rachamninoff in his famous Rhapsody. France's Fédor Roudine took on and untangled the myriad webs and interstices of the first Prokofiev Sonata then stunned the audience with Franz Waxman's Carmen Fantasy, written for Jascha Heifetz. The United States' Stephen Waarts, so tall and thin that when he turned sideways he almost disappeared, captured with almost indecent sexuality the jazz and the Jazz Age of Ravel's Sonata in G Major before ending with Karol Szymanowski's ecstatic, emotionally confusing Nocturne and Tarantella.
In addition to the sheer exhilaration and prestige, and a gateway to engagements on the world's great concert stages, the first prize winner will take home $30,000; the second and third prize winners will take home $15,000 and $10,000 each, the three unranked finalists $2,000 each. There will also be additional prizes awarded to the best performance of the compulsory Canadian work, for the best semifinal recital, and for the best bow maker. There will even be a People's Choice Award from Radio Canada which spearheaded the comprehensive national and international media coverage.
It can only be a matter of time before social network voting becomes part of the Competition's exciting musical fray, although what that will add to the event is a totally open question. Of course, we know what Debussy would have thought.