Opening night for Misha Baryshnikov's production of Dmitry Krymov's In Paris, based on an Ivan Bunin short story, was like a Lubitsch production, intoxicated with beauty, brains and culture. Hearing whispers at the party at Tiato's afterwards, that Baryshnikov in the play was speaking his native tongue for the first time in 40 years, was like hearing that Garbo was laughing "for the first time" in Ninotchka. As they say in Odessa: Where would L.A. be without the Russians?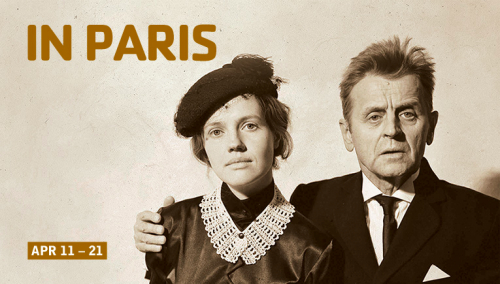 In Paris is about the loneliness and love that first shyly surrounds and then engulfs an already desolate Russian former officer, an immigrant in Paris in 1930. It is like a film by Chaplin (one of whose films he and his girlfriend see at the cinema), silent at its core despite being full of speech and music. Baryshnikov manages to both submerge himself into and rise above the ensemble's narrative structure. His deft, moody figure mostly hovers over the proceedings; occasionally he breaks into a solo routine, like the flamenco of the bull-fighting, dance with death scene at the very end, flashing horrifically in a cape lined blood-red.
Anna Sinyakina's waitress is a perfect Chaplin heroine, a latter-day Edna Purviance who is finally an equal partner in the relationship and in the skill set. Her final, acrobatic turn lends deathless poignancy to the story. Her waifish charm and beauty touched many hearts. She is an expert collaborator in one of the most effective of the play's many comic touches: The couple's continued attempts to stabilize the table at which they meet, carrying it around with them, balancing it with their legs and feet, reminiscent of an iconic Max Linder film and totally charming.
In the cold reaches of the Broad Stage, it was like being in the experimental Soviet theatrical laboratories in the 1920s, before Stalin, before central heating. It had a hint of the Bulgakov entertainment (Variation #50) Highlands Performance Space presented in 2007, but it also had its own unique take, driven undoubtedly by deeply and seemingly privately-held personal motivations.
The production drew on a diverse and brilliantly carried out range of theatrical devices, from grotesquely distorted, screaming faces recalling painful memories to English subtitles slinking over walls which are themselves slinking around on perceptual rails provided by the actors carrying signs. There is Chagall-esque flying and death-defying, upside-down hanging. For animal lovers, there is a peeing dog and a white, definitely non-Apple mouse. Maria Tregubova's sets and costume design recede or take over as needed, completely organic in movement and pace. Dmitry Volkov's music is called on to be many extraordinary things; the most memorable are the tortuous stratospheric, Cirque du Soleil-type wailing riffs for Sinyakina.
All of this creates a theatrical rough and tumble, half commedia dell'arte and half vaudeville, in which the genius lies less in the risky concept and edgy execution than in the play's commitment to getting the emotion out to the audience through the tone, color and rhythmic flow that lies beyond mere words and gestures. This simultaneously liberating and distancing gesture meant that there were a minimum of six different experiences you might have depending on which language or languages you knew.
If at all possible, get briefed beforehand by a Russian. Ask them about Ivan Bunin and they'll take it from there. Ask them why fierce, barking dogs signify loneliness. They will be excited that you're going, give you great inside information about Baryshnikov and other Russian celebrities, and generally make you feel that Times Square had come to Santa Monica by way of Novosibirsk. Best of all, if you ask, they'll watch your favorite episode of Friends with equally absorbed pleasure.
For classical music investors only: The Broad Stage is onto something very explosive and hot that could have significant ramifications for the decentralization and development of the performing arts in Los Angeles. Their catalogue of coming attractions brilliantly taps into the pent-up desire for classical music west of the 405. It is also significant that the Broad is working with independent producers, in this case KCRW, some of whom could eventually branch out themselves along similar operational lines.
In Paris, Through April 21, The Broad Stage, 1310 11th Street, Santa Monica. Adapted from the short story by Ivan Bunin. Direction and Adaptation by Dmitry Krymow. Set and Costume Design by Maria Tregubova. Music by Dmitry Volkov.

Performers: Mikhail Baryshnikov, Anna Sinyakina, Maxim Maminov, Maria Gulik, Polina Butko; with Ossi Makkonen and Lasse Lindberg