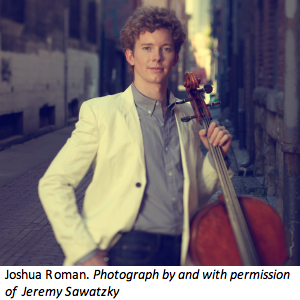 Friday, Nov. 2, 2012 Joshua Roman played an enormous four-movement cello concerto by Osvaldo Golijov at Walt Disney Concert Hall. The piece is called Azul and requires three additional soloists-a digitally-equipped turbo-accordion, and two percussion soloists with a roomful of exotic percussion including bird tweets and drums. Also featured were a very Technicolor Los Angeles Philharmonic and guest conductor Marin Alsop, music director of the Baltimore Symphony.
The result is music of transcendent beauty assembled from Golijov's toolkit of half-remembered memories of musics from a wide spread of classical music, ethnic, world and other cultural heritages. The 28-year old Roman held his own so bravely against the incessant soundtrack which Golijov has the orchestra lay down that the audience quickly fell in love with his musical intensity, good looks and tousled hair.
Without an intermission (it was a Casual Friday concert, after all) the Philharmonic threw itself into a powerful performance of Tchaikovsky's Sixth Symphony. The woodwinds made incredibly beautiful noises and the brass was loud and glorious. Conducting precisely and attentively, Alsop unleashed the full impact of the composer's personality.
I caught up with Joshua Roman by phone a few days before the concert.
LV: What's it like, traveling around, playing in different cities?
Joshua Roman: Wherever I am, there are differences in local pride. In Seattle, where Hendrix and especially Nirvana created examples of going off and doing things their way, the kids there took as the lesson that if you just do what you love, you will find people to connect with. But the pockets of musical culture, and even musical micro-cultures, that exist in Seattle might not be the same in every city.
LV: How do you connect?
Joshua Roman: You have to be curious about people's lives. Connecting with people in every city is knowing where they're coming from, what they need, and connecting on their terms. In Seattle, it's in bars and clubs. In Omaha, it's in a coffee house. The night life in Seattle and New York City stays up late; not so much in Oklahoma City, where I grew up, and where the action is more likely to be at a church or house concert.
LV: What makes playing in L.A. special?
Joshua Roman For one thing, the Philharmonic has a great outreach program. Yesterday I played at LA County Jail, and I am also working in the Phil's Street Symphony program, with Robert Gupta, taking classical music to the homeless, incarcerated and mentally ill. They were some of the best audiences I've ever had. They connected with the music in a direct and emotional way. The experience reaffirmed my belief that classical music should be everywhere: in the concert hall, in the street-like The Knights and Brooklyn Rider and many others are already doing. We have a responsibility to play, and to show how classical music can be more relevant to the world and to those around us.
LV: Why does the term "classical music" have such power that everybody wants to be a part of it now?
Joshua Roman: That's a very good question. I'm constantly asking that myself. Some of it has to do with playing music that has been around for a while. For example, Bach, who is my favorite composer, has had his ups and downs as a classical composer; he had become Old Father Bach until he was resurrected by Mendelssohn in the 19th century. The great thing with old music is if you can play it in a setting that is now-and that's not something that's so easy to describe because it's different for every performer and every setting-you can definitely have an immediate connection through the music on a human and personal level.
LV: Are today's concert experiences also changing?
Joshua Roman: My friends and I have ongoing conversations about where classical music has come from, and it affects the way we think of the concert experience so that, whoever the composer, we strive to do things that makes us feel the excitement and risk of reaching for the highest musical goals.
LV: You think audiences can tell?
Joshua Roman: It's very easy for the audience to pick up on. Maybe they can't tell the difference between a few missed notes, but they can hear if the musicians are on the edge of their seats.