Beethoven: The Five Piano Concertos, The Two Romances, Two overtures: Fidelio and Leonora #3; The Seventh Symphony.
Combattants: The Pacific Symphony, Carl St. Clair, Ray Chen, Arnaldo Cohen.
The Stadium: Segerstrom Concert Hall, Costa Mesa, California.
The Dates: Feb. 2, 3 4, 2011
It's an amazingly easy and pleasant drive down to Costa Mesa from West LA to hear the Pacific Symphony play. The parking is quick and easy, the hall is magnificent from every angle, inside and out. There's an even more spectacular hall next door. The sound is of the highest audiophile quality while the sense of being able to reach out and touch the musicians from almost any seat and watch every move they make is very exciting.
In the case of Sony's newest sensation, Ray Chen, in the two Romances, was like watching Elvis reappear in the body of a dream child dressed in the kind of paint-on jeans look, and moves to match, that the Super Bowl's commercials can't get enough of. I don't get the Romances myself, they make me feel queasy, but Chen invested a lot of thought and care into turning the music's potential sentimentality into sentiment. He produced trills to die for, he communicated in a kittenish way with the audience, he had the kind of liquid tone that carries with it emotional depth of great intimacy, and he flashed his famous Strad as if it were the smile of a Taiwanese-Australian fiddle-playing Dudley Do-Right. He must play the Beethoven concerto with the Symphony immediately!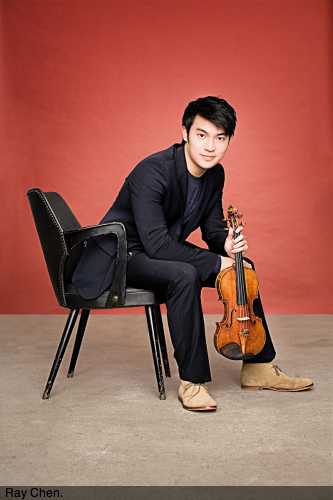 The Pacific Symphony deserves a story all its own. It has long been one of the most beautiful and flexible orchestras in SoCal, a serious rival along with the other regional orchestras that deserve to be showcased at Disney Hall on a regular rotating basis.
While LA Phil has noticeably aged, the PSO mixes experience with youthful energy in a way that seems forever young. The strings played totally as if they playing chamber music; the bowing in each section was aligned and precise without being mechanical; each section was led by a player of great character and intensity. For students, and the hall was full of students every night, watching the PSO play is like master class lesson. Or, you could have spent the whole concert watching just that blonde in the second section for all the moves she made. The woodwinds, which Beethoven had an erotic fixation on, feature brilliant, beautiful young stars: Ben Lulich, Rose Corrigan, Jessica Pearlman and Mercedes Smith.
The horns, trumpets and trombones are another crew entirely, also outstanding. A little edgy, and appropriately so, because Beethoven demands a lot from his brass; they establish the martial air which was such a nightmare of the composer's life. They were the glory of his youth, expressing his love of sound, of volume, of ceremony (and his hope of being accepted, and acceptable, socially) until his hearing started to fail him and loud noises caused him acute physical pain and made his hearing worse. The starkest example of this was when Napoleon shelled Vienna; it is a humiliating insult to everything Beethoven stood for therefore to use Napoleon's title as the nickname for Piano Concerto Number Five.
Finally, thank you, PSO, for a timpani player who understands the instrument's proper role as a musician not a banger. And for very discrete and efficient stage hands. And very helpful and pleasantly numerous volunteer ushers. Not to mention that Segerstrom Concert Hall has such great sound that it is a wonder some company has not chosen to break onto the American scene with a recording program here.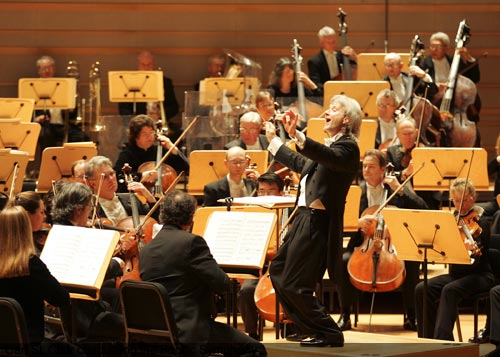 On the podium was the PSO's longtime music director, Carl St. Clair. He conducts with great flair and virtuosity. I imagine that having to play three separate Beethoven programs on three successive nights meant limited rehearsal time. No matter, St. Clair was with his crackerjack band at every turn; he was the one who got lost, a few times in fact, but he laughed it off with good-natured theatricality and the music making always was better off for it after when the musicians relaxed. Each of the three nights produced a major World of Henry Orient moment, when the pianist looked up at the conductor expecting a triumphant cadence to find out he was a bar too early, or even eight. It's what makes live concerts so great.
Throwing a great virtuoso pianist into an all-Beethoven mix turned out to be a stroke of genius. Arnaldo Cohen was the pianist. He comes from Argentina and has been famous for his Liszt. His concentration was what you would expect from a musician steeped in the romantic glens and hollows of mid 19th century which were the sexual haunts refined in the boudoirs of Budapest and Paris. But what Cohen threw at the music when he heard its call was like tawny steel diamonds which flashed and glittered with spaced-out poetry.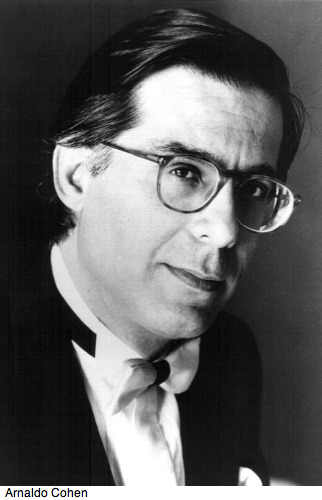 In addition to illuminating those moments in which Beethoven was most closely reaching out with his spirit and joy, Cohen found ways to briefly break away from the pack as if there were a musical lens focusing in on him. And when size and power were needed, he commanded them as if he were driving a classical music diesel machine. After a titanic Seventh Symphony on the final evening, Cohen's first chords in Piano Concerto Number Five obliterated everything in the hall, and you knew you were hearing the real Beethoven.
The Seventh Symphony was a thing of perfection, eloquent, thrilling and reasonably civilized until the last movement when all hell broke loose. Unlike Gustavo's Beethoven Seventh in January at Disney with LA Phil, when The Dude stood back and basked in the fireworks, as if it were just another night at the Hollywood Bowl, St. Clair and the PSO tormented Beethoven until the composer emerged triumphant in a breathtaking race to the finish. And when he asked for speed and daring, risky changes of sound and volume, they responded instantly.
Considering the immensity of these concerts, and the fact that LA Phil has been away for so long, I herby issue an open invitation to Pacific Symphony to repeat the Beethoven Concerts at Disney Hall ASAP.
The Hall has plenty of open dates and the concerts could be free. It's the biggest no brainer in the history of classical the classical music industry. Disney Hall, as I understand it, is available solely at the discretion of the Music Center and I see no reason not use it to its full capacity as a thank you to a public which has supported the classical music arts so long and so tirelessly.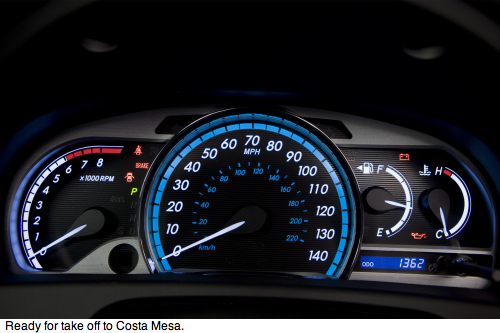 No live concert can be anything, however, unless you have a great sound system at home and in your transportation. There are so many ways to enjoy yourself both coming and going, and so much great stuff available online from places like Naxos, Ariama, Passionato, Amazon, Arkiv, and many more. I drove downtown to hear Gustavo do Mahler's Ninth in a rocket scientists's BMW 550i with premium sound; I made the three Costa Mesa trips in a stealthy Toyota Venza touring machine with sound by JBL and painted Tropical Sea Leather (blue).
Eating well before a concert is often underrated. We ate at Orris on Sawtelle before the Mahler; before the Friday night concert we ate at Mastro's Steakhouse across the street from the Hall. More on all these goodies, and why excellence and integrity at every step is crucial to the classical music listening experience, in my next column, in which I may also reveal my new nickname for Beethoven's Piano Concerto Number Five. Free tickets to Classical Music Underground for the best ten nicknames sent in by readers. (My choice will be final.)