Susanna Mälkki, Chief Conductor of the Helsinki Philharmonic Orchestra, effective from the 2016/17 season, is coming to Walt Disney Concert Hall February 27 and 28 to conduct the Los Angeles Philharmonic and take command of the West Coast premiere of a new, multimedia opera by Unsuk Chin and David Henry Hwang called Alice in Wonderland.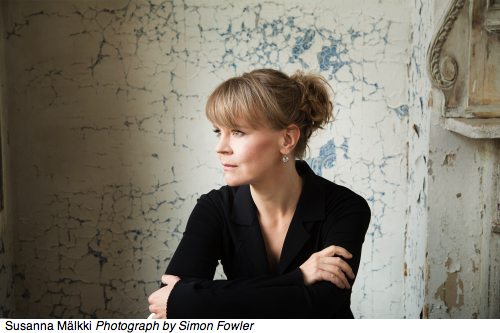 Presented in collaboration with LA Opera, the production is directed by Netia Jones, combining illustrations, live action, interactive animated projections, costumes and choreography. The buzz is intense; tickets are impossible to get for the two performances Friday and Saturday nights.
Susanna Mälkki's rise to the helm of one of Finland's finest orchestras follows in a national tradition of musical culture that includes colleagues Esa-Pekka Salonen, Jukka-Pekka Saraste and Leif Segerstam, violinist Pekka Kuusisto, pianist Ralf Gothoni, composer Kaija Saariaho and cellist Erkki Rautio, all of whom are noted for rigorous musical principles, deeply-focused imaginations, and a commitment to contemporary music that they carry almost as a badge of national honor. Except for one CD of Mahler songs, all of Mälkki's 19 recordings are of 20th and 21st century music; her most recent was of Saariaho's Circle Map, with the Royal Concertgebouw Orchestra.
This season Mälkki is debuting with The Philadelphia, Cleveland and New York Philharmonic orchestras, the Chamber Orchestra of Europe and the Orchestra Filarmonica del Teatro la Fenice. She also returns to the San Francisco Symphony, Helsinki and Royal Stockholm Philharmonic orchestras.
I spoke to Susanna Mälkki after she was named to the Helsinki post in September.
LV: How exciting was it to be named music director in Helsinki?
SUSANNA MALKKI: I'm thrilled, of course. It feels like so many pieces simply fell into place. Helsinki is the city where I grew up, I know the culture well, I know practically all the musicians already and they are great, the new hall is excellent. Also, the positive response for my nomination was overwhelming; I'm very touched about that.
LV: How did you react and celebrate when you heard the news?
SUSANNA MALKKI: In fact, we had to celebrate very discreetly, as the nomination was decided a long time ago and it had to be kept confidential for several months. In any case, I was and am still full of joy!
LV: Do audiences in Helsinki dress more formally than in Los Angeles?
SUSANNA MALKKI: Difficult to say. But I can probably safely say that LA people are generally speaking more fashionable and chic! Finns are not at all extravagant by nature.
LV: Do they clap in Helsinki the way they do in the States or rhythmically like in Hungary?
SUSANNA MALKKI: The applause tends to be very warm but rarely extremely loud. What is very special with the Finnish audience is its very intense, concentrated and silent listening and it's wonderful for the performers.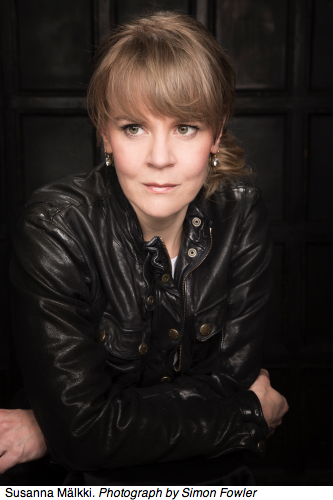 LV: Have you found someplace in Helsinki to live yet?
SUSANNA MALKKI: Not yet, there is still time (I start in 2016). But I think I know already which neighborhood I'd like to be in-it needs to be close to the sea!
LV: Musically, what are your plans and dreams in Helsinki?
SUSANNA MALKKI: An orchestra for me is the ultimate super-instrument. So to put it simply: to make the glorious repertory sound glorious! Sound is very important to me, because it is through the sound that the energy in the music is transmitted. I hope that we will attract audiences to come back over and over again to get beautiful and memorable musical experiences of a wide range of repertory.
LV: What makes Finnish musicians and composers so special?
SUSANNA MALKKI: That's very kind of you and always such a tricky question to answer. Maybe we have a strong need for authenticity since we are very close to silence and the nature?
LV: Do you have some favorites from your recordings?
SUSANNA MALKKI: I'm happy to have done many world premiere recordings-actually, almost all of them. It feels really meaningful as work to me. But it's totally impossible to pick just some! Recording Mahler with the Gothenburg Symphony was great since I was principal cellist there a long time ago [1995-1998]. Also, some of the recordings have been a beginning of a long and ever-continuing collaboration with composers, as is the case with Jukka Tiensuu and Luca Francesconi, for example. It's fantastic to work with living composers.
Here's a chaos theory playlist I made from recordings by Mälkki and her friends.
LV: Is there anything extra you'd like to add?
SUSANNA MALKKI: Music lovers are always most warmly welcome in Finland!