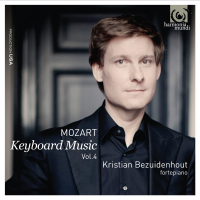 The Moritzburg Festival 20th Season: Mozart, Rihm & Schumann. Aug 23, 2013, Palais im Grossen Garten, Dresden, Germany
Throwing caution to the wind on a moonlit, windswept Friday night, Moritzburg Festival Director Jan Vogler served up a menu of music and musical tastes to an audience of Dresden's elite that went from one delicious, unexpected and confounding experience to another.
The purest stroke of genius was inviting Harmonia Mundi's star fortepianist, Kristian Bezuidenhout -- playing on a Viennese fortepiano built around 1815 and hand-delivered by Edwin Beunk from his legendary workshop in the Dutch city of Enschede -- to join Vogler's crew of modern-instrument virtuosos.
The differences were apparent at every key moment in Mozart's Piano Trio in E major K. 542. Framed like an 18-century lithograph against the windows of the Palais im Grossen Garten, Kai Vogler, one of the Dresden Staatskapelle's four concertmasters, and cellist Nicolas Altstaedt, one of the most musically savvy of the young generation of virtuoso cellists, joined Bezuidenhout in a performance that combined rigorous preparation with almost tangible spontaneity to create a once-in-a-lifetime musical experience.
With Bezuidenhout wielding a velvet touch that defied imagination, the three together achieved miracles of balance. When the strings entered it was not as an overlay, but an expansion of the tonal palette. The delights seemed to stretch even Mozart's plastic concept of time. Bezuidenhout's softly arpeggiated chords were once considered anachronistic in Mozart, but are now understood to be what the composer wanted and expressly notated. Bezuidenhout gave the music added texture and subtly enhanced its flow. His exquisite trills at the end of the opening Allegro and his gentle, expanded phrasing of the opening of the Andante grazioso, discreetly ornamented with exquisite, silvery runs, was like hearing angels sing.
The Allegro last movement was like a miniature piano concerto. Again, Bezuidenhout explored the secret of expanding time in virtuoso runs with exquisite half tones. Even the brilliant, young Altstaedt got into the act with a few added grace notes.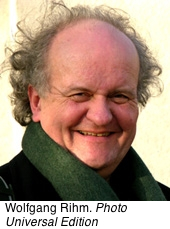 Equally daring, considering the audience, was Wolfgang Rihm's 20-minute long String Quartet No. 10, composed in the mid-1990s for the Arditti Quartet, whose two short, outer movements bookend a middle movement called, "Battaglia," in which the, "La Folia," motive plays a role in in the heated discussion which gets under way once the opening series of Rihm's trademark, "pppp," and high harmonic, "pizzs," (interrupted just once by the unison shouts of a children's song) have provided an emotional context for what is to come.
As in his String Trio which had been performed a few nights earlier, there is a lot of trending and striving towards rhythm and pace. In this case, the development was disputed at times by jazzy rhythms suggesting the randomness of the Tolstoy Monkeys effect, before settling into the increasingly slow-moving simulation of formal discourse with which the music closed. The intense performance by violinists, Philippe Quint, Mira Wang and Max Mandel, and cellist Altstaedt, like the Juilliard Quartet ideal, humanized Rihm's cerebral music to the extent that the audience of movers and shakers responded with enormous enthusiasm.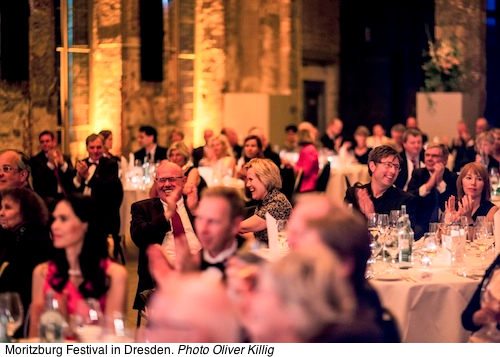 Concluding the evening's musical entertainment, Kai Vogler, Alexander Sitkovetsky, iconic violist Lars Anders Tomter, Jan Vogler himself and Mona Asuka Ott exploded into Robert Schumann's Piano Quintet Op. 44 in a non-stop outburst of ferocious joy, tender poetry and romantic passion. It left the musicians and the audience both breathless and intoxicated. Perhaps the performance's most remarkable feature was Ott's ability to immerse herself in the ensemble when she was not taking the lead, as Clara Schumann had once done, with a lovely singing tone and affectionate, expressive attention.