During the week, classical music conversations naturally shifted from Gustavo Dudamel's Mahler Project to professional basketball star Jeremy Lin's overnight emergence as the most popular person on the planet.
Both performance artists have rejuvenated their local, national and global communities, immediately along its length and breadth in the case of Lin, and increasingly so in the case of Dudamel.
Both men are all about teamwork.
Lin joined the starting line-up for a team that had a disparate collection of journeymen and superstars but needed someone to make them coalesce behind a common goal, then dazzle and shine.
With Gustavo it was the same way; he's a great team player who literally places himself at the disposal of the Los Angeles Philharmonic, and Deborah Borda's corporate team. Their success indicates that there is pent-up energy in the cultural economy.
It's exactly what's happened overnight (really overnight) with Jeremy Lin. In a week, his wild charismatic presence and competitive intensity has signaled the existence of vast reserves of pent-up energy even in the sports economy.
Interest in both men has raised morale on local, regional, national and global levels. At a time when disaster looms and depression rules, the sudden emergence of Lin and Dudamel, who defy the gods with daring and luck, comes over as an unambiguous message booster that when we try to be our best, we succeed just by trying.
There are differences, of course. On the playing field, at least, there is no real risk to Gustavo. When Jeremy Lin plays, physical and artistic tragedy can strike on any night. The insular world of the Philharmonic admits of no such unpredictability.
There's also the bottom line: One way or another somebody's making a lot of money on both of these dudes, and in the case of Gustavo I hope it's more than just trickling down.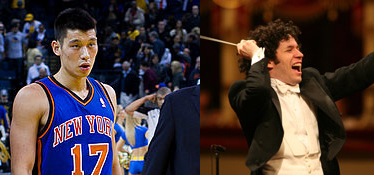 Wikimedia Commons/LA Philharmonic
Perhaps it's time for a competitive league of orchestras along the lines of the NBA. The League of American Orchestras, which holds its annual meetings in Dallas in June, which could provide the aegis for such an enterprise. Such a league's possible four divisions (in order of projected finish):
Atlantic: New York, Boston, Philadelphia, Montreal, New Jersey, Baltimore, Washington, Miami
Central: Cleveland, Pittsburgh, Detroit, Atlanta, Cincinnati, Indianapolis, Milwaukee, Buffalo
Midwest: Chicago, Minnesota (Minneapolis), Houston, Toronto, Dallas, Saint Paul, Saint Louis, Columbus
Pacific: Los Angeles, San Francisco, Seattle, Portland, Salt Lake City, Vancouver, Denver, San Diego
Revenues would skyrocket and classical music would serve the best purpose it can have: To provide for the soul.
The problem with this scenario is that orchestras are not-for profit-institutions. Participation in organized leagues would endanger their tax exempt status and, with that status, their exclusive access to their city's best venue (unless they owned it themselves).
The good news is that, sooner or later, an autocrat is bound to discover that it is possible to buy a major orchestra in order to convert it into a legitimate business. Jeremy Lin, depending on his musical tastes, could buy an orchestra and face the LA Phil and Gustavo on the playing field.
In fact, such a scenario is already scheduled for Disney Hall on May 9 and 10, when the New York Phil (conducted by its own wonderboy music director Alan Gilbert) and LA Phil (conducted by Gustavo) will play on successive nights in Disney Hall.
And if Gilbert has any intentions of bringing Lin to town along with the NY Phil to create a buzz, LA has Blake Griffin ready to show Gustavo how to catapult onto the conductor's podium as if it were a slam dunk contest. Just imagine, classical music could be hitting the big time.