I first met NOH8's Adam Bouska and Jeff Parshley in July 2011, when I interviewed them for Pink News. Like them, I was in California on the night of Nov. 4, 2008, when Proposition 8 was passed. Like them, I was shocked that such a thing could happen in what is generally reckoned to be America's most liberal state. Like them, I saw my euphoria at Barack Obama's election dampened by the news that voters from Sacramento to San Diego had given in to fear and prejudice and taken away the right to marry from a single group of people.
The bright idea to establish a photographic campaign opposing Prop 8, and similar laws, happened not long after, when Adam and Jeff arrived home from a protest in Los Angeles. It was 4 a.m. Jeff decided he wanted Adam, at the time an up-and-coming photographer, to take a photo of him that he could use for his Facebook profile, something that personalised him as a victim of what, by then, had been nicknamed Proposition H8. A photo was duly taken and, unintentionally, the NOH8 Campaign was born. Every one of the 20,000 NOH8 photos taken since has copied the format Jeff's photo established that night.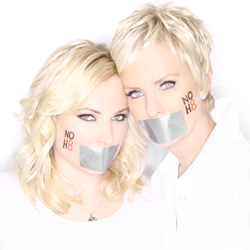 After meeting Adam and Jeff, I decided I wanted to get more involved. I wanted to pose for a NOH8 photo myself and, with Cindy McCain's NOH8 portrait in mind, I wanted to ask my longstanding friends, Dennis and Elizabeth Kucinich, to take part, as well. It came as no surprise to me when they said yes: they are both strong supporters of equality, and of civil rights more widely. (Cindy McCain's photo with daughter Meghan is at right; Elizabeth Kucinich's photo is below.) Dennis' support excited Adam and Jeff because it meant he would be become the first member of Congress to pose for a NOH8 photograph. Then we hit upon an idea: could we convince other equality-supporting politicians to take part, as well? And why hadn't more of our elected officials come forward to pledge their support to one of America's largest equality campaigns?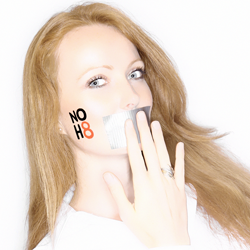 Together we hatched a plan to take the NOH8 Campaign to Capitol Hill. The end result is this: "NOH8 on the Hill" will take place Feb. 15, 2012, in Washington, D.C., not far from the Capitol. The NOH8 Campaign will be holding a closed shoot specifically for Senators and Representatives.
I'm publicly announcing "NOH8 on the Hill" for two reasons:
Firstly, I would like to hereby invite all Senators and Congressmen, or staff acting on their behalf, to contact Jeff Parshley at the NOH8 Campaign and make an appointment for a NOH8 photo, at no cost, on Feb. 15. The process is quick and should take no more than 15 minutes. If you support equality, I urge you to take part.
Secondly, I would like to encourage all Huffington Post readers to contact their elected representatives and encourage them to take part in "NOH8 on the Hill." Call the office of your Senator or Congressman in the next three weeks; let them know you support equality and that you'd like them to take part in the NOH8 Campaign. Adam's and Jeff's record for the most NOH8 photos taken in one day currently stands at 842, set in October 2011 at the Episcopal Church of the Transfiguration in Dallas. This means that, in theory, it's possible for them to photograph all 435 House members and all 100 Senators as part of "NOH8 on the Hill."
Participating Senators and Congressmen will join the 20,000 men and women who have already taken part, including Larry King, Dr. Drew, Lt. Dan Choi, Deepak Chopra, Lisa and Laura Ling, Denise Richards, Vivica A. Fox, Isiah Thomas, Brooke Burke, Tabatha Coffey, and, most recently Miley Cyrus. They will also stand in solidarity with the half a million fans the NOH8 Campaign has on Facebook.
Put simply: the NOH8 Campaign is about visibility. It's about putting faces to the debates taking place in New Jersey, Washington, Iowa, New Hampshire, California, and North Carolina, to name just a few. It's about showing that these debates are about real people with families and responsibilities, people who just want to be able to live their lives like everyone else. With an election fast approaching, it is my hope that those elected officials who support equality will be just as visible as those who oppose it. Please get involved.
Note for Senators, Congressmen, and their staff: participation in "NOH8 on the Hill" on Feb. 15 is by appointment only and is restricted to members of the House of Representatives and Senate. Please contact Jeff Parshley via the NOH8 website for location details and to book an appointment.
See photos of other famous faces who have taken part in the NOH8 Campaign:
PHOTO GALLERY
NOH8 Campaign
Photos courtesy of Adam Bouska and Jeff Parshley