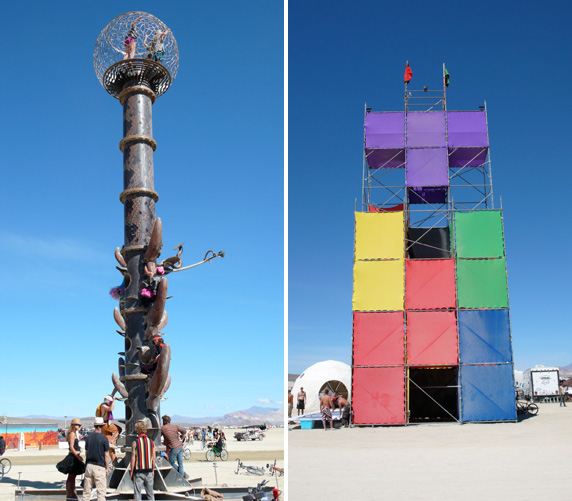 When I started telling people of my plan to go to Burning Man in the Black Rock Desert of Nevada, it was a hit. "No, really?" they would say. "Is your wife going with you?" Questions about drugs would follow. Various sketchy tales, too. None of these people had been there themselves. I wasn't sure what the comments said about Burning Man. Perhaps they said more about how these people perceived me.
I travel a lot, and I enjoy traveling tremendously. What keeps it inspiring for me (aside from meeting local creative people, which is impossible to plan) is locations that are new to me, and the contrasts between the experiences. A posh British hotel followed by a Zen Buddhist temple in Koya-san, or Franschhoek followed by a hotel in Beirut. It's the cultural clashes that keep your eyes open, and it seemed that this was what Burning Man could be.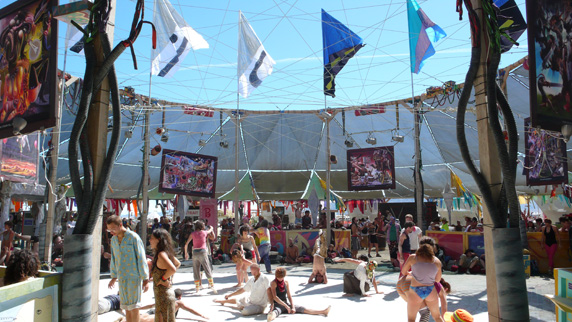 As usual my decision to go was taken just the week before the trip. But now my friend was postponing her arrival until after I would leave. It would just be me, her "burner" friends, and about 50,000 strangers.
I began to feel anxious about drugs, and what I might have to do in order to fit in. It reminded me of an experience I had while visiting New Zealand about 20 years ago. I'm not sure if marijuana is legal there yet, but even then it was typical for hosts my age to ask "do you want something to drink, or to smoke?" I was recovering from a Hepatitis A infection I had caught in Nepal, so alcohol was out of the question. The result was the worst drug-related experience of my life -- caused by hash oil, of all things. Until then I was just a young guy exploring recreational drugs through travel: mushrooms in Bali, opium in Thailand, the backpacker's rites of passage. But after that night in New Zealand I came to realize how much I hated losing control, and that I would probably abstain from drugs for the rest of my life.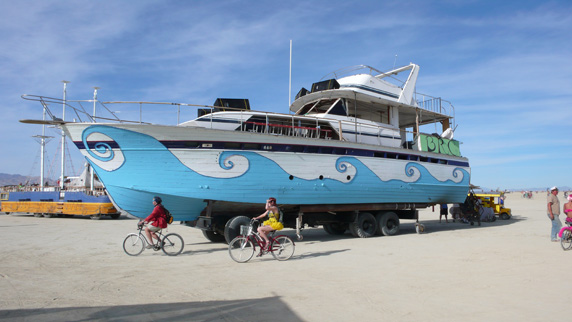 What about my longstanding habit of never preparing for a trip, beyond a quick check of the weather? In general I try to avoid building expectations. The more you prepare, daydream, anticipate, the more opportunity you have for disappointment. But here, as soon as I agreed to go, my friend gave me a list of all the things I should do to prepare myself. In Burning Man lingo, I was a "virgin." The desert is no joke. So I read the "survival guide," the best part being, in my opinion, the lengthy recommendations on what to say when a ranger (plenty of law enforcement is present) wants to search you.
After a few days of over-thinking, I was on my way. I stopped to buy enough food in Reno to last a week and then joined the convoy. After a couple of hours of highway driving, I turned onto a short strip of dirt road leading to the entrance gate. Immediately the wind started blowing, and I experienced my first white-out -- as predicted by the survival guide. I should have bought the recommended goggles and face mask. Two miles and five hours later the rain started pouring -- in the desert -- and traffic stopped as the dust turned instantly into mud. Just as they said in the survival guide. But before long, a double rainbow (karma?) appeared, and I drove through the gate, having somehow added four new passengers to my rental car, which, as the rental agency can confirm, was already trashed.
I have arrived
I'm looking for a friend of a friend who will serve as my guide through this experience, supposedly in the camp behind "Death Guild." Six different camps seem to fit this description, and nobody I meet knows whom I'm talking about, as they move around, setting up tents and RVs.
This might be my cue. Nobody seems to mind where I'm parked right now. Why not just stay where I am? It's a great location, close to the playa -- the Central Park of Black Rock City. I can busy myself with setting up camp, and avoid, for a while, the inevitable drug panic.
I then try to open the tent I had borrowed from my wife. It turns out it's a UV-protection tent, to be used at the beach -- it has only three walls and is open to the air on the fourth side. Now it's turning into the kind of trip I know I will enjoy -- total improvisation. As the sun sets I position my car so that I can escape in the middle of the night, if need be.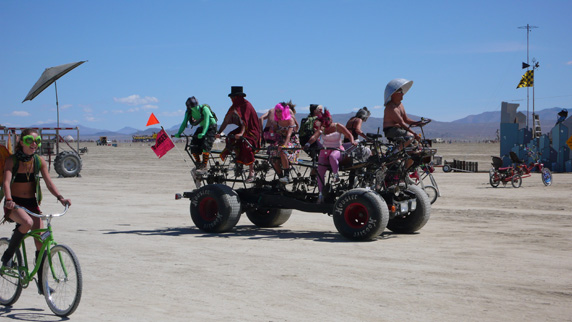 The first thing I do in a new destination is explore on foot, without any agenda. At Burning Man I discover that's what everyone does. Maybe I do belong here after all. The difference is that everyone comes prepared -- many have decorated bikes -- and is doing it in style.
Bikes? Somehow the survival guide never mentioned them. I guess they're not for survival, but they are necessary if you want to see every part of a city with fifty thousand inhabitants. The proportions are epic. And as I walk, a little voice inside me starts whispering "this is amazing," and then I start saying it out loud: "this is amazing!" One of my few addictions is to music, and here music is everywhere and often great. The only reason I regret not having any form of internet or phone connection is that I can't use Shazam.
Eventually I feel like I might have had enough for one day. It's near freezing at night in the desert, and my hoodie is not up to it. Later I find that my kid's sleeping bag is not as long as I had hoped. I sleep in the car.
The next day, dressed in party clothes I've not worn for ten years (but thought I would need), I set out walking again. It is obvious that I'm a spectator. The people I watch all play a deliberate part in the experience. They work hard for this. I feel a wave of "I do not belong here" -- but not in the way I had feared. I feel some guilt at not having spent days, weeks, months preparing for my part. But I'm here now, and I'm going to make the best of it.
The best thing about being a spectator is that you get to see more of the art than anyone else. Some people work (and party) so hard I wonder if they get to see much of what is on display on the playa. One particularly moving construction is the temple. People who wish to commemorate a birth or death come to write, draw or stick something on its surface. No pseudo-religious mumbo-jumbo, just love. Whatever you leave here gets burned with the beautiful wooden structure. What a fantastic idea. The art is briefly monumental and then is burnt or packed away.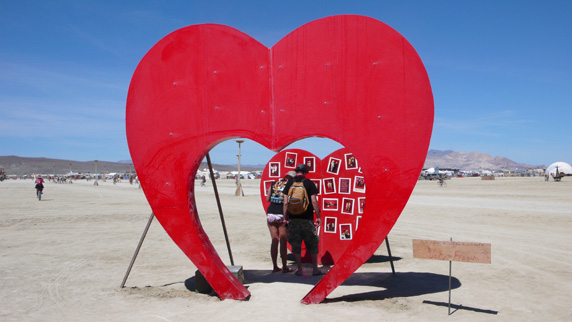 On the second night, I had already spent three hours in Camp Nexus with some amazing hip-hop DJs when I turned around and looked out over the playa at night, and the myriad of lights on and around it. I could not help wondering if there was a bigger, better party out there somewhere. This is when I boarded one of the decorated double-decker vehicles which roam the playa, with its own DJ and dancing crowd. I lost track of time until I stepped off a few blocks from my spot. Finally I had recovered my ability to just talk to people, and it felt good. Only in Brazil have I felt such openness to strangers. I went back to my car to sleep, feeling good about my progress.
When I woke up early the next morning it was already time to head home. There was some quiet conversation among the early risers at camp, and I realized it had finally become easy. I wanted to speak to everybody.
Later, in business meetings back in New York, I struggled to come to terms with the fact that I had met with the same people just a few days before. It felt like weeks. And as I recounted the trip to my friends, I discovered that many had read a lot about Burning Man, and hoped to go some day.
One of my travel principles is "never go back" -- never try to re-create a great memory. I will go back to Burning Man. Two days were perhaps all I could take this year. I'll go for four or five next time and I'll be prepared.