In the wedding world, late spring and summer 2011 has proven to be a very exciting year... for weathermen and tenting companies, that is. Quite the contrary for brides and grooms, or their dedicated wedding planners, who have visions of outdoor weddings in one of many gorgeous Northern California locations.
In years past, one could pretty much count on rain-free summers, not to mention those perfect Indian summers in early fall. But in our great state the weather has become so unpredictable lately that many unsuspecting have been caught off guard. I recently heard the sad story of an elaborate 300-person wedding, called off the day before because no rain plan existed for the mid-June outdoor affair. In addition to unlikely showers, cold fronts, wind storms and even hail in May are some to the elements we've been experiencing.
As a seasoned wedding planner, I am always thinking ahead -- consistently trying to avoid any disastrous surprises on my clients' big day. Having a Plan B is a must -- a beautiful indoor space or tent on hold for when the weather chooses not to cooperate with outdoor event plans. Here are some words of wisdom to help couples ensure their dream day will be dreamy, rain, shine or otherwise.
Many wedding venues such as hotels, museums or galleries will have indoor space readily available for inclement weather. Ask to see this space before you book to make sure you're happy with it. It's also important to ask if it can accommodate your guest count and the potential costs associated with using these additional spaces.
If the venue is all outdoors like many sites in wine country, tenting will likely be your best and only option. Two smaller tents will often work better than one big one -- you can host your ceremony and cocktail hour in one, then move to another tent for dinner and dancing. I've also done one large tent with fabric draping to create two distinct spaces.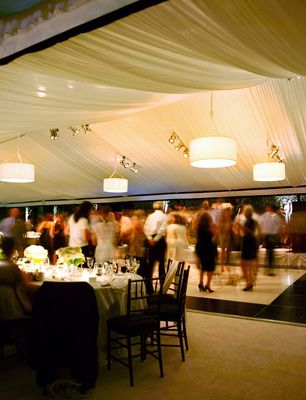 Photo by Thayer Allison Gowdy
Make sure to ask if tents are allowed before you book and talk about weather back up plans with the site representative. If there are no tents allowed and no indoor facilities available, you may want to consider other venues with more options.
The Napa Valley, like many other places, is warm and sunny by day, but can often cool at night. Even in good weather years, I always suggest a tent for the late night hours if there is no indoor area for the guests to retreat. I love to do heated dance tents with comfortable lounge seating after dinner -- not only does it provide warmth and security, it creates a new environment for the guests to experience. I always like surprises people don't expect to keep them engaged and excited as the night progresses. And in a pinch, that tent can host more of the event to keep guests warm and dry.

There are other less expensive touches you can add to make your guests feel taken care of. When the temperature drops, you can also keep your guests comfortable with outdoor heaters, fire pits, complimentary pashminas, or cozy blankets for seated areas. At a drizzly December wedding, my staff passed out dozens of elegant cane-handle umbrellas as guests went from their cars to the church to the reception.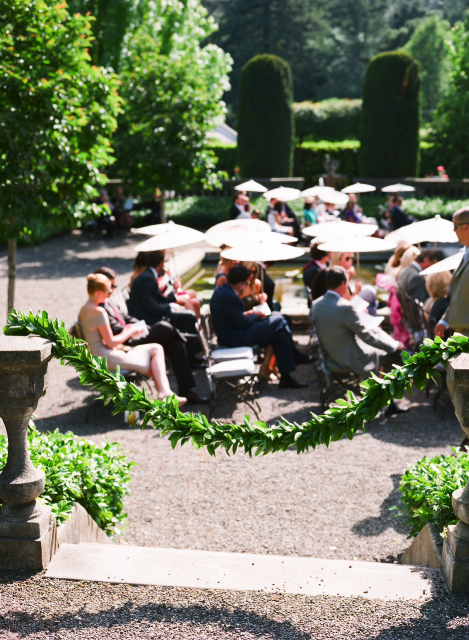 Photo by Meg Smith
Think of your guests' comfort on super hot days too -- provide shady spaces, market umbrellas and paper parasols, not to mention cool drinks by the tray-full.
My Plan B advice comes with a budget warning -- I have rarely seen a Plan B that doesn't come with a hefty price tag if it's thrown together at the last minute. Putting a weather plan into effect a couple days before the wedding requires a lot of work if you don't have a seasoned wedding planner to help you. Therefore brides should discuss the rain plan with all of their vendors during the planning process and talk about the costs so they are not caught off guard. You'll also have more negotiation power early on versus the 11th hour.
The outcome of this weather volatility is a shift I'm seeing in popular wedding dates for this year and next. Brides are looking at the current year's weather as an indication for next year. As a result, April, May and October weddings seem to be losing a little appeal, and peak summer months like July and August have become the "hot" new dates to get married.
Six tips for a pain-free Plan B
1. Start early -- discuss the weather plan with your wedding planner, caterer, florist and rental company so they know exactly how to execute your vision if the forecast looks dim.
2. Book a venue with a beautiful Plan B option. If you can envision yourself getting married in the back-up location, that's a great place to start.
3. Reserve a tent on contingency if you're in a high-risk weather region. You may have to put down a small non-refundable deposit, but it'll give you peace of mind when other brides are scrambling.
4. If there's a 30% chance of rain, I usually advise brides to get their rain plan ready.
5. Tents are not only a precaution for bad weather, but a way to add a new fun space for guests to experience. Use it as a chance to surprise and delight them, in addition to keeping them comfortable.
6. Think about other, low-cost ways to protect your guests from the elements -- umbrellas, parasols, pashminas and heaters are just a few ways brides and grooms can make the evening comfortable and special for their friends and family.
Photo by Abby Ross