The McGolrick Park Farmers Market in Greenpoint, Brooklyn has moved indoors for the winter. Last Sunday's outdoor market was brutal; in a cold steady rain, the vendors were getting their backsides splashed by cars, and they weren't selling much. Merchants couldn't wait to get inside, and I was excited for them.
So this Sunday I was curious to check out the new spot -- right across the street from the usual spot on Russell Street off of Nassau Avenue, in the basement of the Lutheran Church of the Messiah. Like many people entering the church, I dutifully dropped off my frozen food scraps in the green compost bins outside -- an unspoken entrance fee to this underground gathering.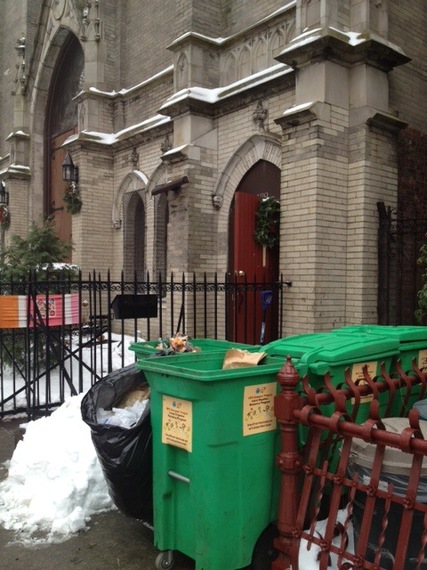 The first view of the basement was very "church bazaar." I felt guilty for getting the floor dirty with my slushy boots as faces turned to watch me enter. The indoor farmers market is different. I didn't have that warm and fuzzy feeling I usually get passing by the many picturesque stands at McGolrick Park, with tall sycamore trees shading the tents, dogs sniffing under the folding tables, and benches for relaxing. Today felt more utilitarian; heavy fluorescent lighting stole away the usual warm palette of fresh food and colorful faces. I got the feeling that most merchants were uncomfortable in the new setting; all facing each other rather than lined up in a row, able to hear each other talking to customers without the street traffic and general noise of "outside." On passing the American Pride Seafood stand, I heard the vendor say, " I think people have to get used to this -- but at least I'm warm!" A farmer asked the market manager if she'd like something from the coffee shop. She responded, "Thanks, but I'll get it myself -- I need to be outside for a little."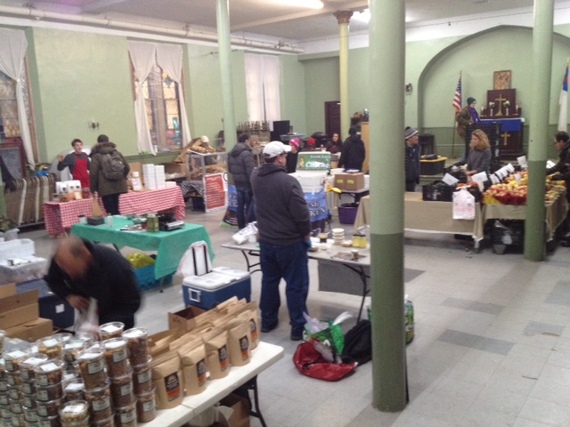 The musician was in good form today as he warmed up the space with his steel tongue drum. He looked happy to be providing atmosphere to the room. Later he discovered the church piano, and played a series of jazzy chords while people perused the booths.
When last year's farmers market closed for the winter it was as if my drug supply had been cut. I felt unethical shopping for all my produce in the grocery store, and wished all the time that the market had stayed open. Well, my little dream came true, and I agree with the seafood guy. The winter space did feel different, but I was happy to be out of the cold rain for a change. In the end I was just glad to get my eggs, apples, potatoes, pickles and bread. So what if the winter market feels less like a little taste of the country and more like a church bazaar? In the end it's about supporting this wonderful movement rain or shine or fluorescent lights.