My daughter had a problem. Her memories of 2013 were clogging up her phone, making it impossible to take new photos and videos without randomly deleting old ones.  So she downloaded them to her computer, as I suggested, but that just clogged up her hard drive. Then she uploaded them to a photo service, where they have languished for several months.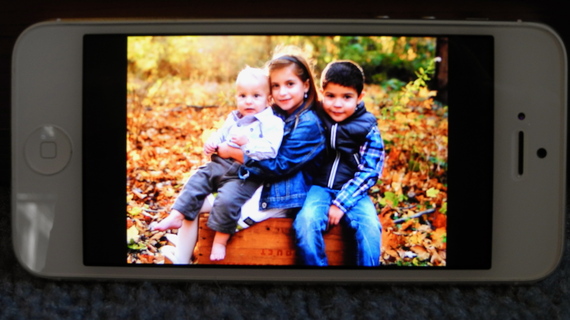 Her plan was to use the auto-fill option to create a photo book of her memories. To her horror, she discovered she would have to make 10 books, as auto-fill decided to make a picture of a random dog into a two-page spread and a picture of her baby miniscule. So now what? She has a job as a vet, three little kids, and three dogs. Not much time in her life to create this book manually.
Since I have been struggling with this issue every year since I entered the digital photo era in 2003, I decided to make the photo book for her as an anniversary gift. Yikes, I have only a week to go and countless hours ahead of me. And it will have to be two volumes.
Ok, I'll confess -- my daughter comes by her photo collecting habit honestly. I have 33,899 pictures in iPhoto on my Mac. There are probably 899 of my husband and me on various vacations, and 1,000 of our kids' weddings. So that leaves only 32,000 pictures of my grandkids! Like a hoarder, I can't seem to let them go. I have most of them in the Cloud and backed up on DVDs, but I still can't delete them. 
When my kids were growing up, we took slides and rarely made prints. These slides spanned several years and mainly focused on special events like birthdays and vacations. At some point, we realized no one wanted to sit through slide shows of our kids, not even us. So we switched to Kodachrome, immortalized by Paul Simon:
You give us those nice bright colors
You give us the greens of summers
Makes you think all the world's a sunny day, oh yeah!
I got a Nikon camera
I love to take a photograph
So Mama, don't take my Kodachrome away
I lovingly put our prints in non-archival albums where they turned a ripe brown color.  So much for that vision of the '80s!
As the years went by, albums were filled with pictures of family trips to national parks, ice skating shows, graduations, engagements, and marriages.  By the time our twin granddaughters were born in 2003, I had albums by the dozens stacked in our family room. And then came the perfect storm -- grandkids and digital cameras.
It was now possible to take countless pictures of every nuance of their development, supposedly keeping the best and deleting the rest. But I could never let go of any of them. If one picture of that first smile was great, then ten were even better. How to decide which one was the cutest when I loved them all? And so, as my grandkids grew to number eight, my collection grew with them.
I continued printing the ones I loved but now I could edit them (making them even more special) and print them at home with my photo printer. As each new grandchild came along, my collection ate up more and more space on my computer. As an added bonus, I could now make slideshows set to my favorite songs of the grandkids and vacations. Once again, I discovered no one wanted to watch them more than once, not even my grandkids (the stars of the show). After 40 years, I was back where I started with photo books instead of albums and unwatched DVDs.
So when my daughter asked me what to do about her iPhone problem, I volunteered to tackle the project. These were her precious memories. Surely a photo book for last year is a perfect anniversary gift.
With a mere seven days to go, I soldier on. Book I is complete and I launch into Book II today. It's actually kind of fun to see her kids, my grandkids, grow a year older before my eyes. But my daughter and I need a better plan for the future.
I did have a plan for this year. I was going to do a few pages of my own photo book every month so it would not be such an overwhelming chore next December. And I vowed to keep my photo library down to a mere 1,000 pictures for the year. LOL -- I haven't started yet and am already over my quota of pictures. Any suggestions from other photo addicts out there?
I invite you to join my Facebook community and subscribe to my monthly newsletter.