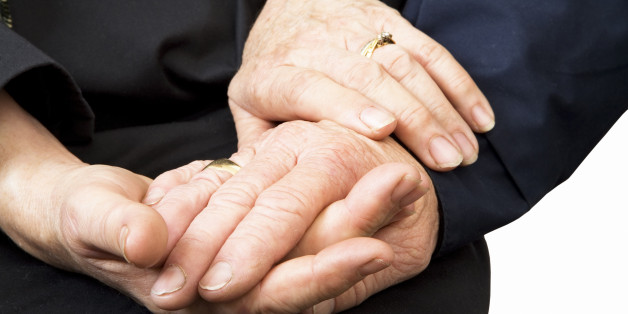 I sat in the Ophthalmologist's waiting room. Drops in my eyes had me struggling to decipher the blurry words in the book I'd foolishly bothered to bring with me.
The door opened and a couple walked in. He was tall -- maybe six feet five inches -- at least that's what he would have been had he not been hunched over from the ravages of age. She was petite, and came to just above his elbow. Each had wispy, thin, white hair, and was frail.
They held hands, then she let go and headed for a group of chairs. He continued to walk towards the receptionist's window taking small, tentative, steps. Barely a foot from the window, he stopped and turned to his wife.
"I want you with me," he said.
She changed her direction, accompanied him to the receptionist's window and spoke.
"We received this bill," she explained, holding out the white slip of paper he handed to her, "but we don't know what it's for. Our records show that we're paid up."
The man never took his eyes off of his wife. Every so often he interrupted, weakly. "We already paid. Yes, we already paid."
When their business was concluded, they walked hand-in-hand to chairs, she leading the way. I wondered why she thought he could handle the bill discussion with the receptionist. Was it habit or hope that prompted that decision?
Once seated, he murmured something and she responded. Her words were gentle.
"We were there yesterday," she said. "Don't you remember?"
He nodded blankly, but said nothing. Several moments later, he muttered something else.
"Yes," she responded. "We just spoke with the receptionist a few moments ago. She said she'll check and let us know. You remember, don't you?"
Her words weren't condescending or impatient. They were loving and earnest and her eyes penetrated his, hoping for the right response. His brows knotted and the corners of his lips turned up faintly, but he didn't answer.
"When we're through here Betty will come and take us to lunch," she offered. "Do you remember the plans we made?"
"Betty?"
"Yes, Betty. Our daughter. She's promised to take us out for lunch at The Olive Garden because Sunday is your birthday and she can't be with us that day."
His eyes searched hers. "Betty."
"Yes, Betty."
The office was empty, except for the three of us. I looked to my left, at a tree that had been potted in the office many years earlier. It must have been transplanted numerous times to accommodate its enormous growth. It now touched the vaulted glass ceiling, arched over, and leaned to one side. Like the old man, it wasn't apt to live much longer. I thought about how living things are often neglected when they age?
I wondered what it would have been like if my father hadn't died at 46. I wouldn't be like Betty. I would make his birthday a major event, with a huge cake and sparkler candles. Family and friends would surround him with verbal and physical displays of love. What was so important that Betty couldn't arrange to spend time with her elderly father on his special day? Did she realize how fortunate she was to have him this long and how he would soon be gone? Forever?
When I returned from the second half of my eye exam, the elderly couple was still seated in the waiting room. While I made an appointment for my next visit, Betty walked in and the couple's eyes lit up. Her demeanor and manner of dress lead me to believe she was a business woman, likely on her lunch hour. Did she have any idea how her presence was the highlight of her parent's day -- maybe even their week? She was warm and demonstrative and probably thought she had a good reason for not being able to see her father on his birthday.
But not good enough for me.