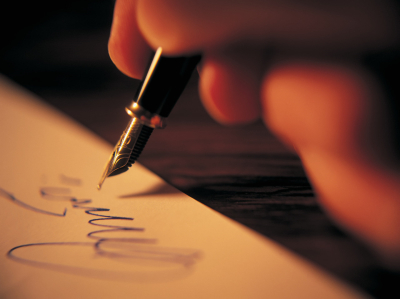 Recently, I attended my first sales seminar in Germany. I went with Conny and two other friends, who had invited us. And, of course, it was conducted in the German language. With 10 speakers, I really had to focus on my listening skills. It was tough. But I soon learned I was in for an unusual ride when the first speaker pulled out a very special visual aid: a pink vibrator.
Some speakers were better than others, however one really stood out. Although he spoke so fast -- even for the German folks -- I found him head and shoulders above the others. He really held my attention, which helped me focus on what he was saying. Conny felt the same way.
Conny detests sales-related programs and books, but she was really impressed by this guy. Since he was also an accomplished author, she bought two of his books. Then, she approached him to autograph them for her. Fortunately, he wasn't crowded with other autograph seekers. In fact, he was having a chat with the audio/visual guy. I sort of straggled behind and watched from afar, wanting her to have this moment alone with him. She handed him the books and, as he bent down to sign them, he looked up at her and gave her this strange look. Was it something she said? It made me curious, so I headed toward that direction. By the time I reached them, he'd already signed both books. Conny wore a smile, but knowing her, I knew something had happened. I shook hands with the author, told him how great he was, and Conny and I walked away.
It was then that she told me what had happened.
She'd asked the author if he would autograph the books with "fellow author" along with her name. He asked what she'd written and she told him she wrote books to help people get through life.
She showed me what he'd written and I couldn't believe it. Two standard, generic autographs. The words she requested were not included. In hindsight, perhaps his look was one of disapproval. Maybe her answer didn't put her in the same league. After all, he was really an author. Not only is he an "educated" man, but he's also been on German television. This makes him a "famous educated" man!
But he did sign her books and, for that, she should have been grateful. Perhaps those would be his thoughts, but obviously not ours. Of course, she also had the privilege of paying him 30 Euros.
Conny is a rape survivor. Anyone would be proud of knowing her for that reason alone. Most of her work consists of poetry and essays depicting her daily struggles to hold on to love and making sense of the world. She's refused to allow her abuser to make her a victim for the rest of her life. Perhaps her work wouldn't have been this author's cup of tea, but for someone else who is also a rape survivor, it could give them the feeling of I'm not alone. Someone else knows my pain.
Okay, so he didn't know this. Could he have asked more before he rejected her? Sure. Could she have volunteered more? I guess. But was this truly necessary to get her autograph?
I once read an interesting blog post written by W. Terry Whalin, entitled "Where Do You Autograph a Book?". He's written more than 60 nonfiction books and has been published in more than 50 magazines. He's also been an acquisitions editor for two book publishers and a literary agent, too. Mr. Whalin encourages writers of all level (from beginners to professionals) at Right-Writing.com.
In this post, he discussed an experience he had with a best-selling author he'd interviewed for a magazine article. This author autographed a book for him with just his name. No personalization whatsoever. He was shocked and he never forgot it. If this incident left such a lasting impression on an experienced veteran of the publishing business, how do you think my friend felt about this guy?
I've been in four books in the best-selling Chicken Soup for the Soul series. As a contributor, I've also received autographed thank yous from Jack Canfield and Mark Victor Hanson, the creators of the series. I know I'm not the only author who's received them, but seeing my handwritten name on a correspondence from them still gives me a thrill today.
I've also signed books at major bookstores throughout Southern California. When approached for my autograph, I always asked how they want it done. And believe me, I do my best to comply. I want to make it something they'll want to keep.
Before I left the States for Germany in 2011, I remembered bidding farewell to Shelly and her companion Courtney. I'd known Shelly for 25 years, but had only gotten to know Courtney in the last few years. I gave Courtney a copy of one of my books, after discussing my grandfather and his unusual name. I was blown away when he asked me to autograph it for him. You see, he'd worked in the casino business, both in Southern California and Las Vegas, and I knew he'd met quite a few famous people. Of course, I did personalize my autograph for him and he seemed quite happy.
Being a Southern Californian myself, I knew I was just a small fish in a huge ocean. There are many people with greater accolades compared to mine. Nevertheless, I'm proud of my work and what I have accomplished. Whenever anyone asks for my autograph, I feel greatly honored. He or she is not only letting me know my work was worth buying and reading, but it's also worth commemorating.
I believe this author -- who specializes in the areas of motivation and change -- missed a golden opportunity. His book could have been an inspirational source of motivational fuel for another less accomplished author. One who's trying to keep her voice from being drowned out in a worldwide sea of other voices. Is there really any harm in doing that?
Over 20 years ago, I had the pleasure of meeting a guy named Murray Shapiro. He was the uncle of my ex-wife Lisa. He was a great salesman, although you'd never know it by meeting him. He was a quiet and soft-spoken man, yet he knew how to relate to people like no other person I've ever met.
Eventually, he shared with me the secret to his success and the most important point was this: "People will always like you, based on how you make them feel about themselves."
People loved Uncle Murray and I was no exception. He always made me feel like I was the most important person in his life whenever I was with him. I did my best to emulate this, although I'm sure I never reached his level of proficiency. It's gift so few of us can master.
He passed away a number of years ago and I count him as one of those folks I feel fortunate to have met. What a shame this author never had a chat with Uncle Murray. Then, he would have truly been an "educated" man.