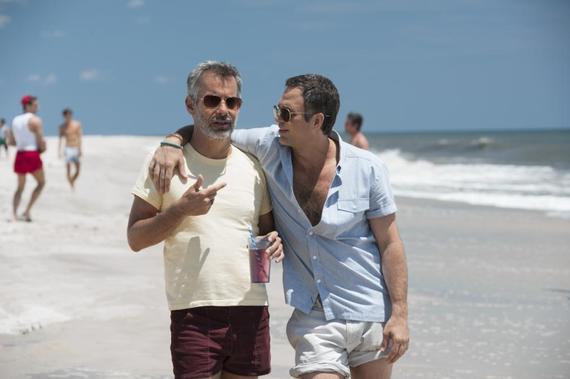 Mark Ruffalo as Ned Weeks (right) and Joe Mantello as Mickey Marcus in HBO's The Normal Heart
My reactions to the HBO film of The Normal Heart (TNH) are not much different from my reactions to the play. When it was revived on Broadway in 2012, I wrote a commentary, "The Normal Heart, A Generation Later," that is posted on the Gay Men's Health Crisis (GMHC) blog site. It takes a long, discursive look at the play, my relationships to it, and grapples with the most persistent of the concerns to emerge about it: that TNH is a dramatization rather than an authoritative history. At what point do we begin to question the great and powerful Larry Kramer on his saying of TNH: "this is our history"?

In anticipation of the film and at Larry's behest, I spent an afternoon with Joe Mantello, who in his various and frequent roles as writer, director and actor is perhaps the most prolific and protean figure in New York theater. Mantello played Ned in the Tony award-winning Broadway revival of TNH and plays Mickey, the character that is based partly on me, in the film. Up close and personal, Mantello is without pretense, sexy and engaging. In the course of our three-hour lunch at a Chelsea diner we covered every base. Joe had the same questions about the veracity of Felix (Ned's lover in the play) that everybody else has had. As most now know, Larry based this relationship that eventuated in a hospital bedside marriage in the play on an "affairette," as Larry has called the fleeting romances of gay men, with NYT fashionista John Duka.
Months later, in the lobby following the world premiere of the film at the Ziegfeld theater, Mantello sought me out and we embraced. Although Mickey is a composite figure and not me in important details (e.g., he's not a physician), there is truth and soul in the character that Mantello captured in his portrayal. I told him I thought he was great, that I loved him; and I recognized in that moment of disinhibition that I was also saying that I loved myself. It was a moment to look past all the qualifiers and just feel the love and pride of having been in the struggle, in celebration of all of us, but especially Larry, who did make it to the premiere but who had been in fragile health.

There were things I liked in the film that weren't in the play, beginning with the closeup of Ned's face as he comes upon an orgy in the meat rack on Fire Island. I also thought the hint of a dysfunctional romantic energy between Ned and Dr. Brookner was plausible and effective. Likewise Tommy's heartbreakingly modest and private gesture of pulling the file cards from his roladex of those who died and keeping them together with a rubber band in a separate drawer. And I was warmed by the gay bondedness captured in the disco fundraiser scene.
Like many others, I wasn't sure what to make of Ned's recounting of his single heterosexual foray and rendering Felix as having children from a former marriage. Were these additions there to make Larry, Ned and Felix more acceptable to straights and more appealing to the many gay men who prize bi-ness and straightness in their men? Doubtless an ick factor of gayness for gay men, and of gay sex for straights, is still out there. On reflection, though, these sexual details didn't strain credibility and did work dramatically. In bed after sex is a time when we're prone to drop pretense, to let our guard down and talk intimately and honestly about our lives. Who we are, who we were, and previous efforts at being straight are still deeply felt rites of passage in gay life. These are the kinds of subtle insights we wouldn't reflexively associate with the otherwise blastingly unsubtle Larry Kramer, but they are in fact foremost among his skills as a writer.

A kind of cognitive dissonance is the challenge with Mark Ruffalo, who on first impression seems so different from the real-life Larry Kramer that the reconciliation you want to make and are trying to make and finally do make seems more effortful than it should. I often felt that a strong interpreter of Ned on stage would have been Harvey Fierstein. So powerful was Fierstein's gay voice that it totally conquered New York's most vicious and often homophobic critic, John Simon. The original Ned Weeks, Brad Davis, was successful in conveying the intensity and character of Larry's anger, but Fierstein would have brought a gay verisimilitude as well as that sheer vocal authority that virtually none of the other Neds have had, though a number of them have been gay or bisexual. Of course, when TNH had its world premiere in 1985, no leading actor, including Davis (who was married) was out. When Larry and I passed him on the street a few years later, Tom Hulce, who next played Ned, berated Larry for outing him on a panel.

For the sake of AIDS and for the sake of Larry Kramer and all he has done, you want to go the distance of affirming the film and all that it stands for, and you want to do so as strongly as possible. Anything else at this point, let's face it, would also be politically incorrect. In any case, you do go that distance and you do mean it. Meanwhile, dreamboat Ruffalo managed to create genuine chemistry with Matt Bomer as Felix. I agree with As Is playwright William M. Hoffman that the love affair between Ned and Felix was sexier and more heartrending in the film than in the play. No wonder Larry was so pleased to hear about the explicit sex scenes in HBO's Behind the Candelabra (the Liberace story with Michael Douglas and Matt Damon). It meant they would be able to get away with doing that in TNH.

If the casting of Mark Ruffalo did manage to surmount old questions about straight actors playing gay roles, Julia Roberts also conquered misgivings. Although the role of Dr. Brookner seemed tailor-made for Roberts' penchant for conveying smoldering and explosive anger, Roberts' decision to underplay her big scene was as unexpected as it was inspired. It's as if she were trying to be true to Dr. Linda Laubenstein, the real-life figure Dr. Brookner was based on, who was a far less fiery activist in reality than Brookner is in the play. The real Linda Laubenstein would not have squandered her precious energies with a lot of screaming. It gave me new respect for Roberts' seriousness and integrity as an actor.
At a benefit that honored Elizabeth Taylor and Larry, I sat with Larry's brother, Arthur Kramer, and asked him if he would consider being a contributor to my Larry Kramer anthology. Flashing a Mona Lisa smile, he declined. Too bad because it's the confrontation between Ned and his brother Ben--played by the gifted actor Alfred Molina in the film--about what's "normal" that's at the heart of TNH. Alas, this most powerful of moments in the play gets diluted in the greater expansiveness of the film.
A dilution of tensions is likewise a consequence of the film's rendering of Bruce, played by Taylor Kitsch, the character based on GMHC's first president, Paul Popham. Paul's greater popularity and appeal relative to Larry's, which is hinted at in the play, gets lost in the film. In reality, Paul was the gentle daddy everyone gravitated to, in contrast to Larry's angry scold.
Tommy also suffers from sketchiness. As Larry would be the first to attest, Rodger Mcfarlane, another of Larry's affairettes--who became one of GMHC's first executive directors, Larry's closest friend and the character Tommy is based on--was as fabulous and likeable as he was enterprising, effective and heroic. Jim Parsons is wonderful but he doesn't get to do much. We will have to wait for the sequel to TNH that Larry is currently writing to better appreciate how truly gifted and irreplaceable Rodger was.
Related to Tommy is the issue of what might appear to be the film's one token lesbian and woman (apart from Dr. Brookner), the first such to volunteer for the fledgling group that became GMHC. I believe that character is based on the real-life figure of Dixie Beckham, a GLBT community psychotherapist and mutual friend of Rodger's and mine who also hails from the South (Rodger was from Alabama), in fact from my own home town of Macon, Georgia.
As for Mickey, a couple of comments beyond what's already been said. Larry has added a phrase indicating that Mickey is taking it personally that Larry was accusing everybody of being murderers. But beyond Larry's constant haranguing of virtually all of us in the gay community (and for that matter everybody else), individually and collectively, for not doing more and better, I didn't take such accusations any more personally than Larry took my indictment of our silence about the holocaust in South Africa from AIDS denialism. "We killed Vito." (This was Larry's opening statement at Vito Russo's memorial service.) "We" killed the South Africans.
The other aspect of Mickey that's worth noting in the film is his standing in the end with GMHC in its decision to separate itself from Larry's leadership. As is clear from my GMHC blog piece, although I had already resigned from the GMHC board, that rendering of me in sync with the GMHC board is fair. It was never the right thing for GMHC to be transformed into ACT UP, which is the direction Larry wanted to take us. Larry is not the only one to wish that GMHC, which he had variously denounced as "candy stripers" and "worse than Auschwitz," had been more committed to a stronger moral vision and much greater activism. That GMHC was and has remained far more modestly committed to giving people information, resources and services to help themselves continues to rankle those who had hoped and expected and fought for much bigger and more glorious levels of achievement and transformation.
What's missing from Ned's confrontation with GMHC is greater verisimilitude and detail. There's really only one moment in the play when you get an honest sense of the ferocity of Ned's anger. That's when Ned throws down the groceries he's bought for Felix, splattering the milk everywhere. "If you want to die, then die!!!," he screams at Felix. In the film, however, this dramatic high-point seems more in the nature of a lovers' quarrel and a natural consequence of the stress they're under than a window on Ned and his rage. This is also the way Ned's anger with Mayor Ed Koch, however justified, is depicted. You get virtually no sense in the film, and not that much more in the play, of how often and how far Ned's anger veered into bullying, blaming, vilification, character assassination and scapegoating. In real life, GMHC's pioneering service organizer and donor, prominent socialite Judy Peabody, was dismissed as "a hoity-toity rich bitch." Koch and Reagan were Hitler. Everybody, including Rodger Mcfarlane and Anthony Fauci, was a murderer. Everybody, including leading AIDS organizer and researcher Dr. Mathilde Krim, was a Nazi and committing genocide. "Doctors are cowards," Kramer more recently told a young doctor during the Q and A following his on-stage interview with Tony Kushner at the New York State Historical Society's panel on its 2013 exhibition, "AIDS in New York: The First Five Years." She was working with the poor and earnestly seeking his advice. As Rodger Mcfarlane put it when interviewed by Michael Specter for the New Yorker profile on Kramer, "When it comes to being an asshole, Larry Kramer is without peer." Notwithstanding the unquestionable veracity of that assessment, in the end it's unquestionably Larry's angry leadership that more than any other factor galvanized everybody. And it's unquestionably Larry Kramer who deserves a lion's share of credit for watershed breakthroughs in research, treatment and health care reforms.
If there is anything else missing from HBO's TNH, apart from the epidemic's impact on the other major risk groups--injection drug users, Haitians and hemophiliacs, AIDS in heterosexuals and women, especially in Africa and across the globe--it's any hint of the sequel to come, the truly epochal second half of the story of Larry Kramer and his founding and leadership of ACT UP, which went on to include many lesbians, heterosexuals, persons of color, and women. ACT UP addressed with breathtaking and unprecedented effectiveness key issues pertinent to all of these risk groups and cohorts and by extension to everybody else. Tempting as it must have been to extend the boundaries of TNH to suggest the later achievements and claim greater inclusiveness, you have to admire the commitment to the integrity of the play that prevailed.
We should be truly indebted to Larry Kramer, Ryan Murphy and HBO for bringing back the original AIDS, the horror plague, for all the world to see. It's a disease that even those who have HIV/AIDS today have little idea ever existed; a scourge that crucified most of its victims. It decimated our communities. The AIDS that TNH chronicles and memorializes was truly a holocaust. The horrors we lived through can scarcely be imagined, but the images brought back in this film do a remarkable job of doing just that. So even though the film is a dramatization, it conveys our history more effectively than any documentary I can think of, giving real credibility to Larry's claim that "this is our history."

Clearly, however, "history" is in a continuous process of being recast. As Ethel Rosenberg puts the certainty of millennial change to Roy Cohn in Tony Kushner's Angels in America, "History is about to crack wide open." Leading AIDS journalist David France, director of the acclaimed documentary How To Survive a Plague, is working on a new history of AIDS that should correct a lot of misinformation that's out there now. "Perhaps it will be the new version of And The Band Played On," I proposed. That would be exciting and enriching for everybody, but neither David nor I seemed to pick up on the unintended irony of this off-the-cuff suggestion when I made it in conversation with him. How often do we now return to Shilts' book with its Patient Zero or the HBO film of it with all its stars? My point is that so vast is the scale of AIDS that this landmark chronicle of the epidemic has already receded in history and time. One of the amazing things about the PBS Frontline feature from 2006, The Age of AIDS, which focuses on AIDS in Africa, is the way it sweeps past the entire early period of AIDS. A film that was co-produced by gay people, it's not homophobic--the website for The Age of AIDS features a substantial interview with Larry Kramer--but such is the expansiveness of its perspective that the documentary itself scarcely mentions the gay community, Larry Kramer, GMHC or ACT UP.
As Larry and I agree in the big interview with him that closes We Must Love One Another or Die, knowing what we now know and keep learning about the past, especially about our sexual lives, it's hard to look at any history as authoritative, or imagine that any history ever could be.
"That's what [The American People, Kramer's forthcoming novel] is all about. So why do we think that anything we learn in science or disease or anything else is true?...Perhaps each of us," Kramer concludes, "has to create our own history of the world. One that we can live with. And learn how to accept that my history of the world is different from your history of the world. It might put a lot of colleges and professors out of business!"
HBO's TNH succeeds big time in giving us Larry Kramer's history of AIDS, which is a credible and moving recreation of AIDS as we've known it in the gay community. And it's right to lionize the experience of Larry Kramer, the epidemic's great hero, even if it's doing so at the behest and under the auspices of Kramer himself, and notwithstanding the film's softening of his persona and finessing of historical details. In this ever-enlarging and reconfiguring picture, however, and as I'm sure Larry would agree, the only thing certain about the history of AIDS is that it will continue to recast us all.
___________

Lawrence D. Mass, M.D., wrote the first press reports on AIDS, is a co-founder of Gay Men's Health Crisis and the author/editor of the anthology, We Must Love One Another or Die: The Life and Legacies of Larry Kramer.