One of my favorite trips ever was a walking tour of western Ireland. Here's my daily journal of a ramble in this original "green" country.
Arriving at The Ring of Kerry
The flight was just over five hours from NYC, with the wind at our back - an Irish blessing. Arrived at 6 am and waited two hours for the pickup, then a couple of hours from Shannon to Glenbeigh on the Ring of Kerry -- the SW Irish coast, by the Bay of Dingle -- fields shimmering green, towns looking prosperous and tidy.
Staying at a cozy little hotel between the Bay of Dingle and the mountains. A cup of nettle tea in the parlor, a shower, a three-and-a-half hour (!) doze. Then dinner, meeting my dozen companions, mainly women --ages 30s to 70s -- from the US, England, Canada, Belgium, Scotland, Ireland and Germany. Three of them --one married, two divorced -- met on other walking trips and reunite yearly on another. Two guys will be cycling tomorrow and rejoining the group on the last day.
First Walk Near Glenbeigh
Our first ramble is on the beach and through the boggy countryside. My fellow walkers were in better condition and had better equipment, but I managed to complete the seven miles, the last in the soft, steady rain the Irish call "mist." A collie joined us and ate much of my packed lunch, and a bull in a field had his eye on me. At an old inn called The Red Fox, I celebrated my accomplishment with an Irish coffee.
Dawdling in Dingle
The weather this morning was rainy and cool. Typical. I joined an Irish friend and we drove along the winding roads of the peninsula to the town of Dingle. Road signs are only in Gaellic as a local pol is on a mission to keep the old language. Locals put up signs in English which he takes down, so most tourists get lost, and the Dingle shopkeepers are furious.
We visited a humped, stone Celtic chapel from the 7th century, and lunched downtown in a wood-paneled pub. The facades along the main street are brightly colored, similar to the doors of Dublin. Flowers bloom from boxes and Dingle is filled with good restaurants and over 50 pubs, many featuring local music.
Drove back on a typical day of sun, rain, hail and rainbows. The wide valleys roll down to the Atlantic, and cliffs and sheep added to the scene. I figure I walked several miles sightseeing without realizing it, my favorite way of all!
Fresh baked soda bread, mussels, fish and lamb are Irish favorites, but last night we enjoyed melon, beef stew, and cream puffs with chocolate sauce and fresh cream; none of that squirted stuff. Walkers eat with gusto and without guilt.
A Solo Walk
Another on-and-off rain this morning, so I chose to walk on my own into the nearby town, and saunter along the wide Atlantic beach. On the other side is the east coast of America, where many Irish emigrated during the 19th-century potato famine. Autumn colors show in different guises here: orange fuschia, yellow gorse, red holly.
The group is hiking for ten miles along a mountain pass. But my body and gut, and not my pride, dictate my actions, so a wimpy ramble around Glenbeigh for me, into tiny shops and along the coast, along a river and past a graveyard with a ruined castle above and a sheep field beyond. Around two hours, I'd say.
The Skelligs
Five of us taxi to Portmagee on the Ring of Kerry road, and board a fisherman's boat to the craggy Skellig Islands. Over an hour on deck in rough waters each way, no life vests--but well worth it. This UNESCO World Heritage Site is rarely publicized. The smaller island protects thousands of migratory gannets and puffins nesting in the whitened rocks. Birds screech and wheel overhead, and the air is tangy with ammonia.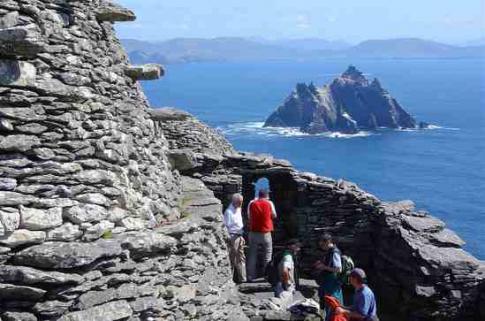 The View of Little Skellig from Big Skellig
The larger Skellig was home to a 13th century monastery with over three hundred worn, uneven steps, until you reach the ruins, with magnificent views of the Kerry coast. This rough walk without rails tested my fear of heights. I managed the ascent, slow step by step, looking at my feet, but the hurried descent to catch the boat is on my banged butt for some of the way.
We reward ourselves with tea and pastries at a harborside bakery before catching the taxi back to the lodge in the late afternoon.
Walks, Drums & Pubs
Today is a "gentle" walks of four miles, with an emphasis on Irish culture. In the morning we visit a ruined stone fort where a German/Irish harpist named Adolph (?) plucked away as we sat in the stone circle built in the 6th century in the midst of farming fields.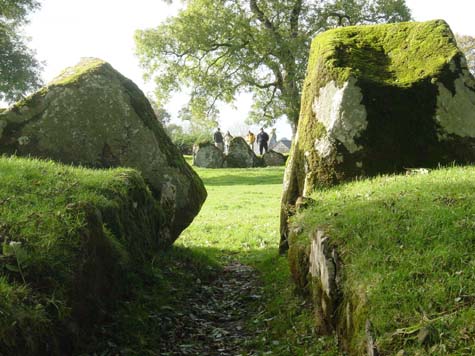 Stone circles
Later we walked among the ivyed ruins of a 14th-century castle, then drove on to the seaside town of Waterville, where Charlie Chaplin once lived.
The ramble today was perfect -- out to the end of a peninsula: dunes covered with purple heather and autumn wildflowers. We lingered in a ruined abbey and an old cemetery above the sandy beach, framed with mountains. I found an iridescent mother-of-pearl shell, which I intend to make into a pendant.
We ate our packed lunch as the guide told us some of the long history of Ireland. The day was perfect--cool, and not a cloud. We later toured the house of freedom-fighter Danny O'Connell and then drove to a pub for a lesson on the Irish drum.
After dinner some of us visited another pub near Glenbeigh and sang along to more Irish music; I now appreciate the difficulty of the drum. A ruddy-faced Irishman offered to buy me a drink but I passed. I felt safe, so I flirted back. I only understood half of what he said, but I could tell it was full of Irish blarney.
Lakes, Castles, Pony Jaunts & Goodbyes
Last day of the walking tour --and I didn't walk. It was cool and my knee hurt. I joined the group canoeing through three lakes leaving from Ross Castle in Killarney. Gorgeous hour and a half. The fisherman guide told tales of how St. Patrick drove the snakes from Ireland.
I opted for a pony cart (called a trap but actually a way out if you don't want to hike) for seven miles through the rugged Gap of Dunloe, carved by ancient glaciers. Fields, waterfalls, stony glacial moraine --I heard my echo from the cliffs.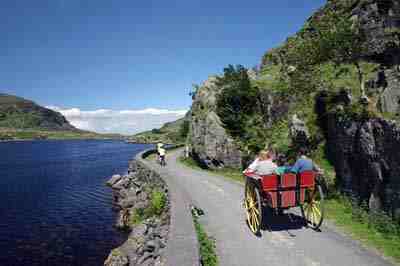 Pony Cart at Gap of Dunloe
At dinner we said travelers' goodbyes -- "we'll stay in touch" -- to ward off the sadness of our ended bond. One nice note: a shy English guy and a sweet German gal, new friends brought together by rambling, were holding hands. You never know what a walk in a magical place can bring.