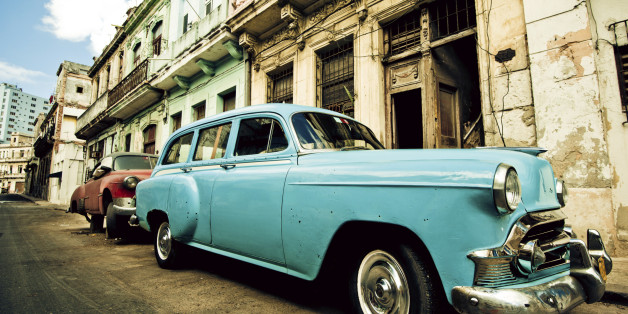 Cuba is trending big-time as it finally starts connecting again, step-by-step, with its northern neighbor. This isolated post-communist country with a throbbing heart may be only a 45-minute flight away from Miami airport, but right now for Americans it's hard to find a more alluring, politically different destination anywhere in the world. The question for curious travelers who've been waiting for so long isn't whether to go, but when.
I just returned from an intensive people-to-people tour, covering much of Cuba, that exceeded my expectations in just about every way. So here are suggestions and impressions to help you consider whether to visit as soon as possible, or wait awhile more.
Reasons To Go Now
-- In many ways, Cuba remains a 1950s time-capsule. You've seen photos of their classic old cars, mere punctuation in the bigger retro story of an island with no ATMs, a complex currency without credit cards, minimal air-con, and horse carts on the roads. Not a Marriott or Hilton in sight. No big Macs or KFCs. No Ikeas or Starbucks. Right now it's government-run businesses with particulars (privately-run rooms) and paladars (privately-run restaurants) emerging. Life focuses on music and the arts, and the pace of a previous century. But that will be changing exponentially.
-- People are curious and friendly. English is a second language for many. Children smile. Cubans differentiate between people and governments. Will that good will remain when pampered tourists speak curtly, crowd into venues and complain about the uneven pavements, stairs without railings and below average plumbing?
-- Cuba is safe: Guns are outlawed, muggings are practically non-existent -- even pick-pocketing is rare. That may change when goods once again start to flow and Cuba becomes more privatized, and more material-minded.
-- Tipping isn't the current custom, but that will change as Americans hand out Lincolns and Jacksons, skewing the system. If you dislike tipping, you won't feel guilty for a while yet. (But do bring "gifts" such as shampoo, pens, toothpaste, small toys and such, still in short supply in this long-struggling economy.)
-- You can finally take a techie break. TV stations are minimal in Cuba. Because wireless is spotty you'll wean yourself away from devices while you're there. It feels good, and maybe life without constant connection will stick a bit when you return.
-- You can avoid crowds. Ships and scheduled commercial flights will soon be unloading thousands of American tourists onto Havana streets, Hemingway's house and other popular sites throughout Cuba. Right now, you'll be mainly among locals and savvy travelers from around the world, who have long enjoyed the low-costs and warm pleasures of this destination.
-- The architecture is beautiful, even in its dirty, sometimes crumbling state. When it gets repainted and restored, it may lose some of its authenticity.
-- Going to Cuba is still bragging-rights special. You can show-off your photos and tell your Cuban tales, and people will really be interested. This will not last long, folks.
-- Who knows how Cuba will change, and how soon? My motto is "keep moving," and to that I'd add, if something in flux is good right now, you take a chance by waiting. (I missed visiting the now war-torn antiquities of Iraq and Syria; seeing the Khyber Pass; and floating on the Yangtze River before the Three Gorges Dam -- all by waiting too long.)
Reasons To Wait
-- If you really need to stay connected, right now you'll suffer. Wireless connectivity will improve when U.S. companies arrive.
-- Cruises will become an option soon. Sleeping onboard will solve the problem of iffy, hard-to-book accommodations.
-- Travel to Cuba soon won't be as complicated. You probably won't need a visa. You won't have to justify a cultural trip; you can just enjoy it, as you please. Currency will be less confusing as the government will be forced to simplify their current system, and you'll be able to use credit cards when U.S. banking arrives.
-- Transport to Cuba will become less costly. Jet Blue charters will soon be flying from NYC, adding to charters leaving from Miami. And overnight ferries will be crossing the Florida Straits from Miami to Havana in the next months. When scheduled flights and cruises come in, rental car options will increase. Independent travel will make it easier to customize a budget. (However, prices at hotels and restaurants may rise.)
-- Lodging choices will increase. Right now, aside from a few international-standard government hotels, some privatized rooms, and Airbnb rooms, the situation for acceptable lodging is tight. Cubans are right now turning charming buildings into hotels, but it will take time to catch up with the expected influx of American tourists.
-- Cuba will be more comfy and tourist-friendly, and standards will improve as chains come in. Right now, air-con is rare, towels are thin, beds may sag, things need repair. Competition, ability to get parts from abroad, and cash flow from tourists will make a difference.
-- Food options will improve. During "The Special Period" in the early 1990s with the U.S. embargo and the break from the former Soviet Union, Cubans came close to starving. A limited, homegrown cuisine still reflects that situation, and most Cubans do not eat out. Think vegetable soup and fruit, beans, rice, chicken and pork, seafood. Flan for dessert. Then think it again. Good local beer, rum drinks and strong coffee help wash down the smallish portions. Choices are already improving at privately owned paladar restaurants, but cuisine is not the strong point of a Cuban trip.
Whenever you go, a few more tips:
-- Read ahead: histories, novels, articles, guidebooks. Cuba isn't a tourist island; it's a complex country.
-- Avoid June- November, during hurricane season, and when heat is oppressive, especially inland. Remember: scant air-con, except at big hotels.
-- Stay alert to changing political situations and requirements. You may have trouble if you're not clued in.
-- Wear comfortable light clothing (heat), low-heeled shoes (uneven surfaces), and an open-minded smile (obvious).
-- Spend at least a few days in Havana, and then choose a hub like Cienfuegos (a World Heritage Site) in the south, from which to explore other areas in the countryside -- including Trinidad, (a World Heritage Site), Santa Clara, and Playa Giron (Bay of Pigs).
-- Tours: Two with excellent track records are Road Scholar and Smithsonian Journeys
-- Lodgings: in Havana, El Nacional de Cuba; in Cienfuegos, Hotel Jagua; in Trinidad, Casa Cofradia (a particular); in Playa Larga (0verlooking the Bay of Pigs), Hostal Enrique. And Airbnb has over a thousand Cuban lodgings available right now.
-- Restaurants: in Havana -- San Cristobal, La Guarida, Cafe Laurent, La Moraleja, El Aljibe, La Fontana; in Cienfuegos -- Villa Lagarto, D'Carmelina; in Trinidad -- El Dorado; in Santa Clara -- Hotel America. Ask locals!
(For more info on Cuba, I also posted over a hundred photos and captions under "Travelea" on the following link: Instagram