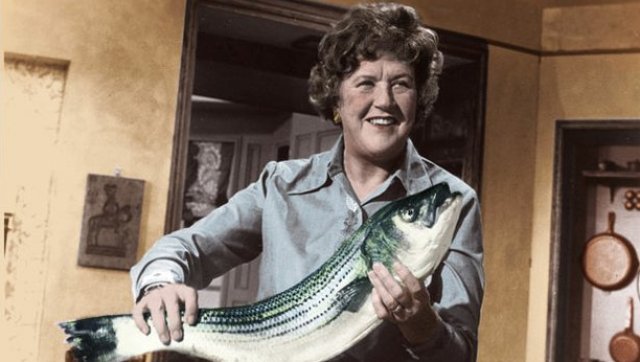 Julia Child would have been 100 today. That anniversary, and the movie Julie & Julia, based on a diary blog on Salon much like some of us here write, and my recent trip to Paris where much of this movie is set, reminded me of how huge a role Julia Child played for those of us who learned to cook in the 1960s and 70s.
Her Mastering the Art of French Cooking Volumes One and Two and her subsequent books are all stained with my gravies and vermouth (used in place of wine, as she suggested). They were like Bibles to me.
Cooking was my passion for many years, and I grew my own veggies and herbs in a Westchester County 20-by-20 plot. I faithfully followed Julia's recipes and threw monthly multi-course dinner parties that took all weekend to pull off and might begin with her recipe for chicken-liver mousse and end with her tarte Tatin.
I washed kidneys and scraped beards of mussels and braised tongues and stewed delectable red cabbage with apples, and I was defined as "a really serious cook," which is probably why I eventually stopped. I wanted to be defined by other things.
I was privileged to meet the following legendary cooking writers who connected in some way with Julia Child, and for a bit, with me. And ended with my meeting the grand dame of French cookery herself.
But the circle begins in London, 20 years earlier, in a most interesting way.

Claudia Roden
In the early 70s I was a young-married living in Hampstead Garden Suburb, 20 minutes north of Trafalgar Square. Hubby 1 was studying for his Ph.D. and we were renting an Edwardian manse as he did research at Oxford and Cambridge. We were lucky twenty-somethings with two toddlers and a nanny-- living a briefly charmed life.
The house owners decided to sell, and the buyer was an Egyptian-born artist named Claudia Roden. She and I hit it off immediately.
Claudia was updating a cookbook about Middle Eastern food and wanted to try out her recipes. Many days she would come by and cook something as simple and delectable as prunes in wine. I met her children, and her parents, who were from ancient Alexandria and who told tales of life in a crossroads of the world at the beginning and middle of the 20thcentury.
The book she was updating was the first of many award-winning cookbooks for Claudia, who became a TV personality in England, doing a show from the house. (Nigella Lawson, a current cooking star, cites Claudia as her role model.)
One night after I had cooked Claudia a dinner of roast beef and Yorkshire pudding, she told me that the night before she had met Julia Child, who had cooked for her. Imagine, I was a 20-something amateur cook, cooking for a cookbook author who had eaten a Julia-Child-prepared meal the night before!
James Beard
Today James Beard is associated with the highest awards in the cooking world. In the 1970s I was invited to a book party at his town house in Greenwich Village; Claudia's cookbook had become an instant classic, and I was invited as one of her guests.
At the time, James Beard was the preeminent America cooking icon in a world of few American food stars. My aunt Hilda, who herself had been one of the first female pastry chefs at the Waldorf Astoria, used his cookbooks when I visited her in New York. I remember that it was because of his recipe that I first ate the exotic thing called "zucchini." And oh the taste of delicious, mysterious soups named "mulligatawny" and "Billi bi."
The Beard townhouse, which today is the site of the James Beard Foundation, was decorated like a Persian tent. I remember first seeing Mr. Beard sitting in a peacock throne chair, in an embroidered kaftan. He was a whale of a man, bald with prominent ears. Several young chefs doted on him. This was before coming out was the norm, and I remember my naïve surprise. The smells and sights and tastes were lushly stimulating.
(Another cooking-writer connection: Barbara Kafka, an award-winning food writer and prolific cookbook author, contributed to my website Sololady.com. Of her many accolades she is most proud of her James Beard awards.)
Jacques Pepin
In 1999 I attended a long-weekend press trip at a Cape Cod resort. Guests were learning to play croquet, and on the last day we all dressed in whites like out of The Great Gatsby, and we celebrated with a cotillion and croquet match.
One of the fellow invited guests was Jacques Pepin. This gifted French chef was as sweet and soft-spoken as he appears on TV. His wife was the tougher of the two, and stayed close to him throughout the weekend. At the time he was doing a show with Julia Child, and talked of her support of young chefs and her sometimes casual approach to recipes when on camera. He emphasized her authenticity and honesty.
Before we left, Jacques gave each of our fellow revelers a signed copy of his dessert book, and the recipes are simple and perfect. He is as impressive a person as he is a cook.
Sara Moulton
I was invited to a luncheon at Gourmet magazine kitchens at the Conde Naste building in New York. Sara Moulton, an award-winning James Beard cook herself, had been Julia Child's assistant for 10 years. She took us into the demonstration kitchen and a half dozen of us helped cook a creative meal of Southwest cuisine which we would later be served in the adjacent dining room, in part by Sara herself.
Sara is a petite and friendly woman who taught us how to tie our aprons like chefs, and seemed open to suggestions from us amateurs. Like Jacques Pepin, she spoke of Julia with respect. She spilled some vinegar, but no secrets, and you could tell that Sara felt that she learned from a master.
Julia Child
Yes, all of these cooks intersected with each other. They are all great ones. But the greatest to me and to so many, was Julia. I had the pleasure of meeting her when I attended a lecture at the New York Public Library where she was speaking on a panel.
I sort of remember the other famous panelists-including author/food critic Ruth Reichl, who became the editor of Gourmet magazine where I later was to have that Southwest luncheon. (Ruth later was a cooking judge with my son, who at the time was the food critic for Time Out New York.)
But it was Julia who was the star. I remember she kept defending butter, cream and other fattening ingredients and she spoke testily in that sing-song voice at the very idea of removing them or even substituting. "Just eat less, but don't stop eating good things," was her mantra.
After the presentation I waited to speak with her. When the crowd around her thinned, I told her of our mutual friendship with Claudia Roden, and of the meal I had served in England the night after Claudia had eaten with her. She seemed bent and frail, but still tall. She graciously talked about Claudia's talent for a moment, smiled at me, and then was escorted away.
And I felt a circle had closed.