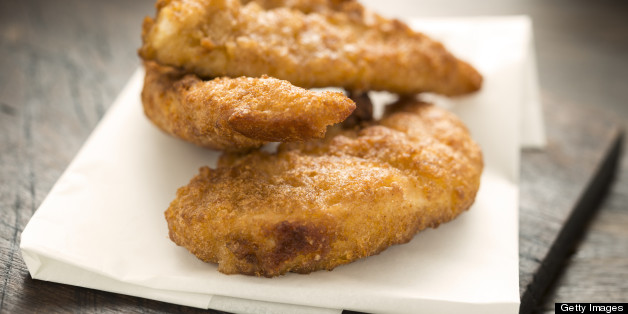 Tequila, Fried Chicken, Chocolate Cake, Whiskey and Oysters. What more does anyone need, really? Last week took me to indulgent culinary destinations, but then again most weeks do, and who wants to hear about a chopped salad anyway? Behold, booze-soaked, deep fried, chocolate-covered...and an oyster:
1. The Barbecue Daisy (The Tippler, New York, NY)
Not only are Bloody Marys an indication that drinking in the morning is socially acceptable, they also combine three things I greatly enjoy: tomatoes, Worcestershire sauce and alcohol. I can think of no better way to consume vodka than in soup form, and as a result I'm a huge Bloody Mary fan and lover of all savory cocktails. Thanks to the preponderance of armband and suspender-sporting bespectacled bartenders nowadays, the non-sweet cocktail is rarely far from reach. After a challenging day, my girlz and I went to the Tippler for a boozy debrief. The words "Memphis Barbecue Bitters" jumped out at me, ensuring that whatever else the cocktail contained, I'd order it. It happened to be a smoky- spicy Tequila cocktail, reminiscent of a mid-rib-chowdown sip of Margarita. The presence of Grand Marnier worked well, adding a citrusy sweetness, while the other flavors of lime, chili and tequila shook the bad day out of me. A chili-laced salt rim topped it off.
2. Fried Chicken (Friend's Apartment, New York, NY)
You, I and my arteries all know that I posted about fried chicken last week, but I rationalize that between homemade fried chicken and restaurant fried chicken there deserves a distinction. Fried chicken offers so many sensory experiences: the crunch of the knobbly exterior on your teeth, breaking the pieces apart with your hands, anointing the meat (and your fingers) in condiments (followed by absentmindedly transferring said condiments from hands to pants, thus indelibly streaking them with oily hot sauce). At home, one adds the visual elements of fried chicken preparation: marinated meat being dredged in flour and then drowning in large quantities of sizzling oil only to make a heroic rise to the top, steaming and ready for gluttony. My friend's preparation was second to none, crispy, juicy and tender all at once, with no lack of seasoning and a side of sinful homemade mac and cheese. Thanks to its superlative preparation and added sensory experience, this fried chicken definitely warranted a place on the list.
3. Brooklyn Blackout Snack Cake (Empire Cake, New York, NY)
I rarely arrive at a party sans homemade offering, but when late invites and Sunday afternoon plans coincide, a storebought item must suffice. When the item involves chocolate cake filled with chocolate pudding and then dipped in chocolate, one feels less guilty that it's not homemade. The textural components; the hard crackle of the outer chocolate, moist cake and unctuous filling would have been enough to entice me, but the deep chocolate flavor in all areas took the cake to even greater heights.
4. The Margo Tenenbaum ("Besties" drink series at Má Pêche, New York, NY)
I'm always on the hunt for a whiskey drink that is both delicious and refreshing. Not that I don't love a moody old fashioned or simple bourbon on the rocks, but especially in the warm weather, I want to be able to enjoy my tipple of choice without visions of rich Mahogany and philandering Don Draper. Just kidding, that's all anyone ever needs to think about. But summer is a-coming, which requires an al fresco whiskey cocktail other than the ubiquitous Julep. This concoction, created by Frank Cisneros and Seth Dean Tabor as part of a guest bartending series, truly hit the mark. Combining bourbon, zucca (a rhubarb-flavored Italian aperitif), honey and lemon, the elixir was served ice cold and possessed a flip-esque creaminess. It was tart but sweet, rich but light; a perfect contradiction in taste and terms.
5. Oyster (Sushi Yasaka, New York, NY)
I'm picky about sushi, in that I don't want to pay a disturbing amount, but I don't want to end up with this situation. Lunch specials at upscale sushi restaurants manage to satisfy both of these needs, and I recently had a particularly great one at the Upper West Side's Sushi Yasaka. The $15 sashimi lunch special includes 11 pieces of sashimi in addition to miso soup and salad. Looking down at the gleaming platter of sliced fish, I spied the usual suspects: yellowtail, thick slabs of fresh salmon, and the ever-present Burgundy-hued tuna. Different than usual, however, was a beautiful little oyster, glistening atop a wasabi throne. Topped with an ingenious Japanese-style mignonette of ponzu and julienned spicy radish, it didn't lose its seafresh flavor, and in fact the tart ponzu and radish accentuated the oyster's sweetness. As it slid out of the shell in a decidedly sultry manner, I hoped we'd meet again.