My brother loves to make predictions. Six years ago Alex predicted that we were moving towards a sharing economy. I thought that sounded like a perfectly lovely utopian fantasy, but surely we don't have enough political will to actually shift our core values around ownership. Enter economic downturn from stage left, the millennium generation coming of age from stage right, revolutions in technology interface, and now we are living in a brave new world of consumerism (and controversy over regulation).
While many are standing in line for good deals, members of yerdle are giving and getting for free on the new web and mobile platform. The site launched on Black Friday with over 10,000 free items already on the site. If co-founders Adam Werbach, former president of the Sierra Club and founder of Saatchi & Saatchi S, and Andy Ruben, former chief sustainability officer at Walmart have their way, yerdle members will share rather than shop on Black Friday. Americans throw away an astounding 33.6 million tons of plastic each year, and holidays packaging makes a significant contribution. yerdle's mission is to reduce 20 percent of the things people buy through sharing, collectively protecting precious ecological resources.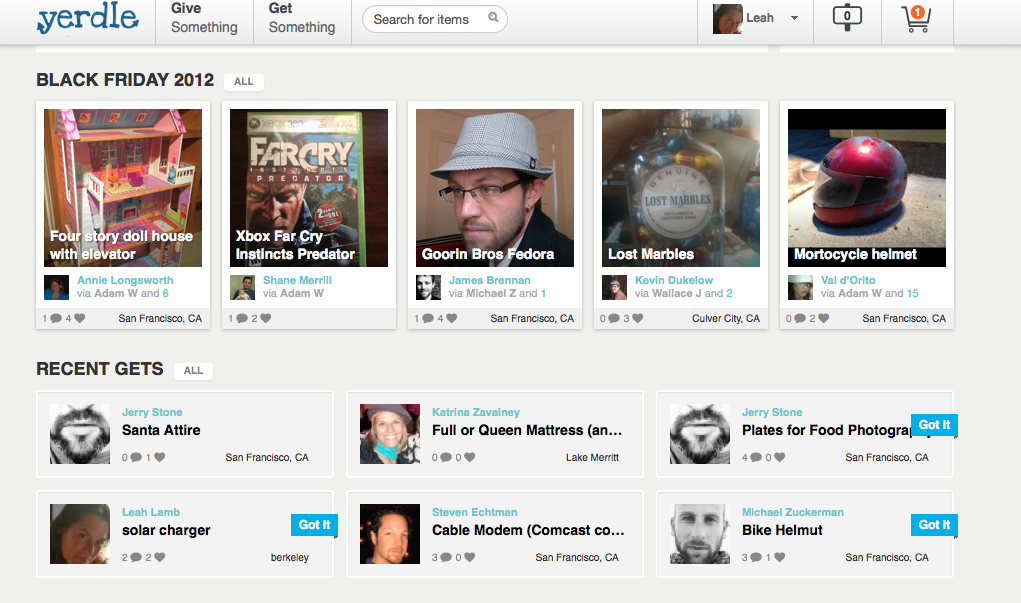 "We built yerdle to create a new way of getting the things you need that doesn't create more waste," said co-founder Adam Werbach. "If you need a tent, a circular saw, kids soccer cleats, or thousands of other items that you only use sporadically, try sharing through yerdle. Saving money doesn't suck."
I agree, so I tried yerdle when they were beta testing, and (I think) experienced a miracle. You have two simple options when you start: Give something or Get something. I sifted through the site, saw many nifty items, but nothing I needed. So I decided to ask for something I was getting ready to purchase: a solar cellphone charger for our household emergency kit. Within 24 hours I heard back, and someone (Andrew is his name) had one for me. ARE YOU THINKING WHAT I'M THINKING? RIGHT? Could life be that easy? AND he said he's going to mail it to me. AND I know what he looks like, and I can see the friends we have in common (hello integrated Facebook interface).
By now you have gleaned what is different from the Craigslist free section (and let's get real: Craigslist will always be one of my manifesting BFFs). 1) yerdle has a pretty interface that is easy to navigate and filled with lots of pretty pictures. It feels a bit like window shopping, satiating and properly entertaining my feminine sensibilities; 2) Nothing is anonymous. Seeing that people are connected to individuals in your personal network creates a sense of accountability and trustworthiness; 3) I pulled out those fancy wood shoes that kill my feet (but still look hot) to post as an offering... but still haven't. I also haven't received a solar charger in the mail -- but who knows. I'm keeping my fingers crossed.
Mike Norman, founder of WeFunder says that trust is the most important thing in sharing economy. "We need to know that the quality of goods are going to be on par with what you would purchase at the store." Mike also spoke to my original question about what will motivate us to transform our core values: Are we going green and altruistic over night? Nope. Mike believes the vast motivation is to save money while also fostering a culture or reciprocity.
Here are a few other flavors to try in the shareable economy:
• The Berkeley Public Tool Lending Llibrary: has enabled more than one young contractor to launch their business before they were able to purchase their own tools.
• Shareable: is an online magazine that tells the story of sharing. They cover the people and projects bringing a shareable world to life. And share how-tos so you can make sharing real in your life.
• Sustainable Economies Law Center: provides essential legal tools -- education, research, advice, and advocacy -- to support this transition to localized, resilient economies. Our work focuses on practices that promote justice and sharing, including Cooperatives, Barter & Local Currencies, Community Enterprises, Local Investing, Cohousing, Urban Agriculture, and other innovative economic strategies.
Now that you got a bunch of free things on yerdle, what to do with all of the money you saved?
I don't know about you, but I'm grateful for those who used their holiday to protect my continued right to have access to clean water. Last week, was one of the Tar Sand Blockade's biggest actions yet. Twenty-one year-old student Lizzy Alvarado took action to protect the land, water, and air of her community in solidarity with those who have already been bullied and intimidated by TransCanada. Over 100 people rallied from across the Nacogdoches community and beyond to rise up and defend their homes from the Keystone XL toxic tar sands pipeline. The Mass Action resulted in 11 arrests with four people who locked themselves to heavy machinery use for Keystone XL construction and three others who launched a tree blockade in the path of this toxic pipeline. To learn more, visit here.