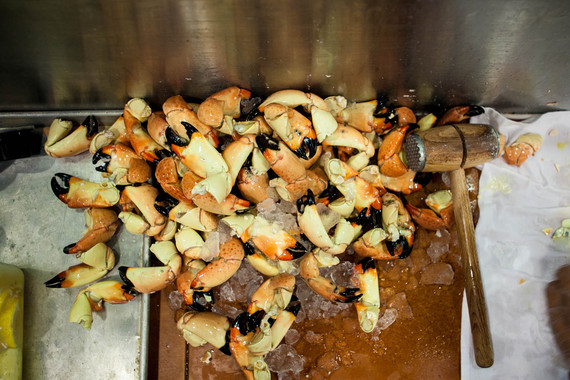 Photographs by Marisa Matluck
If you live in South Beach, chances are you've cracked one of Miami's secret culinary gems: the hard to crack crustaceans at Joe's Stone Crabs.
Out of towners are more than happy to battle the long lines that come with owner JoAnn Bass' legendary crab Mecca, (no reservations allowed,) but what anyone familiar with the joint will tell is you is this: "It's all about the Take Away."
Follow the lead of "South of Fifthers" in the know and breeze in to Joe's Take Away on a Wednesday, for example, and you'll find Miami's legal elite who have a soft spot for Kobe beef hot dogs. Legend has it that some of Miami's most prominent judges have tried to order them from the main restaurant and been denied.
In fact, many of the best items on the menu are strictly for takeout only. These include the Grilled Octopus Salad, Ahi Tuna Ceviche, Oyster Po Boy's, House Made Chicken Soup, Conch Chowder, Spicy Dill Shrimp Salad, Curry Chicken Salad, Stone Crab Mac and Cheese, Panini's, Grilled or Blackened Grouper, Mahi Mahi, Chicken Sandwiches and the best Turkey Chili in Miami.
But the coup de grace remains the crabs. "The crabs come in medium, select, large and jumbo," says Joe's General Manager Brian Johnson. "They all have the same flavor; it's really about how much work you want to do. The really lazy go for the jumbos, because it's easier to rip the meat out of."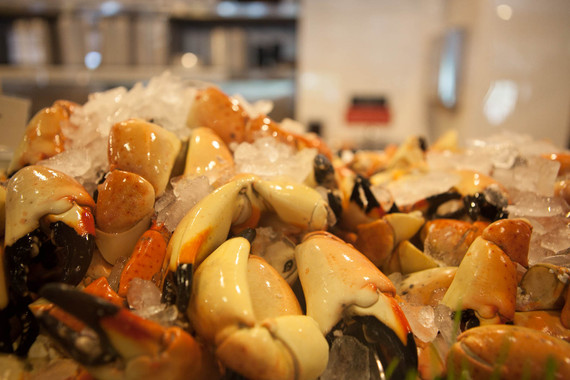 The staff says they've elevated take away to an art. "We can get you in and out of the building in less than 15 minutes," says Take Away Manager Ellen Smith. The back prep area, with its separate kitchens for restaurant and takeout, along with its packing area for orders from around the country and even the restaurant's own private laundry quarters, take up three quarters of a city block.
Joe's bustling take away business began when owner Bass noticed large crowds gathering at her kitchen manager's back office requesting crabs, pie and other items to go. That's when JoAnn decided to replace the employee bathrooms and turn it into a take away market. Ten years later, she expanded even more, adding seating for twenty.
It was far from enough. So JoAnn converted her garage to a hundred-seat take away market.
And as good as the crabs are, the people watching may be even better. Get there at 7.30am and you're likely to find over-tired parents with wide-awake offspring wolfing down hot buttermilk biscuits and sublime apple-wood smoked bacon, or munching on stone crab meat in an egg white omelet.
Other early birds include marathon trainers sprinting in for their caffeine fix in a mad dash to beat the 10.30am breakfast cutoff. Next come the snowbirds flocking in for fried oysters with tartar sauce and Joe's famous coleslaw made in the traditional Hungarian style. At around noon, the "just-waking-up après-ravers" wander in for a hangover hamburger and a side of well-done hash browns. Pull up a chair at the bar if you're interested in catching the steamiest details of the previous night's activities.
The family-like atmosphere at Joe's Take Away is no coincidence. Take Away Manager Ellen Smith's sister Amy has been the Take Away Executive Chef for 18 years. If you get on either of their good sides, you may be in for a treat, like a complimentary slice of their world famous key lime pie, prepared in the special key lime pie-only kitchen.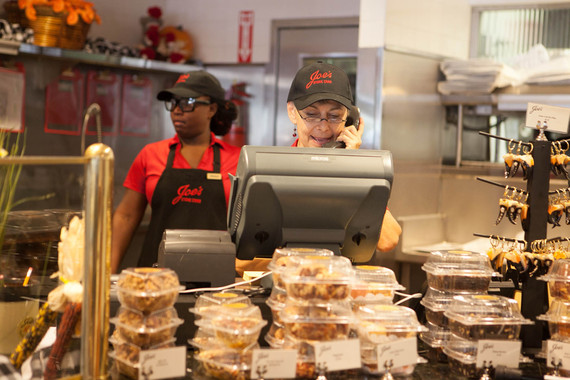 GM Brian Johnson has been on the job for 33 years, starting off as a waiter. He says he tastes the creamed spinach, hash browns and key lime pie more than half a dozen times a day, mainly for quality control, (so he says,) but also to protect clienteles' potential food allergies.
And even if you're just visiting Miami, try the ultimate in take away... Joe's Airplane pack, where you can carry out up to five orders of crabs specially wrapped in airplane mode, and enjoy one of the city's gastronomic jewels even if where you call home is far from the ocean's lapping shores.