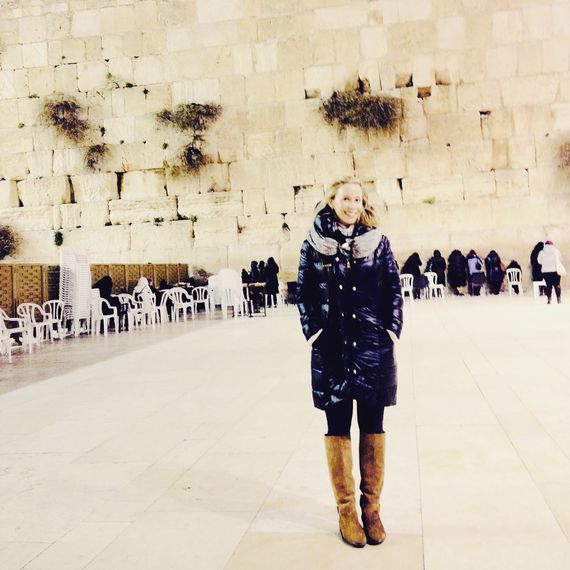 1. The fact that you can buy a microwave or a waffle maker at the gas station.
2. Constant unasked opinion sharing and criticism.
3. Eating veggies like carrots and cucumbers raw and whole as a snack.
4. Always being told "Labriute" ("Bless You") even by total strangers after every sneeze.
5. Crushing on Israeli soldiers in uniform on the bus.
6. Tearing up every time I sing Hatikva (the Israeli National Anthem.)
7. Becoming a certifiable master argumentalist.
8. Being told "Beteavon" (Bon Appetite) by any passerbyer that sees me eating a snack or meal.
9. The weather!
10. Always feeling like I don't have to worry should I need a helping hand.
11. Being inspired by all the great minds here and living in the Startup Nation.
12. Watermelon and Bulgarian cheese on the beach.
13. How we respect our elders.
14. Forgetting the words, "please," "thank you," and "excuse me."
15. Galgalatz Radio playing the long lost hits of the 70s and 80s constantly.
16. Never using a clothes dryer or an iron again.
17. Appreciating a trip to America, and appreciating even more the trip home to Israel.
18. Having no filter when I speak.
19. Wearing jeans to weddings.
20. Wild hand gestures.
21. The mass overload of cement trucks.
22. Sleeping all day Saturdays.
23. Referring to the Supermarket as just "super."
24. Bagged milk.
25. Shower squeegees.
26. The use of side sauces on pizza.
27. Hitchhiking.
28. That we're stuck in the sixties.
29. Wearing the same thing a few days in a row without a second glance.
30. Hairdressers on every corner.
31. Everyone acclaims to be a certified social worker.
32. Pushing your trolley filled with fresh produce around a crowded shuk.
33. Bank employees smoking cigarettes at their desk while they service your account.
34. Total lack of price control.
35. Not being a slave to your hair and nails (and no need for makeup!)
36. Eggplant hair color.
37. Coffee shop offices.
38. Twenty-four hour access to the "Kotel" (Western Wall.)
39. Conducting business meetings in flip-flops.
40. The extreme respect for weather ("one week" snow days.)
41. Not having to worry about eating bread on Passover.
42. Incorporating words like "yaa'la," "balagan," "nu," and "sababa" into my everyday vocabulary.
43. My dog walker: Abie Shamah!
45. Becoming a polyglot.
46. Feeling like I am at a never-ending Jewish family reunion.
47. Coffee and newspapers Friday morning.
48. Asking a total stranger to watch your baby.
49. Sitting in the front seat with your cab driver while he complains about his wife.
50. Free side salads with every meal.
51. Unlimited ultrasounds when you're pregnant.
52. 70's and 80's American music stars still performing and in demand: Dionne Warwick and Art Garfunkel, summer 2015.
53. Having coffee with your gynecologist on Friday morning.
54. No public transport on the Sabbath.
55. Three dollar roses on Fridays.
56. Negotiating anything down from your gas bill to your Internet carrier.
57. Ten-year-old Sex and the City episodes on prime time cable.
58. TV and radio news broadcasts every hour on the hour.
59. Acceptable driving etiquette includes honking and cutting off lanes.
60. Crowded balloon greetings at the airport.
61. Queues really being a bygone formality.
62. When you enter a building without having your purse searched or walking through a detection device, it feels very weird.
63. Paying $10 for a bottle of Listerine or a jar of peanut butter.
64. Feeling right at home on an El Al flight.
65. Developing a stomach of steel: Finally being able to quietly digest shwarma and hummus.
66. Always being in the world headlines.
67. Because it is real. Because it is ours. Because everything is personal.