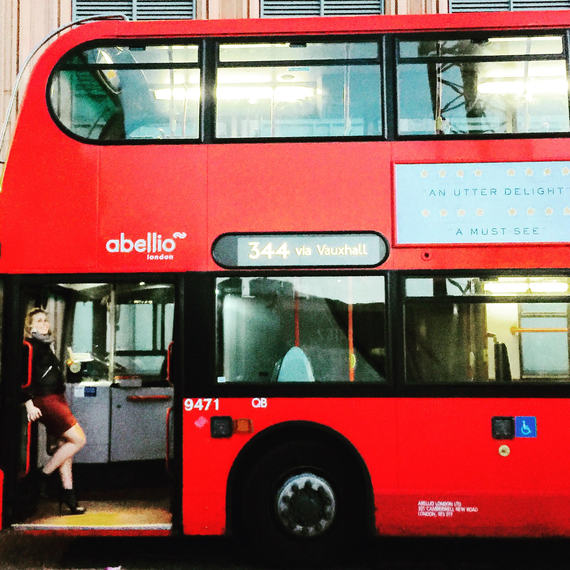 Hello fellow Londoners. As a two week Yank transplant to this great City, I feel compelled to (over)share my progress since arriving.
I had, truth be told, envisioned the streets overflowing with locals flaunting their top hats and tails as they gingerly stepped onto freshly buffed red double decker busses while eating grease ridden fish and chips out of folded London tabloids. Mercifully, I've learned a lot in the last two weeks since arriving somewhat bushy tail, bright-eyed and quintessentially American.
All in all, I'm starting to get the hang of things. I have to say charming you Brits has been no easy feat. That American twang puts you firmly on your backfoot and having to chip away at an automatically imputed 30 point IQ deficit. No biggie, I've lived all over the world from Prague to Jerusalem, Rome to Miami, and so the UK should be a breeze, right? And Bob's you uncle, I'm a quick study: I can already navigate the Jubilee line like a pro, have my radio set to BBC 4's morning edition and know the difference between Waitrose and Sainsbury's! I'm picking up the slang, easing in to tea drinking and working on my alcohol tolerance, because how else am I going to keep up with my Arsenal loving Brit?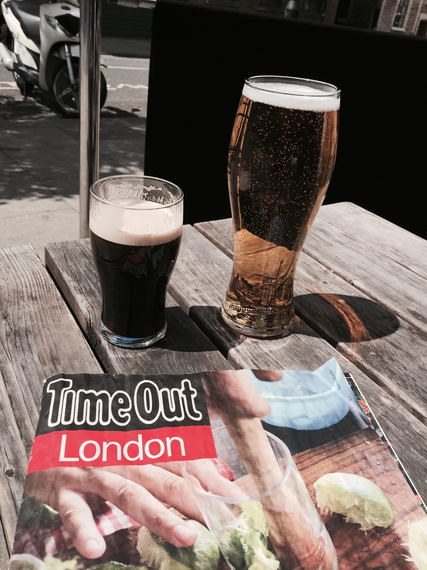 I am taking it all one-step at a time.
Like the weather, some days in London are better than others and you cant plan for it, no matter what Michael Fish says. Today, for instance, I was feeling a bit knackered and decided to take a walk around my new neighborhood. It's no posh Mayfair or Primrose Hill, though the people are honest and the streets don't lie. No sugar coating around here in the great Northwest London Borough of Brent, in a little piece of paradise known as Willesden.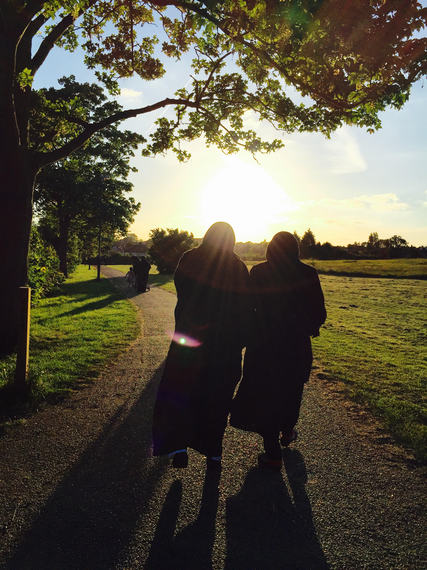 I feel right at home here. Everyone is anything but English. My neighbor Muhammad from Saudi Arabia wished me a Ramadan Kareem, the Russian beautician who did my nails told me where to get the best Baklava in town, the Indian dry cleaner gave me a two for one special and the Romanian carpenter showed me where to buy the freshest produce on the block. There is something that happens when a group of immigrants get together and set up shop abroad and it is wonderful. Today I discovered one of the neighborhoods best kept secrets and an inspirational story along with it.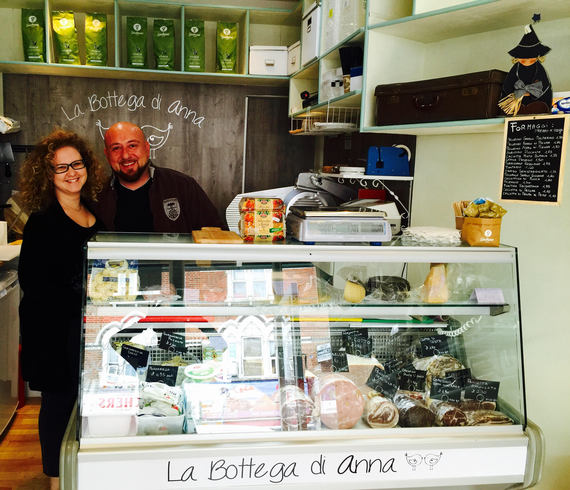 After living in Rome for two years, I learned a thing or two about aged smoked cured meats and what type of provolone pairs perfectly with it. So, I was over the moon to stumble upon La Bottega di Anna, a little piece of Italy, tucked away next to the Halal butcher and Vietnamese Take-out.
Anna and Stefano immigrated to London two years ago as newlyweds from the sleep Veneto region of Castelguglielmo. There dream was to open an Italian restaurant and market in Tuscany but said that it was beyond their means, as the economy required a hefty down payment for a business loan.
"The U.K. offered us great incentives to open our business here, so we made the move," said Anna. "They trusted us here when we pitched our idea for this little bottega and helped us get our dream started."
La Bottega di Anna is a fitting name, as Anna explained: "Bottega in Italy is a warm cozy place to buy home goods. Since this is not a big grand shop, it describes the place perfectly." It also can translate to "living very near, or right next to where one works," and for these two, it couldn't be closer to the truth, as they live just a few meters up the road.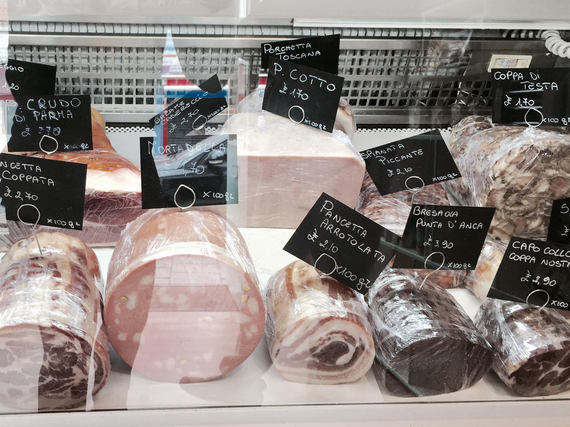 Anna and Stefano's quaint little shop on Willesden High Road is immaculately packed with fine cured meats and cheeses shipped weekly from Italy. All the Pancetta Arrotolata, Bresaola Punta d' Anca and Mortadella you can consume. The cheeses are as fresh as can be and cover all the bases: Gorganzola Dolce, Buffalo Mozzarella and the sharpest of Provolone's.
Though the inspiration to open the shop in Willesden came about because of the tens of thousands of Italians living in the area, some of their most frequented customers are not what you'd expect, your truly included.
"We have all types coming in to our shops with different favorites," claims Stefano. Anna finishes his sentence (as they normally do...) "We have many Somalians who have a taste for Italian food since they were occupied by Italians for some time. Thought they don't eat the pork products, they love our fine Italian pastas and pastries."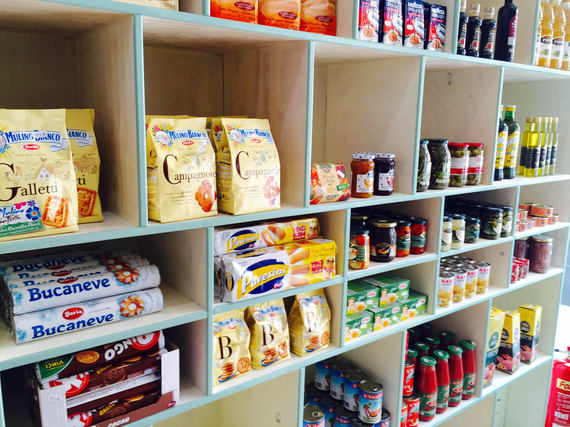 Other local visitors include scores of Vietnamese and Filipino families.
I cozied up in the corner and sipped a strong espresso and a cool Sanpellegrino sparkling Limonata. I finished the experience off with a chocolate filled Aragostine. A quintessential London experience, as it turns out.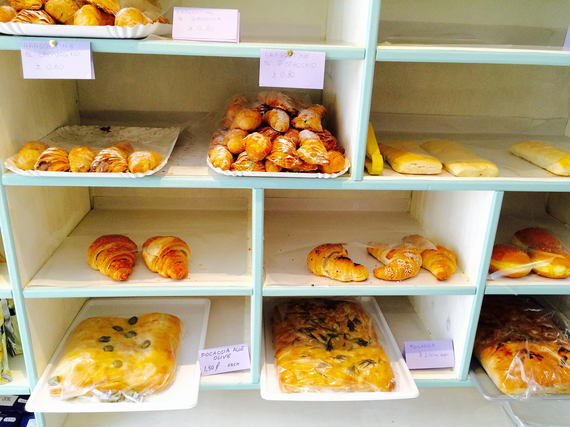 "That was shipped in last night," Anna says with a warm smile. I had one this morning and I felt like I was sitting in my Italian garden."
Who says you have to be homesick when away from home? Now I know where to go when I need get away from the hustle and bustle of this City and share a laugh and a smile with two new immigrants that made their dreams come true.
Ciao for now and more adventures from London to come!