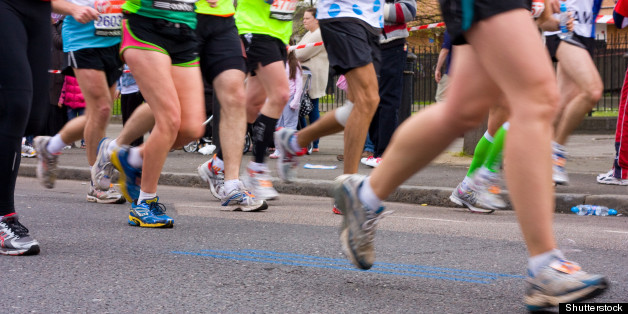 The Boston Marathon course is long. Hilly.
The first half rolls through sleepy towns most of us don't know exist. Past ponds and wetlands, train tracks and ice cream stands. Scenes of American life so perfect they look staged. Little girls in red wagons hand me orange slices. Bikers drinking beer astride their motorcycles give me high fives and scream my name plastered across my chest. We run past the man who blasts sports radio and writes out the current Red Sox score on a chalkboard for the runners.
I had grown up being a spectator so I knew how unpredictable the Boston course combined with New England weather could be. But I was not running for time, I was not in competition. My singular goal was to cross the finish line sprinting. After last year's bombing and all the precautions that came with it, my marathon mantra was simple: worst-case scenario for everything. I used layers of sunblock and Vaseline all over my body. Every downhill I pretended to run like I was on eggshells. Every uphill I bent my knees and leaned into it. When the temperature climbed, every two water stops I dumped water over my head. As arrogant as it sounds Heartbreak Hill was easy, but only because I was prepared for how bad it would be.
After the bombs went off last year I grieved long before my toes stepped to this year's starting line. I screamed with my relatives who grew up attending the marathon with me, all of us raging about the fact someone could do this to the people of our city. I cried with Muslim friends and spoke at masjids about why the marathon had such a special place in the hearts of Bostonians. I've never felt I was an ambassador for anything. I was only completing a personal dream and raising money to fight pediatric cancer. To be a representative for an entire religion is insulting to everyone that came before me. I simply told my own story as a Boston runner who happened to be Muslim. I spoke into microphones from Washington and Connecticut, smiled into cameras that broadcasted to Dubai, Amman and Jeddah. I made sure Fox News spelled my name correctly, and shook every reporter and cameraman's hand firmly enough to make an impression. With every quote, picture and publication I steeled myself for negative reactions that never came.
My feet crossed the finish line of the 118th Boston Marathon in a time of 5:14:17. I'm sure there have been people before me that have compared running a marathon to giving birth. The universal symbolism of a body and mind working together and locked in a bubble of pain and raw emotion. There is blood, sometimes a lot. Runners sob to the sky, others laugh hysterically as their mind starts to grow weak. A few weave and sway across the pavement as their legs give out for the first time, the final time, continuously. I was surprised to find none of that existed for me on Marathon Monday. All the pain sloughed off the further I ran. But what I felt as I gritted my teeth and sprinted the last 50 yards past the line on Boylston Street was the humanity all around me. In my final steps I saw my mother's tears and her pink jacket. My sunburned best friend hugging me, screaming without words. My friend from Saudi Arabia yelling my name and waving a water bottle over his head, liquid spilling down his shirt. The roar of the crowd, a living organism reaching out to wave, to touch, a mass of life emotionally present with me. The reverence of that. The gratefulness of that from one human to another.
As Bostonians we took back our city, we ran to heal and move forward. We did not run as men or women, Christians or Muslims, elites or Average Joes. We ran as a city, we ran as a collective of humanity in its finest hour. And I am truly humbled and blessed to say that this year out of all years, I am a Boston Marathon finisher, and I am Boston Strong.