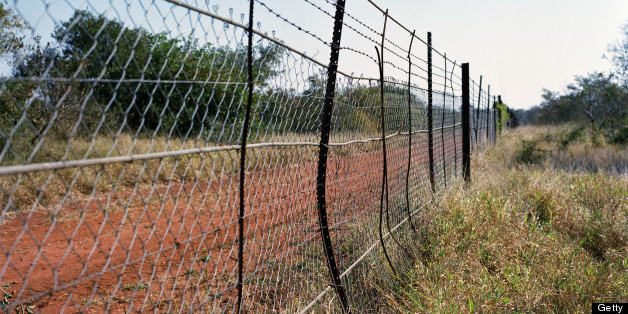 Although I'm a lifelong New Yorker, I can't say that I've ever thought of myself as living in a border state. In my mind, the word "border" has always conjured up images of wide, flat and dry places. Places where the sky is big and the water scarce. Places I have never been.
My sense of reality began to sharpen about 10 years ago when I received a phone call from a friend who had been detained by Border Patrol on an Amtrak train in upstate New York on her way back to NYC. At the time I volunteered with a local immigrant rights organization, albeit as a childcare volunteer, and she thought I might have some ideas. She was terrified. She had come to the U.S. as a child, had lived her entire life in the city and had never imagined that something like this would come to pass. Her parents were U.S. residents and she was immediately forced to envision a future without her family in a place she barely remembered.
Her detention was not unique. Indeed, in the years following September 11th, the number of Border Patrol agents in the Buffalo sector, which covers much of the Lake Ontario border between the U.S. and Canada, has increased 15-fold, from 21 to 311 active agents. The human rights organization Families for Freedom, along with the Law Clinic at NYU released a report this year detailing extensive bonus programs that incentivize agents to make detentions. Over 2000 people were apprehended in New York in 2011 alone.
In a community forum with Border Patrol last year in western New York, Deputy Chief Agent Dan Hiebert emphasized that their mandate is to "secure the border" primarily from terrorist threats. Unless I missed the memo about scores of Canadians crossing the border illegally, border security as a way of mitigating migrant terrorist threats seems to be a non-issue (it'd be a long swim across the lake). In the absence of an actual "threat" border patrol agents board buses and trains and set up roadblocks and look for 'suspicious' people. In the largely white agricultural area that is western NY, 'suspicious' seems to mean brown.
A year ago I took a trip to the area to interview people who had been detained. Working in farmworker outreach for a legal services organization means that I hear and see a lot of what is wrong with this country on a daily basis, but it did not prepare me for the stories I was to hear. Farmworkers in the border region are practically living in a state of siege. Because Border Patrol agents have jurisdiction within 100 miles of the border it appears that they have turned their attention from 'border security' to 'interior enforcement.' One family that I spoke with said that they had never taken their kids to the renowned National Museum of Play in nearby Rochester for fear of being detained. All spoke of how Border Patrol presence has crippled their mobility and sense of freedom in the world.
Lucia (whose name has been changed to protect her identity) is a middle-aged farmworker who has been in the U.S. for nine years. One early morning, while walking to work she and her co-workers were abruptly stopped by the Border Patrol. The group of 12 was surrounded by 8 patrol cars, handcuffed and taken to jail. They are now out on bond and going through deportation proceedings. Due to the trauma of the event she has developed a fear of being enclosed and can no longer sleep in her room. "One has to accept that this reality is reality, the reality of one who comes to live here," she says.
Is this a reality we are willing to live with? With the ongoing Immigration Reform negotiations it seems that the reality of what 'border security' means for immigrants is only going to get more inhumane. Although the bill recently passed in the Senate would reduce the range of the northern Border Patrol from 100 miles to 25 or 10 miles, nearly 42.5 billion more dollars will be spent on enforcement and technology (i.e., 700 miles of border fencing) in the south.
The increased militarization of that border will reroute migrants to yet more dangerous, vaster and drier expanses of desert. The implementation of a border security plan, whose goal is the apprehension of nine out of 10 migrants, will be an essential trigger for issuing provisional legal status to undocumented people currently living in the U.S.
The folly of southern border security measures almost rivals that of the north. Since the beginning of the recession, about the same number of people have been leaving the country as entering, which reveals all of the hullabaloo about security to be a huge misuse of resources. Instead of criminalizing and detaining people like my friend, let's work towards a world where borders don't determine the major arcs of people's lives.