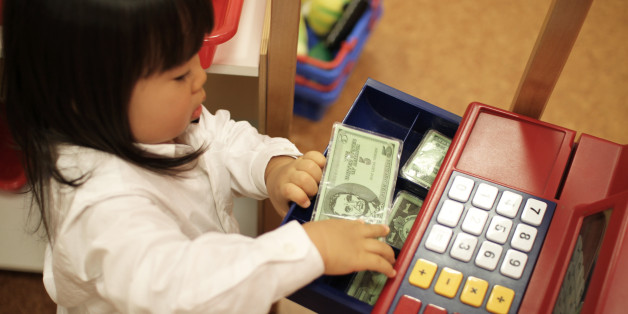 It's never too early to start teaching children the ABCs of money. After all, parents seem to be doling it out -- big-time.
A survey by the American Institute of CPAs found that the average allowance of $780 a year provides kids with enough money to buy an Apple iPad and three Kindles -- with money to spare for even more spending, seeing as only 1 percent of parents say their children save any of their allowance.
Effective money management hinges on adopting the right habits -- and it's important for parents to instill good ones at a young age. Of course, knowing not only when to begin teaching money smarts to kids but also where and how can be a challenge.
That's why we rounded up a few of our favorite educational tools that are tailor-made for instilling in children of all ages lessons about saving, money management and even entrepreneurship. Then we asked Darrah Brustein, author of "Money-Making Sunny: Finance Whiz Kids" to weigh in on why they're worth the investment.
Preschool Tools
Porkfolio
Cost: $49.99
Skills It Teaches: Saving
This smart piggybank, which lights up in celebration every time that a deposit is made, connects to a smartphone app that totals the change from afar -- engaging young children in the seemingly boring topic of saving through positive reinforcement.
What the Expert Thinks: It's also a great way to encourage setting and tracking financial goals, Brustein says. Let your little one pop in the coins, and watch the numbers add up!
ABCMouse.com
Cost: $7.95 per month
Skills It Teaches: Counting and other basic math
This award-winning site can familiarize children as young as 2 with such simple math concepts as counting and the principles of "more" and "less" through games, puzzles and other tools -- ultimately setting the stage for someday teaching multiplication, algebra and geometry.
What the Expert Thinks: "[ABCMouse.com] is a great example of 'edu-tainment' at work," Brustein says. "It offers a wide variety of lessons, but the math skills, in particular, will be great building blocks for kids as they learn about different financial concepts."
RELATED: 5 Money Mistakes Parents Make ... and How to Fix Them
Elementary School Tools
Dinorama
Cost: $2.99
Skills It Teaches: Entrepreneurship and business basics
Kids 7 and older will love running their own virtual dinosaur parks and acting on such entrepreneurial decisions as "What if fewer visitors came to the park?" and "How much popcorn inventory should I buy?" They'll also consider other fundamentals of operating a business -- from customer service to keeping the animals healthy -- while also learning about budgeting and the correlation between money and responsibility.
What the Expert Thinks: "Any time you can combine gaming and learning, you have a chance of keeping a child's attention," Brustein says. "This is a great tool for kids who have an entrepreneurial spirit!"
Bedtime Math 
Cost: Free
Skills It Teaches: Multiplication and percentages
Sign up for this daily email to receive a math problem in your inbox every night -- and get your kid interested in the foundations of money math. Clever lessons featuring space suits, monkey bars or snowy owls will capture your child's attention, teaching skills like multiplication and percentages.
What the Expert Thinks: "Bedtime Math does a great job of offering multiple ways to engage kids, whether it's with their app, printable coloring pages, videos, party ideas or stickers," Brustein says.
RELATED: 'How Much Does That Cost?': How to Teach Kids the Time Value of Money
Middle School Tools
The Great Piggybank Adventure
Cost: Free
Skills It Teaches: Saving, goal setting, smart spending and investing
Leave it to Disney to come up with a fun, compelling way to teach kids about money. The Great Piggybank Adventure (offered via an app or the website) is a virtual board game that teaches kids to make tough financial choices, explore different investment strategies and set (and achieve) a goal -- a skill that can stick with you for a lifetime.
What the Expert Thinks: Brustein suggests playing along with your kids. "It's always nice to find tools that not only teach valuable financial lessons, but that can also be enjoyed together," she says. And she points out an added perk: "Even the music is captivating!"
Practical Money Skills
Cost: Free
Skills: Saving, budgeting and credit
The "rookie" level of this site, created by Visa, provides financial lessons for children ages 11 to 14 through the lens of financial football -- and tests kids on their basic savings knowledge.
What the Expert Thinks: "This is a fun way to get the attention of middle schoolers, and the site offers an extensively laid-out lesson plan for an adult to use with kids," Brustein says. "So it's ideal for a parent who can take the time to digest and prepare the material."
High School Tools
MoneyTrail
Cost: Free
Skills: Debit, credit and tracking spending
Do you owe your kid allowance? Are you expecting to be reimbursed for her new jeans? Use MoneyTrail to keep track of your family's debits and credits -- and familiarize your teen with debt, income and the logistics of a bank account.
What the Expert Thinks: "[MoneyTrail] helps to instill financial tracking habits, as well as accountability," Brustein says. "And I love that this keeps the conversation of money open in a family, rather than allowing it to be a touchy or taboo topic."
The Mint
Cost: Free
Skills: Money management
For teens starting their first jobs, this site breaks down everything from decoding a paycheck to balancing a checkbook -- along with offering a handful of tools and calculators to help them figure out the ins and outs of saving.
What the Expert Thinks: "Your teens will carry the skills they learn from The Mint into their young adulthood," Brustein says. "By getting them into the habit of budgeting and tracking spending while under your roof, they'll be better prepared when they're on their own, paying rent, school expenses, utilities, groceries and entertainment."
RELATED: 4 Teenage Moguls: What They Know That You Don't
This story originally appeared on LearnVest.
More From LearnVest
One Mom's True Story: How I Stopped Spoiling My Kids
6 Money 'Truths' You Might Want to Rethink
How to Budget Your Money With the 50/20/30 Rule
LearnVest is a program for your money. Read our stories, use our tools and talk to a Planner about getting a financial plan designed for you.
LearnVest Planning Services is a registered investment adviser and subsidiary of LearnVest, Inc. that provides financial plans for its clients. Information shown is for illustrative purposes only and is not intended as investment, legal or tax planning advice. Please consult a financial adviser, attorney or tax specialist for advice specific to your financial situation. Unless specifically identified as such, the people interviewed in this piece are neither clients, employees nor affiliates of LearnVest Planning Services, and the views expressed are their own. LearnVest Planning Services and any third parties listed in this message are separate and unaffiliated and are not responsible for each other's products, services or policies.
PHOTO GALLERY
Biggest Money Mistakes 20-Somethings Make