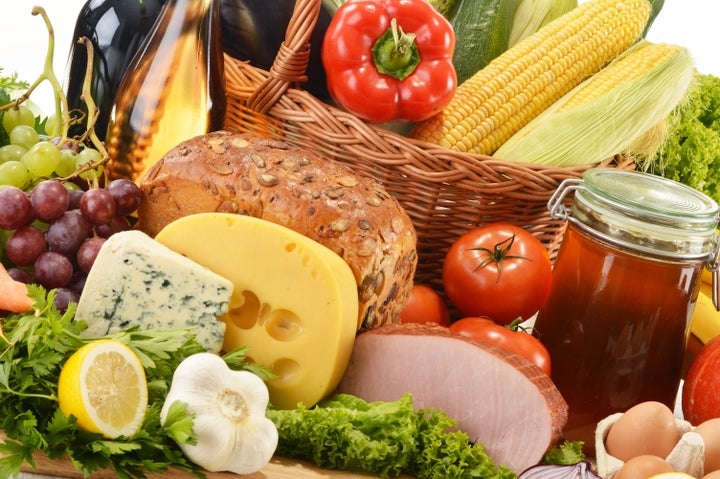 A trip to the supermarket is complicated enough without added conflicting demands on our grocery list.
Do you really need organic pasta? Are store brand products inferior? And have you seenᅡᅠhow many flavors there are of yogurt?
All we want is to find healthy, affordable food for our kids, but it seems like too much work sometimes.
So we did the work for you.
The following foods, broken down by category, make up an ideal grocery list for a family. Plus, we explain just how you can spend and save in each section. (Costs are estimated based on the prices offered at a national, mid-range grocery chain, but they may vary slightly at your local store.)
Bonus: We've also created this downloadable PDF, so you can print out the list and take it with you on your next outing.

Produce
Bananas, $.36 each when sold individually
Oranges, $.25 each
Organic Peaches, $.76 each
Organic Pears, $1.49/each
Organic Baby Carrots, $2.09/bag
Avocadoes, $1 each
Frozen Peas, $3.29/bag
Organic Spinach, $4.79/bag
Spend On:ᅡᅠOrganic fruits and veggies that have edible skin, such as nectarines. If produce makes up a large portion of your grocery haul and your bills are getting expensive, consider just choosing organic for produce that lands on the Environmental Working Group's "dirty dozen" list of foods, such as apples, which test highest in pesticide residue.
Save On: If you're craving produce that you can peel -- like bananas and oranges -- it's safe to buy the cheaper, non-organic variety. Buy generic produce at the supermarket or do some comparison shopping at your local farmer's market -- seasonal, locally grown fruits and vegetables are often the cheapest option.
Meat and Poultry
Antibiotic-Free, Organic Chicken Breasts, $9.49/lb
Lean Turkey Meat for Tacos, $5.75/lb
Dozen Organic Eggs, $4.39/dozen
Sliced Roast Turkey From the Deli Counter, $9.49/lb
Spend On:ᅡᅠMake animal products, which pose a higher risk for contamination while cooking, a priority if you have to choose where to spend on organics. Look for foods that are labeled antibiotic-free, free range and pasture fed.
Save On:ᅡᅠContaminates thrive in fat, so if you can't afford organic meats and poultry, opt for lean cuts -- they're not only healthier, but also cheaper. Fish is unregulated, so buy wild when you can. To save money, buy meats in bulk -- avoid pricier precut meats and cold cuts, as well as pre-made patties -- and have the butcher grind them for you or, better yet, grind at home.
Dairy
Greek Yogurt, $1/cup
Hormone-Free Milk (or Organic Soy Milk), $3.09 and $1.99/half-gallon
Sliced Swiss Cheese (Sliced at Deli Counter), $6.59/15 oz
Block of Cheddar, $4.99
Spend On:ᅡᅠYogurts marketed to kids often have added sugars and sweeteners, so opt for healthier (and slightly more expensive) Greek varieties instead or try adding fruit to plain vanilla yogurt.
Save On: The FDA and USDA (as well as the American Academy of Pediatrics) insist that organic milk is no healthier than regular milk. If you're worried about the potential risk of hormones, look for cartons that are labeled "rbGH-free" or "no GMO." To cut down on costs and additives in your food, shred your own cheese or look for slices that are low in salt and high in ingredients like milk and cheese cultures.
Nuts and Grains
Kix, Cheerios, Rice Krispies or Similar Low-Sugar Generic Cereal, $2.49/box
Plain Oatmeal, $2.99/box
Multigrain Sun Chips, $2.50/bag
Whole Wheat Pasta, $1.59/box
Whole Wheat Bread, $3.19/loaf
Natural Peanut Butter, $5.69/jar
Spend On:ᅡᅠBuy whole wheat breads and pastas, which have added protein. And choose natural peanut butter to cut down on salt and sugar intake.
Save On: It's not necessary to buy organic when shopping for grains or processed foods. Some grains, such as organic cereals, can actually be less nutritious because they're not fortified with vitamins, like many conventional cereals. Instead, zero in on grain-based foods with little or no added sugar.
A Note on Baby Food
It's OK to buy generic baby formula, which is heavily regulated to meet high nutritional standards. Follow the above produce and meat guidelines when shopping for your baby's first solid foods, and look for brands with no added sugar or corn syrup.
To save money, consider making your own baby food purees (like this couple does), and avoid pricey prepackaged finger food snacks like Pirate's Booty. Instead, offer your little one cut-up fruits and veggies -- it's good for your grocery bill and their burgeoning fine motor skills.
LearnVest's Money Center will help you create a budget. Our free bootcamps will help you take control of your money, cut your costs or get out of debt. And our premium financial plans--managed by LearnVest Certified Financial Planners--can help you chart a course for the future you want.