I want to talk about L'Orangelis. A young HIV Positive woman from Puerto Rico. She tells me about her continued fight with living with HIV, the constant stigma, discrimination and the feeling of always being cast aside. She tells me of her suicidal attempt and how she has sometimes felt that being HIV positive is second to death.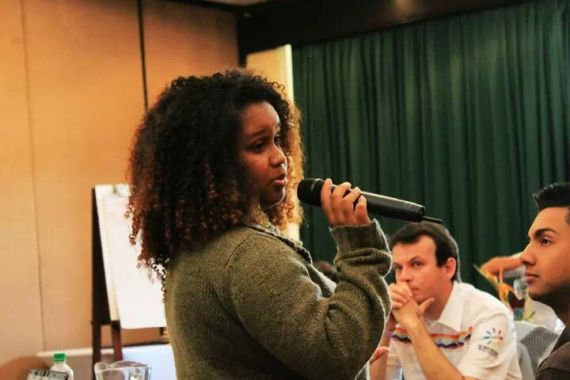 According to The World Health Organization, HIV/AIDS remains one of the world's most significant public health challenges, particularly in low- and middle-income countries. As a result of recent advances in access to antiretroviral therapy (ART), HIV-positive people now live longer and healthier lives.
L'Orangelis has made HIV a positive in her life and the life of other youth. Seeing how the condition has affected her personally, and trying to find better ways to live a healthier life, she became an HIV Activist. Showing before anything, extreme courage in the face of discrimination and stigma in her community.
She is a member of the Positive Youth Network from Latin America and the Hispanic Caribbean (J+LAC in Spanish) which is led by young activists living with HIV from LAC (Latin America and the Hispanic Caribbean) for young people living with HIV in LAC. J+LAC seek to creatively transform their environment and offer innovative solutions, based on recognition of gender equality and respect for diversity. With J+LAC L'Orangelis and her fellow network of activists are looking to work towards Access to health care and reducing the HIV stigma, trying to put young people living with HIV in decision making spaces so they can advocate for it. J+LAC founders are also all bravely and openly HIV positive, being an example of how to address stigma in the world.
Being part of the Global Shaper Community, which is an initiative by the World Economic Forum of young leaders who are making a positive impact in their communities, L'Orangelis is true leader. She is a community educator on Sexual Education, an activist for HIV, gender equality and for the LGBTQI community. In her work I stand for health, dignity and freedom from every kind of violence and harmful social paradigms:
Being in the decision making spaces allows us to rise our voices, and hundreds of voices from the voiceless. We are very passionate, we know of region and the needs of young people. It's not an easy job, because we don't always achieve to move forward our interests and changes in the public policies. But it has worked so far.
L'Orangelis is one of many young people who have raised their voices, shouted about what matters to youth and openly fights to be made priority in Government and high level forums. She shows a strong desire to be part of something bigger, connect with other young people with stories and feelings like her own.