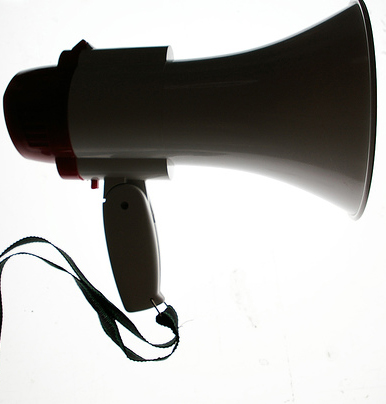 Corporations worldwide are intently listening to what you share on social media platforms like Facebook and Twitter. ("Sorry, I was texting and wasn't paying attention. Were you saying something about social media?") Okay, put the iPhone down and I'll repeat it.
You share -- they're listening -- companies as diverse as Planet Green, BP and Virgin America.
I know because I complained about Virgin America on Twitter (using @virginamerica in the Tweet) and they got in touch with me the same day. I know because I watched a Facebook conversation last week, between the producer of a film and a network, spark and flash into an online social movement. Then there's the Deepwater Horizon oil spill that has both BP and the EPA talking to each other on Twitter. They had no choice but to get into the conversation because everybody else was there first.
Last week, Stephanie Soechtig, producer-director of Tapped, a movie about the impact of bottled water, wrote on Facebook that Planet Green didn't want to put her movie on because it would upset advertisers like Nestle, Coke and Pepsi. Those companies make a lot of bottled water. A lot of people commented on her post. They shared their feelings on Planet Green's wall. I wrote about it. We all watched as a social movement blew up as as fast as a quickie in an elevator between floors (more on orgasms later.) Chris Tackett, who handles social media for Planet Green, jumped in, sending me e-mails to explain the network's position and also counter-posting on Facebook. Wow. There's a lot of power in a 50-word Facebook post when a thousand or so people read it and many act on it.
Chris wrote me to say that network sponsors have no input into what Planet Green decides to put on. He urged me to look at the slate of documentary films and doc programs the network has and, as he advised me in his e-mail, "tell me we pick those based on advertiser feedback."
Okay. They have No Impact Man and The Last Beekeeper and they have The 11th Hour on their roster. They have Coal Country and Black Wave: Exxon Valdez. Coming up they have "King Corn," which entertainingly documents the problems of high fructose corn syrup. The New York Times credited the film as being part of a movement that helped force big players like Hunt's, Gatorade, Kraft, Pepsi and Mountain Dew to get rid of the stuff in some of their products. The Planet Green roster contains good films that shake things up. What would Planet Green's advertisers think about them? I'm not sure, but I haven't noticed any coal companies or companies like Exxon advertising on Planet Green, and while King Corn might make some advertisers itchy, the movie is really about the high-fructose corn syrup industry -- focusing on companies like Cargill and Archer Daniels Midland and genetically-engineered seed companies like DuPont and Monsanto. I haven't seen any genetically-engineered seed ads on Planet Green lately, have you?
Then there's 100 Orgasms a Day, a program during which we meet four women who have Persistent Sexual Arousal Syndrome. Oh, wait -- that's on Discovery Health, not Planet Green. Sorry for getting distracted by Discovery's massive orgasm agenda. Good thing there's no controversy there, because everybody loves a good orgasm, right?
Point is, network programming is a hard job. You have viewers to please. You have advertisers to please. Now you have the online community to look out for. Which brings me back to my question of last week -- Can corporations stay true to their values, and what's our role in helping them do it?
The folks at Meaningful Media wrote in their news flash this week about BP and the EPA being drawn into a social media conversation about the tragic Deepwater Horizon oil spill. Meaningful Media also reported that the National Wildlife Federation has set up a texting donation program.
Social media creates transparency. Transparency -- the free exchange of information -- gets things changing for the better.

When I spoke with Tapped's producer-director Stephanie Soechtig on the phone a couple days ago, she marveled at the speed of the Facebook response and remarked, "The people have spoken." Lots of people want Planet Green to put Tapped on. (Disclosure: I'm one of them. I've seen a few great documentaries with agendas for change. They are Food, Inc., King Corn, and Tapped. These films not only get into the issues of food and water sourcing, but they give you action steps so you can fix things -- at least starting in your own refrigerator.

Planet Green has a lot of powerful documentaries on their slate, and they're doing a lot of shows with clear action steps for change -- like Treehugger TV, The Kamen Code, and Fast Forward. For me the value of Planet Green's brand has a lot to do with providing clear action steps to make positive change. Clearly, there is an audience for Tapped on Planet Green.
Photo credit: altermark via Flickr and Creative Commons.