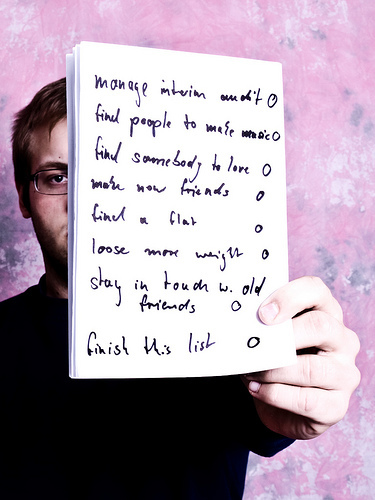 Did you make a bunch of resolutions for New Year's? How's that going? If you're like most people, not very well. Here are some suggestions to make good on your promises to yourself.
Writing in the New York Times, researchers Katherine L. Milkman and Kevin G. Volpp suggest that you can keep your resolutions if you take at least one of these three steps.
Condition #1. Make a concrete plan and embed your intentions in memory. This makes it harder to break a commitment to yourself.
Condition #2. Put something of value on the line. Make a deal with yourself that would be hard to refuse, like forcing yourself to give away money to a friend if you don't keep your promise to yourself.
Condition #3. Bundle your temptations. If you like to read trashy novels but don't like to exercise at the gym, Milkman and Volpp suggest bringing your trashy novels to the gym and reading them while exercising. This sounds good, but what if your vice is candy? You can't bring that to the gym and eat it while exercising.
I have a another idea.
If you make a resolution to donate time or money to a cause you really care about, it satisfies all of the conditions for success. Let's say you're the kind of person who has vowed to make the world a better place. If you donate to a cause, you've made a commitment to yourself (condition 1), you've put something of value on the line like time or money, (condition 2) and you've bundled your altruistic change-the-world sensibilities with your giving tendencies (condition 3). It's a win all the way around.
Razoo, a crowdfunding site dedicated to funding social good causes and charities, wants to make it easy for you. They have an event on Facebook that will reward you for making a positive change in 2014. All you have to do is post a photo or video of what you'd like to accomplish and share it on their Facebook Page with the tag #Razoolution. If they choose your entry, they give you a $100 gift card to make a donation to your favorite cause. They are announcing a total of four winners, one per week, starting Jan. 16.
I spoke recently with Candace Honey, the Content Production Manager at Razoo, to get a sense of why people choose donating to causes as part of their New Year's resolutions. She enlightened me, pointing out that it's not always money that is on the line when people want to make a difference.
"It all depends upon the resources available to that individual. Some make donations. Others come to the site, [and say] 'okay I may not have a whole lot of money on my own, but what I do have is a great network. I'm going to create this campaign,'" Candace said.
She talked about a current campaign, started by a student, that has has raised more than $82,000 to help Syrian children.
Here's a short audio clip of my interview with Candace.
Most New Year's resolutions are not kept. But if you connect yours to doing social good, you stand a better chance of keeping your promises to yourself, whether they involve donating time, money, or leveraging your social connections online in a crowdfunding campaign.
Photo Credit: Virginsuicide Photography via Creative Commons License.