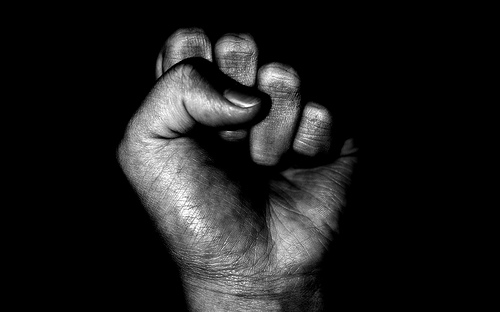 Occupy Wall Street has been called a triumph of digital activism. Our idealized picture of it is fostered by equally idealized notions of the Arab Spring. Organizers issue directives on Twitter and protestors move fast. One perfect blog post might just take down The Man. Dictators fall. Regimes topple. Bankers cry. Well, maybe not that past part. But digital activism is much more than flash mobs and Facebook.
Slow Revolution
There's no doubt that the citizen journalist who uses her camera phone to expose a repressive regime is a heroic figure. Becoming an instant witness to history and beaming it to everyone has become a revelatory world shaker. But there's another digital revolution, and this one is happening a bit more slowly. You know, like Meetup.com. The meetup idea came out of 9/11. The co-founder of Meetup.com, Scott Heiferman, was in New York during the attack, and he wanted a way for people to connect after the tragedy. It was a way to initiate contact digitally, and convert later it to actual human contact. Facetime matters. Not Facetime, but the people in a room kind.
That's where the real organizing starts. Making noise is important. Directing the media dialogue is good. Showing disgust with Wall Street is necessary and giving voice to the 'other 99%' is critical now. But what next?
That's where LikeMinded comes in. A project of the Craigslist Foundation (did you know there was a Craigslist Foundation?), it's an online tool intended to bring communities together to seek positive change. You can post a fully-thought-out project or just the seed for an idea. There are resources posted on the site also. I did a be global podcast with Arthur Coddington, who runs LikeMinded, and in 20 minutes or so he explains how it empowers local organizers to improve their neighborhoods. As I spoke with Arthur, I was impressed with LikeMinded's mission to get people talking online, and then take the conversation offline, as in meeting. In a room. With each other. During the interview I rocked back in my chair, adjusted my Skype headphones, and thought about that. Facetime. What a concept.
Digital Activism 3.0
This is a valuable transition point for digital activism. Jumo, a social networking platform to connect individuals and organizations who want to change the world, is joining forces with Good and their joint effort is looking promisingly open source. Global Swadeshi is a virtual network accessible only online. Daily Good is a portal for inspiring news, and KarmaTube is the video version of a inspiration delivery system. Karma Kitchen will show you how to bring generosity to your neighborhood with a 'pay it forward' style of dining. All these forms of activism happen mostly online, with the notable exception of Karma Kitchen, which is localized, but certainly capable of changing the world one kindness at a time.
That's the thing. Time. Connecting people online to create lasting change is kind of a longer story arc than 140 characters will allow. It means embracing the paradox of inspiring people to use online tools in order to transition from the digital world to the facetime world. I'm looking forward to seeing how Arthur and the rest of the LikeMinded team build that bridge. I think it's the slower, but more powerful, way for changemakers to really make the change we need, be it as simple as cleaning up a neighborhood or as thorny as getting bankers to respect and support to the other 99%.
To learn more about how to organize in your community and to investigate change projects everywhere, check out Likeminded.
Photo credit: Sharon Pak via Creative Commons License.